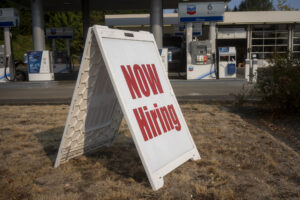 The ongoing skilled trade shortage has forced repair facilities to do more with less, and until the industry develops a solution to attract and retain more technicians, facilities have found themselves struggling to keep up with demand.
With modern vehicles now requiring calibrations, a shortage of space has only compounded the issue for businesses.
An upcoming Society of Collision Repair Specialists (SCRS) Repairer Driven Education (RDE) presentation during the SEMA Show — "Doing More with Less: Operationally Addressing Workforce Shortages and Growing Backlogs" — will help collision repair facilities learn how to optimize operational outcomes.
Led by Lee Rush, Sherwin-Williams' manager of business development, the 90-minute session will focus on how doing so can create a more productive business model needed to survive.
"[The presentation will provide] insights that ensure optimization through process improvement [and] predictive and intelligent analytics that adapt with your work environment, capacity, inventory, and available skilled labor hours," Rush told Repairer Driven News. "This session will enable you to increase technician skilled labor utilization, increase labor gross profit dollars, increase shop touch times, reduce repair cycle times, and increase vehicle throughput while improving customer satisfaction."
He noted that maximizing resources is not just something that's important — it's become necessary for a business to remain profitable and survive in an industry that's unpredictable and susceptible to change. Examples of optimization include streamlining workflows, eliminating redundant tasks, and improving communication.
"The old model cannot sustain the evolving demands of the collision industry; by focusing on the optimization and utilization of your available skilled labor, your shop can not only survive but thrive," Rush said.
"With constantly changing market dynamics, your key to success must focus on optimizing your labor. Labor undoubtedly creates the biggest potential profit, typically returning over 60% of our gross margin. A full parking lot without the available labor to complete the work on time (meet cycle time goals) is an undesirable situation for any collision center."
While Rush's presentation is focused on how businesses can do more with what they already have, other upcoming presentations will offer guidance on how the industry can build up its talent pool:
Those interested in learning more about SEMA or planning to register can do so online. To learn more about SCRS' RDE series during the show, click here.
Those planning to attend, or considering attending, can explore the RDE track in greater depth or add sessions to their show planner by visiting SCRS: Repairer Driven Education on the Map Your Show site.
Images
Featured image: hapabapa/iStock
Share This: