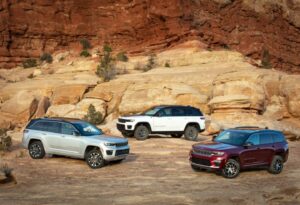 Innova Electronics Corp.'s 7111 Smart Diagnostic System (SDS) tablet can now access Fiat Chrysler Automobiles U.S. (FCA) through AutoAuth.
Repair centers and/or individual technicians that register for AutoAuth access will unlock FCA Secure Gateway (SGW)-protected vehicles that are model year 2018 or newer. Without vehicle network access on Alfa Romeo, Chrysler, Dodge, Fiat, Jeep, and RAM vehicles diagnostic network access is limited including the ability to erase DTCs, perform special OEM functions and active tests as well as resets, relearns, routines, and calibrations, according to Innova
The SGW module is similar to a firewall that prevents unauthorized vehicle network access to mitigate malicious risk to vehicle systems and customers.
To unlock FCA Secure Gateway Module-protected vehicles, SDS 7111 users should make sure they have the latest firmware and complete a one-time account set up with AutoAuth. For more information about how to unlock SGW, visit  https://pro.repairsolutions.com/chrysler-secure-gateway.
Repairers can register for access at AutoAuth.com or by choosing "new user" on their 7111 tablet.
First, choose a plan then enter repair center details and payment information. If you're already registered for AutoAuth and you would like to gain individual access to the gateway, ask your center's owner or manager to send you an invite using your username from the user profile page. The maximum user count depends on the plan that's chosen.
After registration is complete, you'll need to register your 7111 tablet. Under "manage tools," select "add tool" then manufacturer. Choose Innova Electronics and for model, select "all models." Lastly, enter or paste your device's serial number and press "add tool" to complete the process. A stable internet connection is required throughout the signup process.
Once complete, you'll choose "OEM diagnostics" and log in.
Innova says the 7111 is designed for repair center environments to enable technicians to quickly access OBD-II and OEM diagnostics functions and perform dealership-level bidirectional routines, self-tests, and calibrations.
Its OEM diagnostic functions allow instant access to vehicle systems with the ability to select a system such as adaptive cruise control or ABS for further diagnostics. Users can also view, graph, record, and playback data for engine, transmission, ABS, SRS, and TPMS.
The "Workshop Tools" option offers access to more than 30 of the most essential functions used daily, according to Innova.
"Innova has a long history of partnering with OEMs and inking licensing agreements to ensure our tools provide users with safe and honest access to vehicle data," said Innova Tool Product Manager Keith Andreasen, who is also an ASE-certified master technician, "We expect our longstanding relationship with the OEs to play an important role in the development of Innova's pro tools as more vehicle manufacturers implement this type of secure gateway."
For more information about the SDS 7111, click here.
Images
Featured image: 2022 Jeep Grand Cherokee lineup (Credit: Jeep/Stellantis)
Share This: