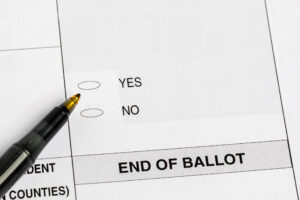 Maine House committee chair claims R2R referendum is 'unnecessary'
By on
Legal
Rep. Tiffany Roberts (D-District 149) has shared her thoughts in opposition to Maine's upcoming "right to repair" referendum question, citing it as unnecessary and creating potential cybersecurity risks.
Her column was published by the Portland Press Herald on Sunday.
Roberts, the state's House chair of the Joint Standing Committee on Innovation, Development, Economic Advancement, and Business, wrote about referendum Question 4 that will be on the Nov. 7 ballot.
The question is: "Do you want to require vehicle manufacturers to standardize on-board diagnostic systems and provide remote access to those systems and mechanical data to owners and independent repair facilities?"
Roberts called the July agreement between a coalition of trade associations — the Society of Collision Repair Specialists (SCRS), Automotive Service Association (ASA), and Alliance for Automotive Innovation (Auto Innovators) — "groundbreaking" and "significant progress in the right-to-repair arena."
"This pact secures consumer choice and gives independent repair shops access to the same diagnostic and repair information as authorized dealers," Roberts wrote. "This agreement addresses many concerns raised by supporters of right to repair without the need for a referendum."
R2R is also being considered legislatively at the federal level with the re-introduction of the REPAIR Act, which the coalition addressed in a letter to Congress.
"…independent repairers and automakers are not at odds on automotive data access but rather in lockstep on this fundamental principle: consumers should have choice when it comes to repair options and the ability to have their vehicle serviced in well-equipped shops by well-trained technicians anytime, anywhere, anyplace."
The Maine Right to Repair Coalition lobbied and pushed for the referendum question with opposition from trade groups including the Auto Innovators. Earlier this year, the coalition also submitted proposed legislation to the Secretary of State that calls for the creation of a "standardized access platform" for data generated, collected, and transmitted by vehicles.
Roberts wrote in her column that Question 4 introduces "worrisome elements" and would shift liability from OEMs to the independent entity and Maine citizens.
"It suggests creating an independent entity within the state government and a standardized access platform, which hasn't been seen before in the industry," Roberts wrote. "This standardized platform would allow remote access by third parties. This raises significant cybersecurity concerns, as it creates an attractive target for criminals or hostile actors.
"This independent entity, as described, would be responsible for managing 'cyber-secure access to motor vehicle-generated data.' Given the complexity of modern computer systems, cyberattacks are not a matter of if but when… If vulnerabilities are exploited, leading to physical harm or financial loss, the state would bear the responsibility."
The Maine R2R argument is nearly identical in Massachusetts where Auto Innovators argues that OEMs can't safely and consistently comply with the state's new Data Access Law because federal law preempts it. The group filed suit against the Massachusetts Attorney General's Office in 2020. AG Andrea Campbell contends there isn't any conflict between federal law and the new state law.
In August, the National Highway Traffic Safety Administration (NHTSA) and Campbell agreed that local Bluetooth access to in-vehicle telematics could be the solution.
On Monday, Auto Innovators tweeted that Roberts' commentary is "worth a [look]," specifically noting her statement that, "While the idea of the right to repair is a good one, it already exists, in practice, for independent repair shops. We must carefully consider the potential impact and security implications of elements of Question 4…"
It's been argued recently that opening up telematics control to anyone could result in hackers taking over steering, for example, but Roberts argues access would only be possible when vehicles are parked.
Still, Roberts noted that R2R is a "crucial" issue she suggested going about it in a different way.
"Let's consider alternative approaches that strike a better balance between consumer rights and the safeguarding [of] our state's security and interests. Maine deserves a solution that ensures both the right to repair and the protection of our citizens and critical infrastructure."
In a September Forecaster column about the referendum question, and shared by the Maine Right to Repair Coalition on social media, columnist Heather D. Martin says she backs vehicle owners having the right to repair. However, she agrees with one of the points made by the referendum question "opponents."
"Opponents argue that these days, the average person (or even small-town mechanic) simply does not have the proper know-how to safely repair the tech in question, particularly cars," Martin wrote. "It gets scary when they argue that releasing platform access to the technology to make the repair would render the vehicle vulnerable to hackers. Hackers who might choose to take control of the steering, for example. And there, in a nutshell, is what I see as the bigger issue."
Images
Featured image: Stock photo of an election ballot. (Credit: JJ Gouin/iStock)
Share This: