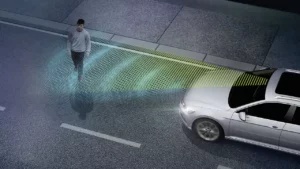 AirPro Diagnostics says its mobile static recalibration device, Auggie, has been independently tested proving vehicles calibrated with the system meet the National Highway Traffic Safety Administration's (NHTSA) New Car Assessment Program (NCAP) crash test scenario requirements.
AirPro made the announcement Tuesday when detailing how its wireless Auggie device was tested by FT Techno of America (FTTA). FTTA performed NHTSA NCAP Crash Imminent Braking (CIB) or Auto Emergency Braking (AEB), and Lane Departure Warning (LDW) test scenarios, and determined the vehicle successfully passed the NHTSA testing standard.
The release indicated "the tests included both Solid and Dashed Line scenarios for LDW along with CIB/AEB testing on a moving vehicle and stationary vehicle. Additional CIB/AEB testing was successfully performed on a stationary pedestrian to a hybrid of current ADAS standards. All tests passed."
Auggie was designed to help increase efficiency and save time by performing forward-facing camera recalibrations, AirPro said.
It detailed how Auggie does so by rendering the advanced driver assistance system (ADAS) targets and lighting conditions, using machine learning and computer vision, to ensure they're aligned properly to meet OEM requirements.
Josh McFarlin, AirPro's president and chief operating officer, said his team recognized that federal testing standards for recalibrations existed and knew having its product tested by a third-party provider would carry more weight than testing it themselves.
"The way the standard works is they basically set up a specific protocol for each one of the ADAS features on how it's meant to perform in an operating condition," McFarlin told Repairer Driven News. "For the lane departure warning, for example, they set a certain protocol up that says the system should alert within a certain distance as you approach either a solid line or a dashed line while driving the vehicle.
"So, get the vehicle up to a particular speed and within a certain distance and as you drift right or drift left toward the line, the system should alert at a certain point in time. If it does, then you're meeting that standard. If it's delayed or it takes longer, then there's something that is not correct and you're not meeting the standard."
The results indicate whether the vehicle was recalibrated properly because its system performance is dependent on the quality of the recalibration for its forward-facing camera, McFarlin said.
"We know that with different ADAS features, they rely on one or more inputs or sensors," he said. "You've got radar sensors and camera sensors, etc. and so we focused on lane departure warning and the auto emergency braking, and even then, specifically, the pedestrian component for auto emergency braking because we recognize that those are the ones that seem to be the most dependent upon the forward-facing camera as the primary input."
A rented 2023 Nissan Rogue in normal working condition was used to carry out the testing. Its calibration was reset for the purpose of the exercises. McFarlin said that make was chosen because Nissan gives a yaw, pitch, and roll value at the completion of the testing.
He said AirPro plans to use the results to demonstrate the product's capabilities to automakers.
"This independent testing to the NHTSA standards now validates the claims we have made that the Auggie portable device is safe and OEM compatible," McFarlin said. "AirPro engineers and testing personnel have worked diligently over the last five years developing our patented algorithms on thousands of vehicles to ensure safety with our tested and proven, game-changing Auggie."
The testing was conducted on the Fowlerville Proving Grounds, which spans 950 acres in southeast Michigan and includes a 20-acre dynamic pad, a three-mile oval track, an ADAS test facility, and other components to test vehicles and new OEM technologies.
Daniel Dent, Nissan's certified repair network collision manager, said AirPro has notified him about the NHTSA testing. However, he said he has not yet seen the data, conditions, or software used to complete the testing.
"As of today Nissan North America only approves the specific OEM software and tools that are described within our repair procedures that are available to repair facilities via our TechInfo site," Dent told RDN.
FTTA did not respond to an RDN query by deadline.
Images
Featured image: Dramatization of Volkswagen IQ.Drive feature Front Assist detecting a pedestrian in the road. (Photo provided by VW)
Share This: