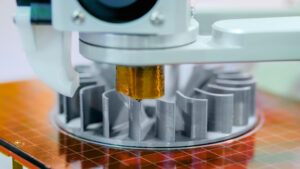 IBIS task force finds 'alarming' number of non-OEM 3D-printed parts on market
By on
Collision Repair
IBIS Worldwide's 3D Printing in Collision Repair Task Force has recommended a ban on 3D printed repair and replacement parts not produced or endorsed by OEMs.
The recommendation is one of several given in the task force's first report that details the research they've conducted since coming together in April.
Headlights and headlight tabs were the first parts they evaluated to determine how 3D-printed ones compare.
Headlight tabs were purchased from online auto suppliers as well as sites like eBay and auto part websites. The researchers noted a growing trend of parts for sale that were 3D printed but not listed as such.
"More alarming was that some of these 3D printed parts were of such poor quality that they resembled a cardboard-looking headlight tab," the report states.
"Businesses are also 3D printing to create repair tabs for headlights, intended to function as generic replacements instead of OEM parts. However, they often use lower-grade materials and printers, or they either glue these tabs on or employ entry-level polypropylene material for welding on tabs. The concerning aspect is that many of these businesses, in most cases, see no issue with their practices."
The task force found that those businesses have little to no understanding that the materials and parts they're manufacturing and/or selling aren't suitable for end use in vehicles but rather for hobbyists or prototyping.
"We estimate that there could be thousands, if not tens of thousands, of such parts on cars driving around the USA and around the world that will slowly break away," the report states.
The task force recommends:
Creation of a regulatory body that defines and enforces quality standards, certification processes, and compliance measures for 3D printed parts;
Collaboration between industry associations, insurers, suppliers, OEMs, collision groups, and 3D printing providers to develop and implement regulations and standards that "will provide a safe and transparent supply chain environment using 3D-printed parts;"
Industry-wide quality standards and validation protocols to ensure safety, durability, and compatibility
3D printed material testing
Educating the industry and consumers on why 3D-printed parts of poor quality aren't safe and should be banned
The task force is made up of veteran 3D printing, OEM, additive materials, recycling, and engineering leaders as well as global collision repair business and industry associations.
However, the task force says it's also concerned about the hype surrounding 3D printing in repairs due to "claims made by emerging providers, some of which lack substantial data or credibility to support their assertions about part performance."
"By far the most concerning aspect of the journey to date has been how widespread the use of low-grade materials and 3D printers in the collision repair processes," the task force wrote in its report. "As professionals and members of the community, it was alarming to witness and hear how all levels of the collision repair supply chain were being affected by such parts."
Research discovered that at least two overseas-based multi-location collision repair facilities are providing little to no information about the type of
material or printers they're using.
Findings were arrived at from referrals, personal dialogues, media sources, conference engagements, meticulous physical inspections of parts, and visits with IBIS Global, HP's Barcelona Facility, Thatcham Research, ADAC Automotive, Carhart Products, Boyd Group, and I-CAR.
The availability of lesser-known, entry-level printers is becoming more widespread, which the task force says can mislead both consumers and the collision repair industry.
Without historical data, case studies, or evidence to support claims of safe and proper quality, the task force says the risk of using unreliable 3D-printed components rises substantially.
"Such misrepresentation not only jeopardizes safety but also leads to financial repercussions and a loss of trust within the industry, highlighting the urgent need for standardized quality control and informed decision-making in the adoption of 3D printing technologies," the report states.
The report notes OEMs have been rapidly adopting 3D printing of end-use parts in recent years, which was kept in mind as ways to print parts for the collision repair industry on-demand parts through a safe and regulated 3D supply chain were brainstormed.
"3D printing exhibits transformative potential in the collision industry, especially in manufacturing smaller short-run plastic components, in favor of traditional large-volume injection molding manufacturing. In addition, items like repair kits for headlights, sensor cradles for bumper covers, and high-value clips are very favorable for 3D printing applications.
"Additionally, it can address the need for smaller, discontinued, or out-of-stock parts that would otherwise require high-volume production through traditional methods."
Reverse engineering could also open the door to enable 3D-printed rare and collectible parts.
The task force sees the potential for 3D-printed designs of attachment-style repair kits for repair centers to use as well. And some facilities may even, at some point, have in-house desktop printers to print parts — likely larger centers or those that support a hub-and-spoke model, according to the report.
In addition to a list of concerns, the group came up with a lot of positives. For repair centers, those are the potential to reduce keys to keys and cycle times; repair kit access provides a broader range of repair opportunities on damaged parts and a reduction in facility waste. Repairers could find cost-effective specific replacement parts without the need to purchase entire assemblies.
For manufacturers and suppliers, fewer replacement parts may be needed, decreasing overproduction, warehousing, and the need for extensive inventories.
Recyclers could benefit as well by being able to salvage parts that are usually discarded due to missing or damaged plastic components.
Insurance carriers would benefit from deeming more vehicles repairable, reduced cycle times, and total repair costs, according to the report.
According to the report, 3D printing provides OEMs with:
A means to produce complex geometries and intricate designs that were previously impossible or cost-prohibitive with conventional methods leading to enhanced performance, reduced weight, and improved fuel efficiency of vehicles;
A significant reduction in lead times and inventory costs via the ability to produce parts on demand, eliminating the need for extensive warehousing and minimizing supply chain disruptions; and
Substantially reduced environmental impact through material waste reduction via the use of only the necessary amounts of raw materials. Recycling excess material also reduces OEMs' logistics footprint.
The task force plans to also delve into the potential for 3D printing to create custom parts and components.
Harold Sears, leader of the task force and owner of Imagine Additive Consulting, said earlier this year the task force plans to have most of its work done by early 2024, which would cover most of the aspects needed for the industry to start using OEM-compatible 3D-printed parts provided by reputable suppliers
For more information about the task force, please visit www.3dinautorepair.com.
Images
Featured image: Stock photo of 3D printing in progress. (Credit: Zyabich/iStock)
Share This: