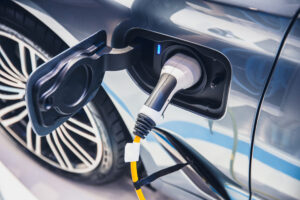 Luxury OEMs report surge in EV growth as S&P doubles sales projections
By on
Market Trends
Luxury automakers including BMW, Volvo, Lexus, and Mercedes-Benz–reported sizable year-over-year electric vehicle (EV) sales as a new analysis indicates U.S. EV sales will double previous expectations by 2030.
A recent S&P Mobility report said forecasts made before the passing of the Inflation Reduction Act (IRA) showed EV sales would reach 2 million by the decade's end. Its analysts are now saying that IRA impacts are likely to result in EVs surpassing the 4.6 million mark by 2030.
Suzanna Massingue, low carbon transportation analyst with S&P Global, said the U.S. is forecast to sell more than 1.3 million EVs this year, representing a 52% year-over-year increase.
The trend is expected to further accelerate once OEM infrastructure investments are online and additional EV models qualify for tax credits, S&P Mobility said.
"Whilst the U.S. presents encouraging conditions for EV adoption, such as the size of the automotive industry and GDP per capita, EV uptake has lagged in comparison to China and Europe," Massingue said. "However, recent policy incentives/carrots enforced through the Inflation Reduction Act are expected to support increased adoption, with short-term sales already increasing."
Right now, California is leading in EV sales, with the state expected to account for more than 30% of total U.S. sales thanks to its policies, incentives, and infrastructure, S&P Mobility said. Further boosting EV demand in the Sunshine State is the fact that its California Air Resources Board (CARB) voted to ban the sale of internal combustion engine (ICE) vehicles by 2035.
"This move has incentivized seven other states to follow suit, namely, Maryland, Massachusetts, New Jersey, New York, Oregon, Washington, and Vermont," S&P said in its report. "In addition to these states, Arizona, Colorado, and Delaware are also growing EV markets, together forming the 12 leading states which are forecasted to reach over 50% EVs market share in the next 10 years."
The latest quarterly reports from several automakers indicate EV sales are already vastly accelerating, with Mercedes reporting that sales of its EQ electric models have grown 284% year-over-year.
So far this year, its EV lineup has accounted for 14% of year-to-date passenger sales, Mercedes said.
Other examples include:
Volvo, which said its Recharge models, including EVs and plug-in hybrids, grew 161% year-over-year;
BMW, which sold 93,931 fully-electric BMW and MINI models, representing an 80% year-over-year increase. Its EV deliveries were up 100% during the same period;
Lexus said its September EV sales were up 84%; and
Rivian said its deliveries were up 194% year-over-year.
In the midbudget segment, Honda said that its electrified sales continued to set records driven by the popularity of its CR-V and Accord hybrid-electric models. With two full months remaining in the year, it said it has already set an annual record.
Ford's Q3 EV sales were up 14.8%, which the OEM called its "best ever sales" with 20,962 sets of keys trading hands.
"Much of this gain came on strong Mustang Mach-E sales, up 42.5% for the quarter and best since its debut in 2021," the OEM said in a press release. "In the month of September, Mach-E sales achieved sales of 5,872, a new record and a year-over-year gain of 153% for the month."
Ford added that its F-150 Lightning is expected to produce sales increases during the next quarter and that its overall EV sales were up 65% in September.
Meanwhile, an upcoming Society of Collision Repair Specialists (SCRS) Repairer Driven Education (RDE) presentation during the SEMA Show will highlight how the rising popularity of EVs necessitates the need for related training.
The session, called "EV: Pulling Together the Critical Puzzle Pieces," will be led by Dave Gruskos, RAE Inc. president, who will discuss what repairing an EV actually involves. He'll also educate attendees on how to effectively plan for the growing demand for EVs, which represent a wide range of features, components, and repair approaches.
Those interested in learning more about the SEMA Show or in registering can do so online. To learn more about SCRS' RDE series during the show, click here.
Images
Featured image: coffeekai/iStock
Share This: