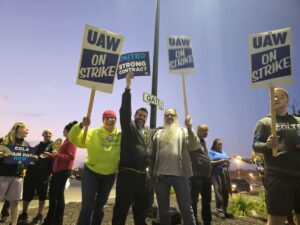 Ford: End strike for 'future' of American auto industry, tentative agreement reached in Kaiser strike
By on
Announcements
As strikes in the automotive sector against the Detroit 3 continue in the U.S. and a tentative agreement is reached in the healthcare sector, it's uncertain what lies ahead for union workers in their fight for better pay and benefits.
On Monday, as the United Auto Workers (UAW) union strike continued, Ford Executive Chair Bill Ford said the automaker and union are "at a crossroads" and called for an end to the strike.
The UAW said last week Ford offered the same contract as it did two weeks ago, not meeting the union's demands, and was "an unacceptable move that triggered a strong and immediate response."
That response was a strike on Ford's reportedly highest-profiting truck plant, located in Kentucky.
"Our Stand Up strategy has won important victories at the table but we must go further," UAW said. "We will keep increasing the pressure on Ford and all of the Big Three until we've won our fair share of the record profits we've made at Kentucky Truck and every Big Three plant."
"In our position, they're not taking us serious," said UAW President Shawn Fain, in the union's last video updated posted Oct. 11. "We've been very patient working on the company with this. At the end of the day, they have not met expectations. They're not even coming to the table on it so at this point, we had to take action."
Bill Ford said the offer was a record contract that would make its UAW employees among the best-paid manufacturing workers in the world.
"A strong manufacturing base is critical to our national security," Ford said. "Building things in America matters now more than ever, especially in these uncertain times and we can't take that for granted. In my lifetime, I've watched countries lose their auto industry and then virtually all industries after that. Countries that once had vibrant industrial bases no longer make anything. They become dependent on others for critical products, aspects of their supply chain, and even national defense.
"Choosing the right path isn't just about Ford's future and our ability to compete. This is about the future of the American automobile industry. The UAW leaders have called us the enemy in these negotiations but I will never consider our employees as enemies. This should not be Ford versus the UAW. It should be Ford and the UAW versus Toyota, Honda, Tesla, and all the Chinese companies that want to enter our home market. Toyota, Honda, Tesla, and the others are loving this strike because they know the longer it goes on, the better it is for them. They will win and all of us will lose."
Ford added that the automaker is the only one to have added UAW jobs over the last 15 years and that the company employs more UAW workers than any other automaker, with more vehicles assembled in the U.S. than any other.
General Motors hasn't announced any negotiation updates or contract changes since last week when the company agreed to include EV battery production work in its national master agreement with the union. UAW says the commitment will guarantee the transition to EVs at GM will be "a just transition that brings good union jobs to communities across America."
Pay offers include a 20% pay increase over the life of the agreement and cost of living adjustment (COLA) reinstatement for employees making the maximum wage beginning during the second year of the agreement. Full terms can be found here.
On Friday, Stellantis announced a temporary layoff of an additional 780 employees at its Kokomo transmission and casting plants in Indiana as a consequence of the Toledo Assembly Complex (TAC) strike. The automaker has now temporarily laid off a total of 1,420 employees in three states.
"These plants have reached maximum inventory levels of the parts or components they supply for the Jeep Wrangler or Jeep Gladiator," Stellantis said. "Stellantis continues to closely monitor the impact of the UAW strike action on our manufacturing operations."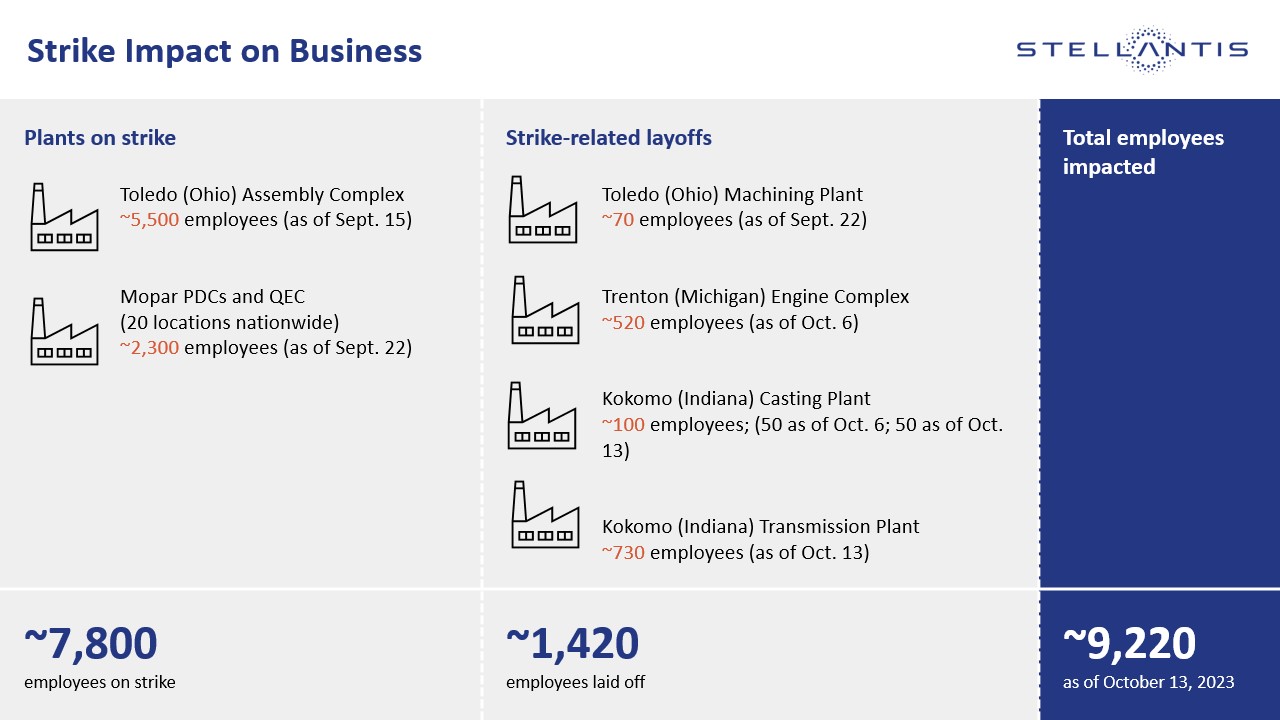 UAW also said the average pay last year for the CEOs at Ford, GM, and Stellantis was $25 million — five times the $5 million average for their counterparts at other leading automakers. It also posted some of its findings on profit and pay figures of the Big 3:
Profits in North America have risen 65% over the last four years;
CEO pay has risen 40% during the last four years;
In 2022, CEOs made 500% more than their counterparts at Toyota, Nissan, Honda, Kia, Volkswagen, BMW, and Mercedes;
The companies have "poured money" into stock buybacks, which have risen by 1,500% over the last four years; and
Average new car prices went up 34% over the last four years while pay for UAW members rose 6%.
"Over and over again, we hear the same response from companies when workers ask for their fair share, 'We have to remain competitive…' They're competing with their own workforce, seeing how much of the profits they can hoard before we stand up," Fain said. "That's what the CEOs mean by 'competition' — competition with each other for the fattest CEO paycheck. Competition with the consumer for the highest profit margin and competition with the workers for the lowest possible pay."
In the healthcare sector, a tentative agreement has been reached on a strike of 75,000 Kaiser Permanente workers in multiple states over wages and staffing levels.
The Associated Press reported Friday that the deal includes setting minimum hourly wages at $25 in California, where most of Kaiser's facilities are located, and $23 in other states. Workers will also see a 21% wage increase over four years. The ratification process is scheduled to begin this week.
Both sides said they prioritized patient health care during their talks. Steve Shields, Kaiser's senior vice president of labor relations, said the deal will not affect insurance rates.
The three-day strike, beginning on Oct. 5, began because union member workers reportedly said understaffing was boosting the hospital system's profits while hurting patients and executives had been bargaining in bad faith during negotiations.
The tentative agreement includes protective terms around subcontracting and outsourcing as well as initiatives to invest in the current workforce and address the staffing crisis, according to the AP. The workers' last contract was negotiated in 2019, before the COVID-19 pandemic.
"Millions of Americans are safer today because tens of thousands of dedicated healthcare workers fought for and won the critical resources they need and that patients need," said Caroline Lucas, executive director of the Coalition of Kaiser Permanente Unions, in a statement to the AP on Friday. "This historic agreement will set a higher standard for the healthcare industry nationwide."
In May, Kaiser notified its California customers that it would increase its commercial rates by as much as 15.5% next year in the state, according to an email obtained by Repairer Driven News.
Kaiser blamed the increase on the pandemic, inflation, supply chain issues, and nationwide staff shortages, which have "put pressure on our cost structure faster than competitors."
Its average commercial rate increase for 2024 will be between 13.5% and 16.5% in northern California, significantly higher than the 5% hikes customers are accustomed to seeing. The increases could mean employers, including collision repair facilities, will have to pass more of the cost to their employees.
On Oct. 12, the California Department of Managed Health Care (DMHC) announced a settlement agreement with Kaiser, which the department says will make significant changes to the plan's delivery of behavioral health care services.
The agreement includes a $50 million fine and requires Kaiser to take corrective action to address deficiencies in the plan's delivery and oversight of behavioral health care to enrollees. Kaiser has also pledged to make additional significant investments, totaling $150 million over five years, into programs to improve the delivery of behavioral health services for all Californians beyond Kaiser's existing obligations to its members under the law.
Health care benefits have increasingly become one of the priorities U.S. workers, including collision repair technicians, are looking for when seeking employment and when they're considering switching jobs.
Decisely's partnership with health insurer
Gravie offers an alternative solution
that helps employers, specifically small businesses, affordably maintain and improve employee health and satisfaction.
Gravie, which is available to the industry through the Society of Collision Repair Specialists (SCRS), gives industry employees and their relatives access to a marketplace of unique healthcare coverage options. Benefits of the core plans offered through the association partnership include:
$0 deductibles and employees choose their out-of-pocket maximum;
No-cost services for visiting primary care physicians, specialists, urgent care, labs, or having X-rays. Generic prescriptions and mental health services are also free;
Out-of-pocket maximums ranging from $3,000-$7,900; and
Access to Aetna and Cigna networks.
Decisely's data has shown that employees with insurance benefits are more likely to stay with their employers, resulting in better retention rates and higher job satisfaction, which is worth noting as repair shops struggle to attract and retain talent.
During this year's SCRS IDEAS Collide Showcase at the SEMA Show in Las Vegas, Ben Simmons with Gravie will cover how the health plan combines access to benefits people actually use with a customer experience that prioritizes ease and simplicity — while also reducing premium and claim expenses.
He'll share how one industry disruptor has been successful in innovating one of the most challenging industries in the nation, and learn how its flagship health plan is creating benefits its members and employer customers love.
Gravie and Decisely will also be on hand at the SCRS booth during the SEMA Show.
Those interested in learning more about the show or planning to register can do so online. To learn more about SCRS' Reparier Driven Education (RDE) series during the show, click here.
Those planning to attend, or considering attending, can explore the RDE track in greater depth or add sessions to their show planner by visiting SCRS: Repairer Driven Education on the Map Your Show site.
Images
Featured image: UAW workers on strike. (Credit: UAW)
Share This: