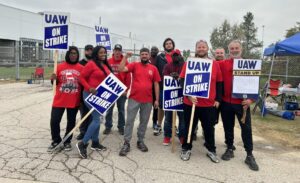 Unifor reaches agreement with Ford & GM in Canada pausing strikes; UAW strike ongoing
By on
Announcements
In less than 12 hours on Tuesday, General Motors Canada agreed to terms from nearly 4,300 Unifor members on strike who claimed the OEM was "stubbornly refusing" to meet the union's pattern agreement first agreed to by Ford of Canada.
"The company knows our members will never let GM break our pattern — not today — not ever," said Unifor National President Lana Payne in a news release Tuesday morning. "The company continues to fall short on our pension demands, income supports for retired workers, and meaningful steps to transition temporary workers into permanent, full-time jobs."
The strike began at midnight and ended at 1 p.m. EDT. Terms of the agreement hadn't been released as of Tuesday afternoon but GM posted this on their negotiations website:
"This record agreement, subject to member ratification, recognizes the many contributions of our represented team members with significant increases in wages, benefits, and job security while building on GM's historic investments in Canadian manufacturing."
The autoworkers that were on strike are employed at GM's Oshawa Assembly Complex and CCA Stamped Products, St. Catharine's Powertrain Plant, and Woodstock Parts Distribution Centre.
"The decision to strike was not taken lightly," Unifor said in an Oct. 10 letter to GM. "After working throughout the Thanksgiving weekend and into the final hours before the deadline, General Motors made it clear that they would not agree to meet the conditions of the pattern agreement…
"General Motors members have a proud history of fighting back and winning. In 1996, we successfully fought GM when they tried to break the pattern [agreement]. We won [the] pattern then and we will win it now."
Unifor says the collective agreement with Ford of Canada delivers a contract that "fundamentally transforms pension plans, provides protections during the EV transition, and includes the highest wage increases in the history of Canadian auto bargaining."
For example, a Ford worker who has one-year seniority will move from $25.75 an hour to $46.13 including the forecasted cost of living adjustment (COLA) by the end of the three-year contract. They'll also receive a $10,000 bonus.
Other highlights of the agreed-upon terms with Ford include:
Base hourly wage increase of nearly 20% for production and 25% for trades over the lifetime of the agreement;
The hourly wage for production workers is now $11.00 an hour (35%) higher than comparable U.S. autoworkers at Ford;
Workers will have two additional paid holidays off per year; and
Improvements to health care benefits.
More key highlights of the agreement can be viewed here.
"Our bargaining team was crystal clear with the company throughout these negotiations: our members are united and ready to strike, no exceptions," Unifor GM Master Bargaining Chair Jason Gale said Tuesday morning. "Everything our members do, from the trucks we assemble, the stamping plant we run, the engines and transmissions we build and the parts we deliver, are all critical to GM's bottom line. This dispute can only end one way: with GM agreeing to the same terms in our pattern agreement with Ford."
Unifor represents 315,000 Canadian workers in every major area of the economy.
The United Auto Workers (UAW) strike against Detroit's Big Three (Ford, GM, and Stellantis) has continued into its fourth week and, according to CBS News, has led to nearly 5,000 layoffs of factory workers.
A recently released MEMA Original Equipment Suppliers member survey found that nearly 30% have laid off employees as a result of the ongoing UAW strike against Ford, GM, and Stellantis. Sixty percent of member suppliers said they plan to follow suit by mid-October.
As of Tuesday afternoon, Ford had let 1,865 non-union workers go while GM had laid off 2,330 and Stellantis 640.
On Oct. 3, Ford offered 57,000 UAW-Ford workers a new master labor agreement that would be in effect through April 30, 2028. It includes a commitment to no job losses due to EV factories, profit sharing, and a pay bonus as well as: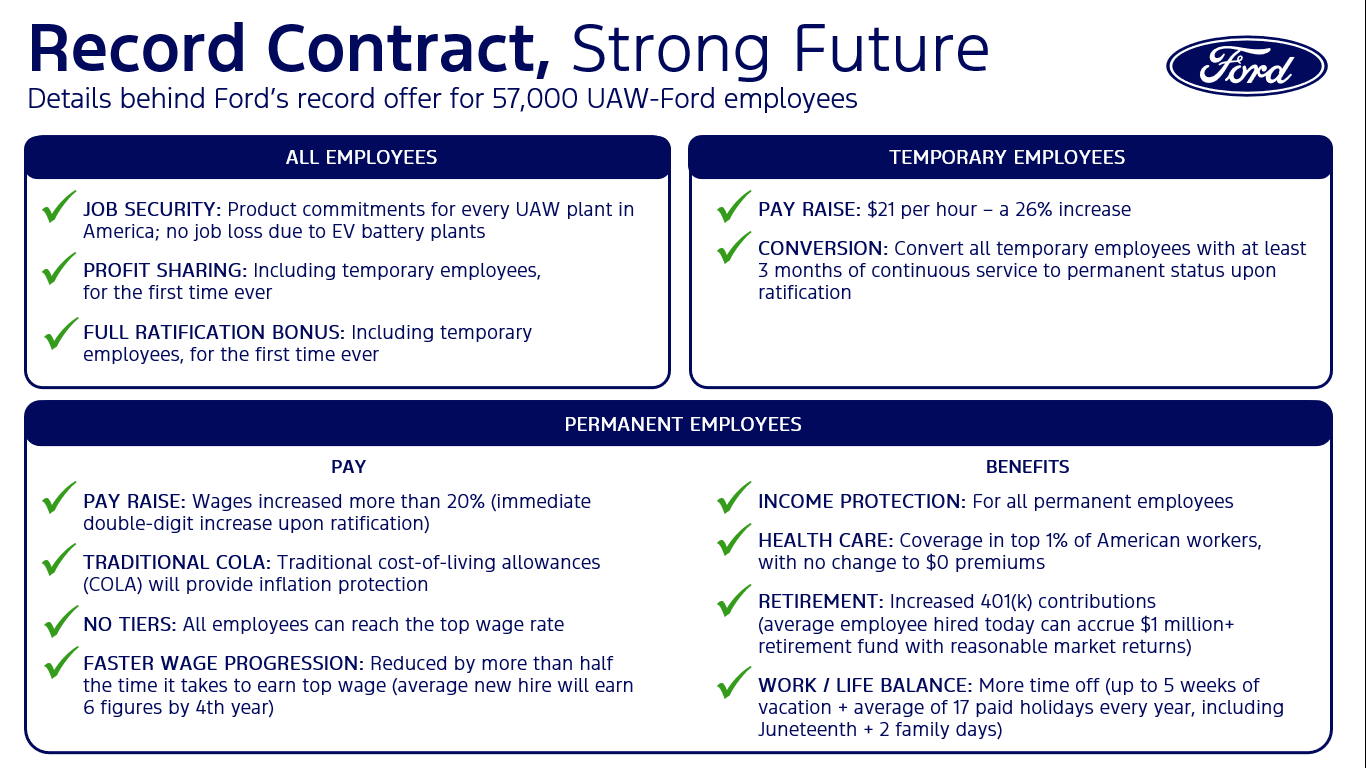 On Oct. 8, UAW President Shawn Fain announced that GM had agreed to include EV battery production work in its national master agreement with the union. UAW says the commitment will guarantee the transition to EVs at GM will be "a just transition that brings good union jobs to communities across America."
Some of the terms in GM's latest offer, as of Monday, include:

Stellantis said Monday the 640 temporary layoffs it has made were due to storage constraints. Three hundred employees previously laid off on Sept. 22 from the Kokomo Transmission and Kokomo Casting Plants returned to work on Oct. 9.
"Stellantis continues to closely monitor the impact of the UAW strike action on our manufacturing operations," the automaker said on its negotiations website.
The graphic below shows how Stellantis' latest offers would affect a non-skilled in-progression employee, which the OEM says are its largest represented employee population.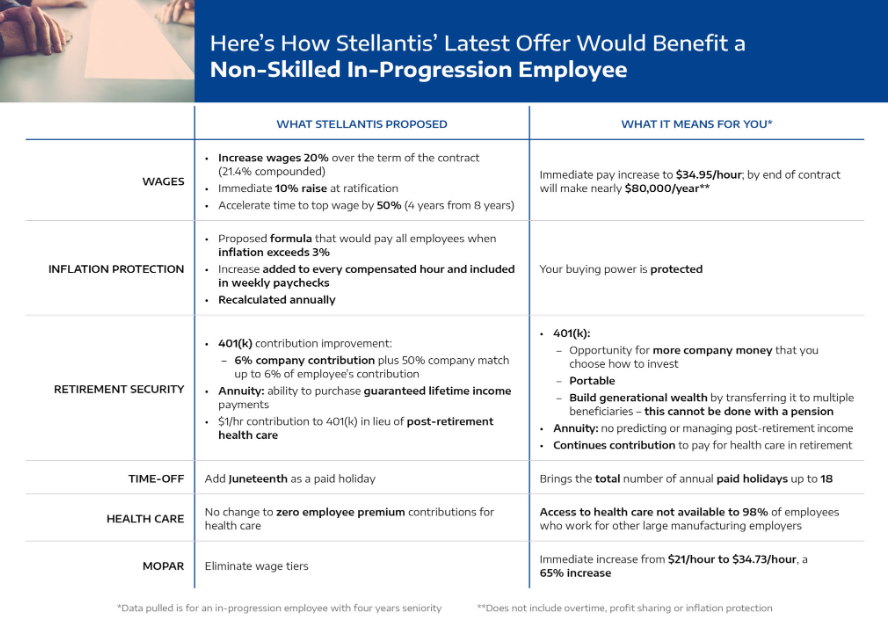 Also on Monday, nearly 4,000 UAW-unionized Mack Trucks workers in Pennsylvania, Maryland, and Florida went on strike. In their strike notice the employees wrote the strike is due to "many topics [that] remain at issue, including wage increases, cost of living allowances (COLA), job security, wage progression, skilled trades, shift premium, holiday schedules, work schedules, health and safety, seniority, pension, 401(k), healthcare and prescription drug coverage, and overtime."
Images
Featured image: United Auto Workers (UAW) member workers on strike. (Credit: UAW)
Each infographic courtesy of its respective OEM (GM, Ford, or Stellantis)
Share This: