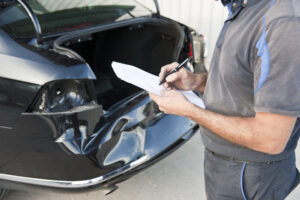 The need for a thorough collision repair plan will be highlighted by those in the industry who say they've become especially necessary as modern vehicles become more complex and require more advanced processes.
"Being prepared with all the information upfront is the roadmap of your outcome," Danny Gredinberg, Database Enhancement Gateway (DEG) administrator, told Repairer Driven News. "Vehicle repairs require strategic planning to ensure repairs can quickly and efficiently go through the repair facility with minimal downtime which leads to higher profits."
Gredinberg is set to host a session on the topic during a Society of Collision Repair Specialists (SCRS) Repairer Driven Education (RDE) presentation called "Take Control! The Guild of Advanced Repair Planning" on Oct. 31 at the SEMA Show.
During the 90-minute presentation, panelists will discuss the entire repair process beginning with the initial consultation and then moving into repair planning involving diagnostics, advanced refinishing processes, and other steps.
Gredinberg said attendees can expect to walk away from the panel with a better understanding of the challenges they can expect to face in "today's reality."
He said he'll also discuss how customers should be involved in advanced repair processes.
The panel will feature:
Danyon Kirchner, business services manager at Zimmerman Auto Body Supplies;
Michael Bradshaw, vice president at K&M Collision; and
Josh McFarlin, executive vice president of operations at AirPro Diagnostics.
McFarlin told RDN that members of the industry could benefit from attending the panel by gaining a better understanding of the complexities of repair plans as the car parc continues to become more complex.
"We will cover this topic from multiple perspectives: we will touch on the diagnostics and calibrations; the importance of the paint code, mixture, and thickness, and we will do all of this from the perspective of the partners that assist with these challenges (like AirPro Diagnostics) as well as the repairer performing the tasks," McFarlin said.
Meanwhile, during a separate Collision Industry Conference (CIC) meeting earlier this year, Gredinberg discussed the differences between the terms "estimate" and "repair plan" and made the case for why they should not be used interchangeably within the industry.
"Essentially, an estimate is just that: it's to give it a quick lookover of the damage itself," Gredinberg told conference attendees gathered in Indiana, Indianapolis in July. "Truly what we are doing more and more of is a repair plan.
"A repair plan is something that requires a disassembly of the vehicle, having a staging area within your facility, having a parts cart set up to separate the damaged parts from the current parts that are being removed, [and identifying] repair procedures."
Separately, a three-member group made up of insurance, appraisal, and repair center employees said during a CIC panel in April that repairers shouldn't need to change their repair plans based on what carriers will pay.
The panelists were Automotive Education & Policy Institute founder and National Association of Insurance Commissioners (NAIC) consumer liaison Erica Eversman, Collision Safety Consultants of West Virginia owner Steven Krieps, and Pacific BMW Collision Center repair center manager Andrew Batenhorst.
"The damage dictates the repair and following the procedures," Batenhorst said. "The only real adjustment that can take place is how much, your labor rates per hour [are], your internal rates."
Those interested in learning more about the SEMA Show or in registering can do so online. To learn more about SCRS' RDE series during the show, click here.
Those planning to attend, or considering attending, can explore the RDE track in greater depth or add sessions to their show planner by visiting SCRS: Repairer Driven Education on the Map Your Show site.
Images
Featured image: baranozdemir/iStock
Share This: