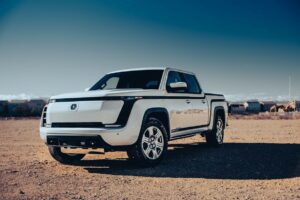 Bankruptcy court approves Lordstown sale for $10M
By on
Legal
The purchase of Lordstown Motors for $10 million by LAS Capital has been approved by a U.S. bankruptcy court.
Lordstown Motors Corp. filed Chapter 11 bankruptcy in June. It also sued investor Foxconn for its alleged failure to hold up its commercial and financial commitments to the commercial electric vehicle fleet startup.
Judge Mary F. Walrath approved the purchase agreement between Lordstown and LAS Capital in a hearing held Wednesday.
Livy Mezei, one of Lordstown's attorneys, said the company "cast a very wide net" for buyers and received interest from 175 potential parties, 42 of which signed non-disclosure agreements. After the bid deadline was extended several times, nine bid proposals were submitted. LAS Capital's was the only one that qualified, Mezei said.
Lordstown's attorney, Deborah Kovsky-Apap, told Walrath the company approves of the sale to LAS Captial because they want to pay their debtors as quickly as possible.
According to LAS' website, "L.A.S." stands for Land, Air, and Sea and are the three spaces the company works in "to create superior electric vehicles." They're also three of Earth's elements that LAS believes are made better by its efforts.
"The companies within our venture benefit from a shared expertise in mechanical & software engineering, battery and propulsion technology, and EV production experience," the website states. "All four of our companies have working prototypes and are in various stages of pre-production."
LAS owns Greenstreet, RYSE, BIG, and Power Shower — manufacturers of electric vehicles, aircraft, and boats, and motion sensor showerheads, respectively.
The sale includes all vehicles, machinery, books, records, information, files, and data and plans owned by Lordstown, according to the purchase agreement. At closing LAS Capital will assume liability for all customer warranty, product liability, and recall obligations related to the Endurance trucks manufactured by Lordstown, according to the purchase agreement.
The sale doesn't include accounting and tax records, internal reports related to Lordstown's business activities unrelated to the purchased assets; any records, documents, or other information related to current or former employees that won't become transferred employees; all hand tools, office equipment, supplies, furniture, fixtures, leasehold improvements, and other tangible personal property and fixed assets owned, leased, or used (or held for use) by Lordstown.
Walrath denied a motion from Rahul Singh, a Lordstown investor, for immediate repayment of the nearly $1.1 million he claims he and his family put into Lordstown and Foxconn.
In his motion, Singh said Foxconn defrauded shareholders "after getting a talented workforce and generously equipped auto plant (one of the biggest) for a mere $230 million" and Lordstown defrauded shareholders by "not telling shareholders about Foxconn's fraud in a timely manner."
Attorney Morgan Patterson, on behalf of Lordstown, said immediate payment would be inappropriate at this time outside of the bankruptcy plan, which includes equity plans, and according to the bankruptcy code. The plan will be worked through over the next few months, she said.
In response, Singh said, "It's not obvious what the plan is going forward. I just wanted to let the court know."
Walrath agreed with Patterson and said the appropriate time for distribution will come along as the bankruptcy plan plays out, noting that assets have to be sold for there to be a pot of money for Lordstown to pay its debts from. Other claims could come to light that could add to that pot of money, she added.
There was no mention of the pending lawsuit by Lordstown against Foxconn. An attorney for Foxconn said at the hearing that the company is willing to assist in the logistics of moving equipment out of Lordstown's facility.
Lordstown will also pay a $40 million settlement to Karma Automotive over allegations of misappropriated trade secrets and intellectual property. The settlement dismissed a $900 million lawsuit by Karma that sought to pause the sale of Lordstown because Karma claimed partial ownership of its property. Some of the accused included former Lordstown employees.
Images
Featured image: 2023 Lordstown Endurance (Provided by Lordstown Motors)
Share This: