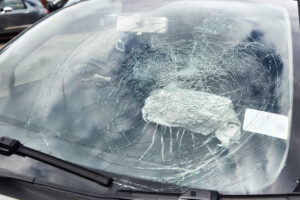 Florida bill would require repair facilities to seek written report before fixing vehicles
By on
Announcements | Legal
A Florida lawmaker has brought forward proposed legislation that would require collision repair facilities to request written crash reports before working on damaged vehicles.
If passed, the bill would add extra workload to already-stretched repair facilities by requiring them to submit, on a daily basis, documentation of each damaged vehicle they worked on the previous day.
Senate Bill 194, filed by Sen. Joe Grueters (R-Sarasota), is also known as the Lilly Glaubach Act because it's named after a girl who was killed during a hit-and-run while riding her bicycle in August 2022.
Lilly, 13, was hit while coming home from school on Aug. 16 and died two weeks later in hospital.
It later emerged that the driver convicted of killing her, David Chang, took his car to a repair center immediately after striking the girl, telling employees that the vehicle was damaged by a fallen tree.
The Lilly Glaubach Act would make it a second-degree misdemeanor for facilities to perform collision work on a vehicle without first obtaining a crash report or completing a transaction form.
"If a customer requests that a motor vehicle repair shop perform work to restore a motor vehicle damaged in an accident or a collision, the motor vehicle repair shop must, before preparing a written repair estimate… request that the customer provide a written crash report as specified," the proposed legislation says.
"If the customer does not provide a written crash report to the motor vehicle repair shop, the motor vehicle repair shop must prepare an accident or collision repair work transaction form before preparing a written repair estimate."
The bill said the transaction form must include specific information, typed or written legibly, including:
The name and address of the motor vehicle repair shop;
The vehicle identification number, year, license tag number and make, model, and color of the damaged vehicle;
The name, phone number, physical description, and address of the vehicle's owner or the person who brought it in; and
 A description of the damage.
Repair centers would be required to keep a copy of each transaction for at least a year following the date of the transaction. They would also be required to, by the end of each business day, deliver the original transaction forms the previous day to local police stations unless other arrangements have been made.
"If the appropriate law enforcement agency supplies the necessary software and the motor vehicle repair shop has the computer capability, transaction forms must be electronically transferred," the draft legislation says. "If a motor vehicle repair shop does not have the computer capability, the appropriate law enforcement agency may provide the motor vehicle repair shop with the necessary equipment for the purpose of electronically transferring accident or collision repair work transaction forms."
It added that if the reports are submitted electronically, the repair facility is not obliged to provide law enforcement with the original copy unless it is required for investigative purposes.
Under the bill, collision repair facilities that fail to comply with the legislation would also face having their business license revoked.
Aaron Nelson, who owns Aaron's Auto Car Care in Florida, told local news station News4Jax that both vehicle repairers and auto technicians were likely to feel the impacts of the law if it is passed.
"If you're starting to have to stop and fill out paperwork etc. and submit that paperwork before you can do any repairs on the car, that could be rough on any industry," Nelson said. "It would definitely slow it down as far as turnaround time on automobiles and stuff like that, and it would add to the time that it would take in order to complete an automobile."
However, he also recognized that the intention of the bill was to support investigations into hit-and-runs.
"We've had a car come in years ago, I say probably six or eight years ago. A guy bought a used car and he brought it in afterward for a post-inspection of the car, and I'm looking at it and there was actually a woman's hair wrapped around the drive axle on the left front and it had hair follicles on it," Nelson said. "For that to be on there, that tells me the person had to be under the car. Sure enough, we found out that's exactly what happened. Somebody got killed with that car."
Grueters did not respond to a Repairer Driven News query by deadline.
Images
Featured stock image courtesy of SouthWorks/iStock
Secondary image courtesy of GoFundMe
Share This: