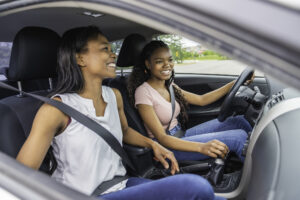 Honda announces initiative to promote safety among young drivers
By on
Education
Honda says it has launched a new multi-year safety initiative with Discovery Education to reduce the number of young drivers killed on U.S. roadways.
The partnership's new national safety and educational initiative, called Honda Safety Driven, aims to keep students safer through education and driving skills.
"Too many young drivers die in preventable crashes every year, devastating families and communities across the U.S., and Honda continues to explore new ways to avert these tragedies," said MJ Foxley, Honda's safety strategy leader. "Honda is targeting zero traffic fatalities involving our vehicles by the year 2050, and Honda Safety Driven puts resources in the hands of educators, students, and families to create the next generation of responsible drivers and passengers."
Honda Safety Driven works by teaching students safe vehicle skills through digital resources, classroom activities, and a family discussion guide, Honda said. It added that additional content will be added moving forward to continue "strong engagement" with young drivers.
"For many young people, driving is a point of pride and freedom," said Amy Nakamoto, Discovery Education's general manager of social impact. "But with that freedom comes responsibility. [We are] happy to bring Honda Safety Driven to young drivers and passengers alike so that they have the know-how to be responsible on the road while also exploring the STEAM behind the wheel."
Honda and Discovery Education launched the initiative Monday at the start of National Teen Driver Safety Week to address the fact that nearly one-third of U.S. traffic fatalities involve drivers younger than 25.
The OEM said the program will have a Science, Technology, Engineering, Art, and Mathematics (STEAM) focus that includes an opportunity for students to learn about safe driving through a virtual field trip, available for free on demand, that takes them into its Automotive Safety Research Facility in Richmond, Ohio.
"There, the student hosts explore how Honda is innovating the future of safety and striving to create a collision-free future for everyone," the OEM said in a press release.
Its Safety Driven Education program also offers resources to help families "deepen conversations" about risky driving behaviors. Its family discussion guide includes conversation prompts and ideas for activities they can participate in together to improve safety habits.
Throughout the past two years, Honda said it has contributed nearly $4 million to support programs that promote teen driver safety and education.
Earlier this year, it announced the creation of the new Honda Driver Coaching smartphone app, designed to help improve the skills of new drivers and promote safe driving practices.
The National Highway Traffic Safety Administration (NHTSA) marked National Teen Driver Safety Week, which runs through Oct. 21., by reminding parents to talk to their teens about the importance of responsible behind-the-wheel habits.
This includes conversations about impaired driving, the risks of distracted driving, and the importance of both slowing down and wearing a seatbelt.
"Teens lack experience behind the wheel, and you can make a difference in shaping them to be responsible, safe drivers. Encourage your child to make the right choices and keep themselves and their friends safe," NHTSA said. "And as a parent, be a good role model. Demonstrate the responsible driving behaviors you want your teenager to have and set aside time for your teen to practice driving with you."
According to SafeWise, collisions are a leading cause of death for those aged 15-18. In 2021, more than 2,600 people were killed in crashes involving teen drivers, it said.
Images
Featured image courtesy of LSOphoto/iStock
Share This: