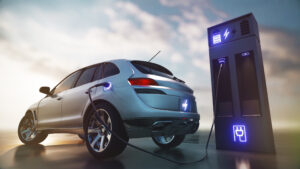 Nearly 50% of EV owners chose ICE vehicle for subsequent purchase, S&P Global Mobility study shows
By on
Market Trends
Nearly half of households with non-Tesla electric vehicles (EVs) made an internal combustion engine (ICE) vehicle their next auto purchase, according to a new analysis.
It doesn't necessarily mean they sold their EV, as it could also indicate they purchased an additional family vehicle that is gasoline powered.
S&P Global Mobility said its findings indicated that the fuel type loyalty rate for mainstream EV households was 52.1% through July of this year. That figure represents those who remained true to EVs after buying their initial one.
"Between Tesla picking off EV intenders, and the draw of internal combustion strengths such as towing and payload, legacy ICE automakers face a battle to increase EV loyalty as they transition," S&P Mobility said. "Doubling down on EVs to expand their lineups might be the required path to ensure continued loyalty to brand and fuel type."
Tom Libby, S&P Global Mobility's associate director for loyalty solutions and industry analysis, said the results aren't likely to be welcomed by automakers embracing the EV market.
"The OEMs are spending huge amounts of money to develop EVs," Libby said. "The last thing they want is for an EV owner to go back to ICE."
The report attributed the "loyalty struggle," in part, to an overall decrease in consumer willingness to purchase an EV. S&P data indicates that overall consumer consideration for buying an EV has dropped to 52% from an 81% high in 2021.
"Pricing, infrastructure, and range were the top three reasons consumers listed for not purchasing an EV," S&P Global Mobility said. "For some consumers, having a traditional ICE or hybrid vehicle is a way to hedge against some of these obstacles."
Its analysis found that among non-luxury brand households surveyed, Nissan held onto the strongest EV loyalty, with 63.2% of owners sticking to that fuel type for their next purchase. It was followed by Chevrolet with 60.6%, although in neither case does it mean that the buyer remained loyal to the same OEM.
S&P's individual model results revealed that:
37.3% of Ford Mustang Mach-E households bought another EV versus 45.8% opting for an ICE vehicle;
"A large chunk of buyers went to Ford truck and SUV models in both ICE and hybrid powertrains, suggesting that vehicle type and capability were more important than the fuel used;"
Among Nissan Leaf households that bought another EV, the most popular next purchase was a Tesla Model Y at 14.3%, followed by another Leaf at 12.4%;
Leaf EV households who switched to non-EVS stuck with other Nissans including the Rogue, Pathfinder, Altima, and Sentra; and
Among Chevrolet Bolt households, 60.7% stuck with EVs, with 25% purchasing another Bolt.
The situation differs in the luxury EV space, S&P Global Mobility said, noting that the segment has maintained at least 70% customer loyalty throughout the past three quarters and more than 60% loyalty throughout the past year-and-a-half.
However, as the chart below shows, luxury EV popularity and loyalty also vary by brand.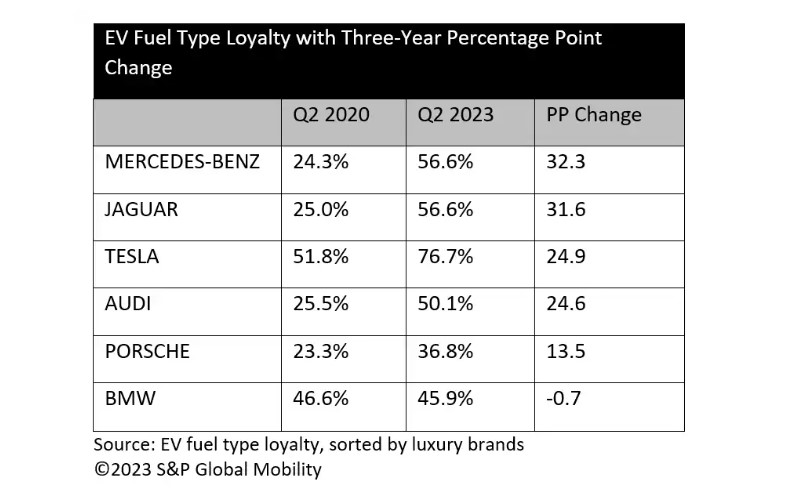 "With Tesla's impact on the overall segment removed, S&P Global Mobility data analysis shows some luxury brands have a hard time keeping customers intrigued by EVs," S&P Global Mobility said. "On the upside, many non-Tesla luxury brands have improved their EV loyalty rate — especially Jaguar, Mercedes-Benz, and Audi. Intriguingly, among luxury brands with significant return-to-market volume, BMW had the highest EV loyalty rate three years ago but also has not changed that percentage since.
"But can these rates hold as product lines age and new competitors arrive? What will the Mercedes-Benz EQS or Porsche Taycan buyer do when they come back to market for a new vehicle in the next few years? Will they buy one of the 200-plus EVs expected to be available for sale in 2026, or harken back to their legacy luxury brands' heritage of internal combustion?"
Images
Featured image courtesy of UniqueMotionGraphics/iStock
Secondary graph courtesy of S&P Global Mobility
Share This: