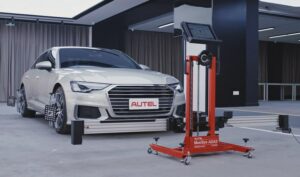 Autel, CREF gift 8 collision repair schools ADAS calibration packages; another to be gifted in November
By on
Education
Eight U.S. collision repair school programs were gifted advanced driver assistance system (ADAS) tools and training through a partnership between Autel and the Collision Repair Education Foundation (CREF).
The donation is through a newly-launched collaboration consisting of a three-prong campaign to help educational institutes develop ADAS-related vehicle and safety curricula based on OEM specifications.
"[This partnership will ensure] that the schools it represents have the best tools, equipment, and supplies the industry offers giving students the skills they need to face the challenges of servicing today's sophisticated vehicles," said Chlue Hung, Autel's CEO. "It is estimated that by 2043, 95% of all registered vehicles in the U.S. will be equipped with most ADAS including rear parking sensors, rearview cameras, LDW [lane departure warning], and Blind Spot Warning.
"The importance of correctly calibrating these systems cannot be overstated; it's truly a matter of life and death. Our tools are designed for the skilled technician dedicated to providing exceptional diagnostic and repair services to their customers. And we are grateful to CREF for allowing Autel, through our tools, to be part of the learning process for these future technicians."
According to Autel, 92% of new vehicles are equipped with at least one ADAS system, meaning being trained on ADAS calibration is becoming a "vital skill" across the automotive repair spectrum.
Earlier this year, Mitchell International and CCC Intelligent Solutions acknowledged the growing necessity of vehicle diagnostic scans and calibrations and said they want to ensure collision repair technicians have what they need to properly perform them.
Others in the industry have also stressed the importance of not only properly conducting scans, calibrations, and recalibrations according to OEM repair procedures but also documenting every part of the repair process, including those steps.
"Diagnostics scans and calibrations have become increasingly important as more technology and advanced driver assistance systems become standard in more vehicles," CCC previously told Repairer Driven News. "Our repair customers frequently ask us about how they can improve operations around scanning and calibrations as a way to drive efficiency and transparency into their processes."
The donation of Autel IA800 lane departure warning ADAS calibration systems included: LDW targets, patterns for 20 OEM brands, and a MaxiSYS 909 tablet with ADAS calibration software. Schools also received a VCI/J2534 pass-thru programming device and a 244-page Autel Academy ADAS training manual.
Each package is valued at more than $9,600.
The next step of the partnership will see CREF gift an additional Autel-donated 1A800 LDW calibration package during an upcoming webinar, called "The Importance of Adding ADAS to Your Curriculum," Nov. 15 from 11 a.m. to 12 p.m. EST.
For the third prong of its campaign, Autel is offering the package at a "significantly reduced rate" to automotive vocational schools with rates available online, it said in a press release.
Brandon Eckenrode, CREF executive director, said the gifted systems will help better prepare the next generation of automotive professionals.
"As instructors face challenging program budgets, it's through our industry partners that we are able to help invest in their programs and ensure that these schools have up-to-date equipment and technology for their students' technical education," Eckenrode said. "We look forward to this collaboration with Autel and connecting them with collision instructors so that students are better trained and prepared for employment within the industry."
Eckenrode is set to speak about how to address the industry's talent shortage during an upcoming Society of Collision Repair Specialists (SCRS) Repairer Driven Education (RDE) panel at this year's SEMA Show.
The "Talent Shortage – Ensuring We Have Collision Technicians in 5 Years" session will also include Jeff Wildman, an automotive aftermarket industry expert at BASF; Laura Lozano, collision repair technology professor at Contra Costa College; Donna Wagner, vice president of industry and media relations at ASE, and Jennifer Maher, TechForce Foundation executive director.
Those interested in learning more about the show or planning to register can do so online. To learn more about SCRS' RDE series during the show, click here.
Those planning to attend, or considering attending, can explore the RDE track in greater depth or add sessions to their show planner by visiting SCRS: Repairer Driven Education on the Map Your Show site.
Images
Featured image courtesy of Autel
Share This: