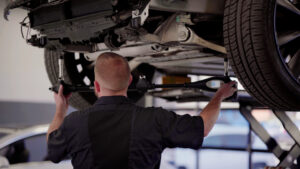 I-CAR announces updated courses addressing unibody & full-frame measuring, anchoring, pulling
By on
Education
I-CAR now offers new courses on measuring, anchoring, and pulling unibody and full-framed vehicles.
The collision industry training entity noted in an industry announcement that, as modern vehicles incorporate advanced materials, staying up to date with repair methods is crucial because vehicle repair procedures change rapidly.
The new courses are available online and allow technicians to learn at their own pace through a combination of engaging hands-on demonstration videos and interactive examinations. The full-frame course is two hours long and the unibody course is an hour and 45 minutes.
"This interactive approach ensures that technicians not only understand the theory behind measuring, anchoring, and pulling but also gain practical knowledge through course engagement that can be immediately applied in their day-to-day work," I-CAR said in a news release.
The courses will be part of the structural technician's ProLevel 3 path, which will affect Platinum and Gold Class recognition achievement and renewal cycles beginning Jan. 1, 2025.
There aren't currently any Industry Training Alliance courses offered that are equivalent to the new courses. However, there is an equivalent course to the pre-requisite course, "Introduction to Three-Dimensional (3-D) Measuring," which is the Advanced Bench & Measuring Course offered by Car-O-Liner.
Guided by I-CAR's "Automotive Collision Repair Industry Knowledge & Skills Protocol," the courses fulfill the required knowledge and skills areas necessary for structural technicians as defined by the collision repair industry, I-CAR said. In short, courses that are part of I-CAR's Professional Development Program (PDP) are designed to get repairers, insurers, OEMs, suppliers, schools, and service providers on the same page when it comes to learning objectives and documented knowledge and skills to perform complete, safe, and quality repairs.
The two-course design was created to cater to repair nuances specific to either unibody or full-framed build characteristics, including the effect on advanced driver assistance systems (ADAS). The description says the courses will explore the complexities of structural alignment on vehicles with varying damage conditions and construction materials.
As the course description notes, "precise measuring, anchoring, and pulling are fundamental processes in auto body repair that contribute to the structural integrity and safety of the vehicle's driver and passengers."
After completing both courses, technicians should be able to do the following on both types of frames:
Identify the safety precautions for measuring, anchoring, and pulling;
Identify suspected vehicle damage based on measurements;
Interpret measurement results;
Identify anchoring strategies for impacts to vehicles; and
Determine effective pulling strategies to remove damage.
Specific to unibody vehicles, techs will also be able to determine where to add supplemental anchoring.
"We are thrilled to expand our educational offerings to include these new courses, which incorporate industry feedback, and to launch our latest effort to make training more dynamic and interactive, thus more effective," said John Van Alstyne, I-CAR CEO and president.
I-CAR's Technical Products and Curriculum Development Director Bud Center added, "These courses address critical and fundamental aspects of collision repair and provide technicians with a professional development opportunity for advanced learning to ensure vehicles are repaired efficiently, and most importantly safely for the driver and their passengers."
I-CAR Gold Class repair centers on the Gold Class (Training) Subscription plan have access to the new courses for free as part of the unlimited live, online, and virtual course subscription benefit. Gold Class shops that do not take part in I-CAR's training subscription plan will receive the normal 20% Gold Class discount on the courses.
I-CAR Platinum (Pro Level 3) individuals are also eligible for a 20% discount on the courses.
To learn more about the new courses, visit I-CAR's website.
Images
Featured image: A collision repair technician measures under a car with a Car-O-Liner tool. (Credit: K&M Collision)
Share This: