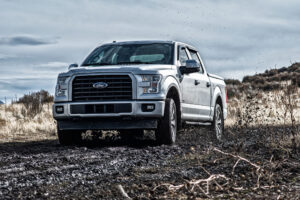 When highlighting the importance of having a full repair plan before working on a vehicle, Ford shared new information about its sectioning options in its latest "On Target" newsletter.
On Target pointed readers to a recent episode of I-CAR's "Repairers Realm" video series, where technicians discussed the topic using a pre-recorded video of a Ford F-150 Lightning cab corner repair.
The episode included Gerry Bonanni, senior damageability engineer for Ford, alongside I-CAR technicians Scott VanHulle and Jason Hauboldt. The explainer video began by noting that work should be preceded by protecting elements of the vehicle that aren't included in the repair such as fixed glass.
From there, the best places to cut were discussed.
"It's important to note that the sectioning cutlines provided in the official Ford Workshop Manual are suggestions," Bonanni said. "As long as you stay 50 millimeters away from striker or hinge points, which is an industry standard, the best place to cut on exterior components is left up to the technician's skill level and the type of damage on the vehicle."

Guidance was also offered on drilling rivets, with Bonanni suggesting the use of OEM-approved tools like a self-piercing rivet gun to press them out. He also advised ensuring the SPR gun is flush against the rivet, and to avoid angling or forcing it so that the die doesn't snap.
Rather than applying heat to fracture the glue, Bonanni suggested using a panel chisel in a sideways motion.
"He also cautioned against using heat in areas of a vehicle where multiple panels are bonded together, as the heat could compromise that bond, potentially causing a more invasive repair," On Target said. "Pressing out rivets leaves a small burr on the aluminum surface, and it is important to use a belt sander to remove them. A clean aluminum surface that is not contaminated will help to ensure high-quality welds."
On Target also noted how "a good sign of craftsmanship and training" is to overlay the newly-cut panel onto a new one and line it to ensure the right amount is cut off.
Bonanni said for repairers to, when cutting the new panel, stay close to the previously marked edge line while avoiding the line itself. They should leave between half an inch to three-quarters of an inch of extra material to account for grinding and dressing the edges, he said.
Repair technicians are also advised to use a grinder to remove the excess material directly up to the cut line to avoid a "wavy edge line gap" on the panel and ensure the gap welds are consistent.
Although MIG welding is the preferred method, Bonanni said TIG welding is acceptable, provided the technician is proficient with that process. He also advised repairs to mark the rivet location and types on the panel as five rivet part numbers are required for the repair.
He advised repairs against using aftermarket rivets, saying they don't have the same number or type of rivets required by the OEM. More than 65 rivet types are used to assemble the F-150 and Super Duty.
Bonanni also pushed back against repairers who believe they can put any rivet anywhere they choose, calling it the "absolutely wrong" approach.
"Go to the direct source, the Ford Motor Company site and get the information for the rivets, and where their locations are, and mandrels to set them," he said.
Added On Target: "Taking the time to properly prepare the repair, ensuring cut lines are accurate and that everything lines up for final assembly is very important, given the limited time with the adhesive as you approach the end of the repair."
Ford advises to reference its step-by-step repair instructions contained within its workshop manual (WSM) when repairing a Ford or Lincoln. Repairers should also check the manual often as procedures can be updated without notice, it added.
"Aftermarket or off-brand workshop manuals may not put in corrections or updates to repairs, since they exist as a static snapshot of data, whereas [Ford's manual] is continually updated," On Target said. "Any revision dates will appear in the top right corner on repair procedures in the WSM."
For more information related to repairing Ford or Lincoln vehicles, visit FordCrashParts.com.
Images
Featured image courtesy of Wirestock/iStock
Share This: