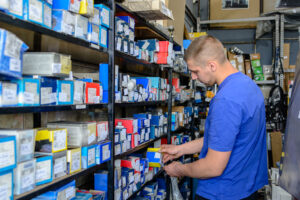 Capstone Partners says in its most recent automotive aftermarket mergers and acquisitions (M&A) report that it expects M&As will continue to increase through next year as fewer consumers purchase new vehicles, electing to service their current vehicles instead.
The firm expects deals to accelerate in the coming quarters and through 2024 as broader M&A markets emerge from a "relative trough in dealmaking."
Older cars on the road have inherently led to greater demand for non-discretionary aftermarket replacement parts and services. according to Capstone, which noted MEMA Aftermarket Suppliers' finding that light vehicles over 10 years old are expected to account for 42.5% of aftermarket parts and services spending. The share for cars under five years old is 24.8%.
Capstone notes in the report that, as vehicles become more complex, professional services will increasingly become preferred by consumers rather than doing the work themselves thereby increasing aftermarket spending.
The increase in vehicle miles traveled in recent years has also contributed to greater demand for aftermarket services, according to Capstone.
"The essential nature of aftermarket services, including tire retail, brake repair, and glass replacement, has created healthy revenue visibility for sector players and has insulated the space from broader macroeconomic headwinds," the report states. "Notably, leading aftermarket service providers Boyd Group Services and Driven Brands recorded YoY [year-over-year] sales increases of 23% and 19%, respectively, according to their Q2 earnings releases.
"Inorganic growth and consolidation have been key strategies for the sector, evidenced by Boyd Group Services adding 57 collision repair centers in the first half of 2023. Amid a tight labor market, acquisitions have proven to be an efficient means to add capacity and talent."
Capstone found that, despite higher interest rates and lower consumer sentiment, the fundamentals of the aftermarket — miles traveled, average age of cars, and car parc — have remained strong and are forecasted to grow. More than 230 deals have closed year-to-date, with a strong Q4 forecast by Capstone. By October 2022, 310 deals had closed.
"While high-quality retailers, distributors, and parts suppliers have captured healthy buyer appetite, targets in the services segment have witnessed significant strategic and private equity interest," the report states. "As supply chains have normalized and demand has remained robust, prospective sellers with recurring revenue, a sticky customer base, and defensible gross margins are poised to generate the greatest buyer attention."
The following are among the acquisitions noted in the report:
Feb. 27: Uni-Select, a distributor of automotive refinish, industrial coatings, and related products, was acquired by LKQ for $2.1 billion;
June 30: Continental Auto Parts, a distributor of aftermarket collision automotive parts to MSOs and independent repair centers, was acquired by Kinderhook; and
July 5: Collision Auto Parts, a distributor of auto body and colling parts for commercial and personal vehicles, was acquired by Palladium Equity Partners.
"Strategic buyers have continued to pursue target companies that offer operational synergies, complementary product or service offerings, or geographic expansion," the report states. "However, they are being more selective about where they pay premium valuations amid higher interest rates… Acquirers are spending more time and energy in aftermarket non-discretionary services and replacement and parts supply/distribution subsectors."
Capstone also notes that as pricing pressure has lessened, acquirers have preferred to see healthy growth significantly contributing to sales.
During the upcoming SEMA Show in Las Vegas, Collision Builders Managing Partner Bing Wong will provide a presentation as part of the Society of Collision Repair Specialists (SCRS) IDEAS Collide Showcase.
IDEAS will help kick off SEMA Week on Oct. 30 from 3-5 p.m. with 10 fast-paced presentations designed to stimulate thought, innovation, and resolution of business challenges with thought leaders both in and outside of the industry. SCRS says speakers and the topics they'll focus on will rattle the status quo with ambitious ideas that could have a transformative effect on the industry and your business.
In Wong's "Growth through Acquisition – What You Need to Know," key things repair center operators need to know when considering growing their business through acquisition will be shared including:
The benefits of growing through acquisition;
What to look for in a potential target;
How much you should pay for a repair center;
Top tips on deal structure; and
Three things to avoid when buying a repair facility.
Those interested in learning more about the show or planning to register can do so online. To learn more about SCRS' Repairer Driven Education (RDE) series during the show, click here.
Those planning to attend, or considering attending, can explore the RDE track in greater depth or add sessions to their show planner by visiting SCRS: Repairer Driven Education on the Map Your Show site.
Images
Featured image credit: ProfessionalStudioImages/iStock
Share This: