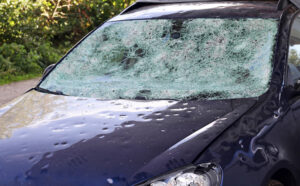 The owner of a Colorado collision repair facility whose business is taking a hit online over delayed repairs says parts shortages and slow-moving claims processes are to blame.
StormWise Auto Body Shop in Lakewood made headlines this month after customers came forward claiming they've waited months to have their hail-damaged vehicles fixed.
Hail storms throughout Colorado have caused damage to tens of thousands of cars this year. In Colorado Springs, about 75 miles from Lakewood, upward of 80,000 GEICO customers filed a claim for hail damage from summer storms, according to a local report.
That situation led to a backlog of repairs for a number of businesses.
In the case of facilities such as StormWise, it could serve as a reminder of the importance of repair plans and communicating progress with customers. Ensuring customers are kept informed on the status of their vehicle, and any factors causing its repair to be delayed, can help eliminate frustration.
One customer, Shirley Dale, told local media outlet Denver 7 that she brought her Honda CRV to StormWise on July 11 to have a hail dent repaired. She said while she was told the fix would take four weeks, the SUV remained at the facility 12 weeks later.
Dale also said she wasn't able to reach the business to get answers.
"Who has a business to repair cars and they just go radio silent? They don't return your cars," she said. "They don't return your messages."
Another disgruntled customer, Nancy Szilagyi, said she shared her experience through a Google review after waiting nine weeks for a repair that was estimated to take just two to four weeks.
"I wrote a review and said, 'This is the worst experience we've ever had,'" Szilagyi told Denver 7. "There's a place where the clear coat looks like it bubbled up. I don't want to give them back my car; don't want to leave it there again and not see it again for nine weeks. So basically, it's been a terrible, terrible experience."
Several other customers took to Yelp to complain, with many expressing concerns about long wait times.
David Hobbs, who owns StormWise, did not respond to Repairer Driven News queries.
However, he told Denver 7 that this was the first time his facility has faced such a backlog in its 12-year history. He attributed the slowdown to insurance companies being slow to finalize claims, parts delays, and a staff shortage.
"There was definitely a time when we did not have the staff to handle the inbound calls that we were having," Hobbs told the outlet. "[It's] frustrating for them and I absolutely get it. We're definitely working better, harder every day to try to get a better hold of that."
Perhaps an example of a repair facility that was able to successfully process a weather-driven onslaught of damaged cars is Burl's Collision Center in Henderson, Texas.
In May, the facility became overwhelmed with customers following a freak hailstorm that damaged hundreds of cars, prompting its owner Burl Richards to encourage other businesses to establish contingency plans to prepare for unexpected events.
Although they didn't have a pre-determined plan in place to deal with the hundreds of customers who turned up at Richards' repair center for help, they quickly established one.
The manager got to work at 5:15 a.m. the day after the storm to find dozens of people waiting in the parking lot and began to set up a triage-type area to begin the intake process.
All employees were put to work, bringing out tables and chairs usually reserved for parties to accommodate customers.
"I've got to give my manager and my team so much credit here because they were so prepared," Richards said. "They started processing claims from about 6 a.m. through 6 p.m. and in that period processed 223 cars and trucks, which is pretty phenomenal."
An upcoming Society of Collision Repair Specialists (SCRS) Repairer Driven Education (RDE) presentation called "Take Control! The Guild of Advanced Repair Planning" will address the need for having a thorough collision repair plan. That panel is set to happen on Oct. 31 at the SEMA Show.
"Being prepared with all the information upfront is the roadmap of your outcome," Danny Gredinberg, Database Enhancement Gateway (DEG) administrator, previously told Repairer Driven News. "Vehicle repairs require strategic planning to ensure repairs can quickly and efficiently go through the repair facility with minimal downtime which leads to higher profits."
During the 90-minute presentation, panelists will discuss the entire repair process beginning with the initial consultation and then moving into repair planning involving diagnostics, advanced refinishing processes, and other steps.
Those interested in learning more about the SEMA Show or in registering can do so online. To learn more about SCRS' RDE series during the show, click here.
Those planning to attend, or considering attending, can explore the RDE track in greater depth or add sessions to their show planner by visiting SCRS: Repairer Driven Education on the Map Your Show site.
Images
Featured image courtesy of Astrid860/iStock
Share This: