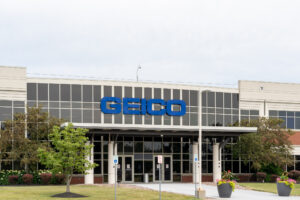 GEICO lets 2,000 employees go, latest insurer to make cutbacks
By on
Insurance
GEICO has laid off 2,000 of its employees and ordered its remaining staff to return to the office, its CEO said in an internal email shared with Repairer Driven News.
Todd Combs said in his letter to employees that the move was made to "better position ourselves for long-term profitability and growth," and that the layoff represents 6% of the company's workforce.
"We have seen significant changes to our company over the past few years, and we have evolved our business practices to help address a very difficult period across the industry," Combs wrote. "Levels of inflation that we haven't seen in decades, delays in parts or labor shortages extending time to repair, rising medical costs, and other factors have caused our loss costs and combined ratio to increase, alongside the entire industry."
GEICO is the latest in a number of insurers to make cutbacks as they struggle to remain profitable amid the "challenging landscape". In late August, Farmers Insurance said it was laying off 11% of its employees throughout all its business lines to better position itself for "long-term profitability and growth."
Combs said that while GEICO is in stable condition, more work must be done to prepare it for the challenges ahead.
"Our future requires our company to adapt swiftly and evolve our business model when needed to stay competitive and win," he said. "[The layoffs] will allow us to become more dynamic, agile, and streamline our processes while still serving our customers."
GEICO employees who held onto their jobs will be required to increase their presence in the office, with the policy taking effect Jan. 1, Combs said.
"Our company culture is an essential part of who we are, and we believe spending time in the office paired with virtual work will help us maintain and build upon that culture," he said. "We believe that being in the same place can foster a sense of community and connection, and that meaningful time together will allow us to build relationships that create trust and strengthen our sense of belonging."
It's not clear whether the company's new approach will affect repair professionals or their customers who work with insurance adjusters daily on claims and repair plans. A GEICO spokesman told RDN that the layoffs would not affect its handling of claims, customer care, or business operations.
Combs did share information on the company's path forward, saying GEICO's priorities are to:
"Serve our customers in the channels of their choice by providing a seamless, first-class experience from quoting a policy through settling claims;
"Become No. 1 in auto and continue to expand our product offering while maintaining discipline on pricing and profitability
"Drive financial rigor while delivering operational excellence and efficiency Stabilize, simplify, and fully modernize our technology and data architecture; and
"Transform our company culture by attracting and retaining top talent, fostering a diverse and inclusive culture that promotes collaboration and high standards of performance while setting up our associates for success."
"We will provide details on these shared priorities and the operating principles that will help us get there together in the coming weeks," Combs said. "Relatedly, we must do a better job of communicating and providing the why behind the decisions we are making to lead our company forward. This is a priority for our leaders, and you can expect to see a greater emphasis on associate communication in the months ahead."
The layoffs came around the same time a new S&P Global Market Intelligence (S&P Global) report was released that indicated most publicly traded U.S. P&C insurance companies are poised to report earnings and revenue gains during Q3 and year-over-year improvement in combined ratios.
Its analysis found that among the 20 largest P&C and multi-line public insurers, 17 are expected to record higher year-over-year earnings while 15 will likely see increased revenues.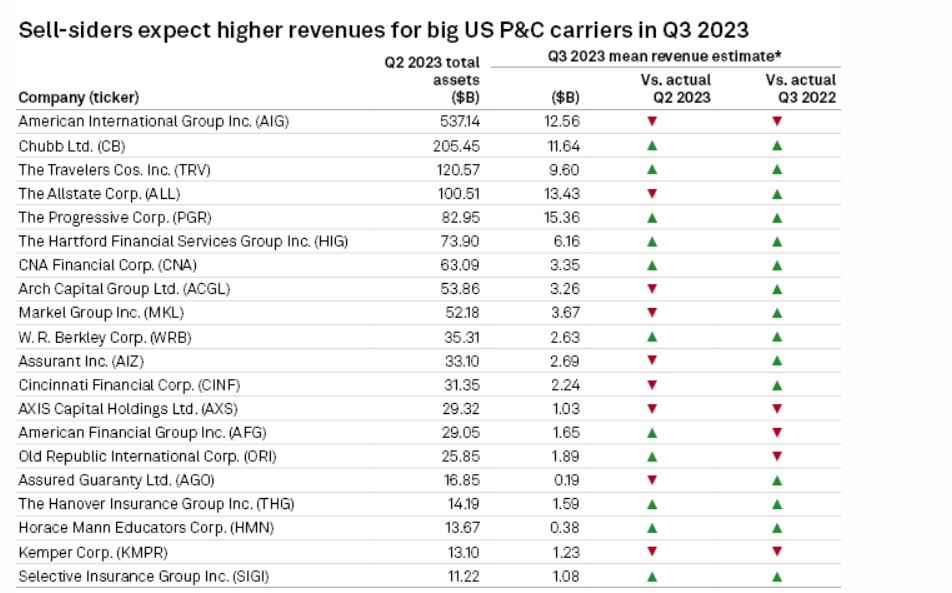 S&P Global cited commentary from Piper Sandler analysis by Paul Newsome, who said it's not yet clear whether personal line writers are starting to see improvement in their results.
"They pushed through a ton of pricing and claims cost inflation just kept overwhelming [them] in the first half of the year," Newsome told S&P. "So, the question will be whether or not we finally reached the inflection point with the price increases."
He added that moderation in used car prices and new car parts, which are still rising but not "spiking like they were before," could result in auto inflation easing.
Meanwhile, J.D. Power's Q3 insurance shopping report indicated a slowdown in consumers seeking quotes for auto insurance during the period. The shopping rate dropped slightly, from 12.5% to 12.3% quarter-over-quarter, J.D. Power said.
Although the percentage of shoppers dropped, the figure is still higher than it was at the beginning of 2023, according to the report.
"Consumers are still looking for better deals on their auto insurance," the report said. "Now two full years into the historic hard market in auto insurance, consumers have gone through a cycle of increased shopping and switching early on, when more attractive premiums could be found as not all insurers were taking rate.
"[They reached] the point earlier this year when shopping remained high as renewals showed substantial increases but switching plateaued as it became increasingly difficult to find a cheaper premium. [Now], many consumers are still shopping and switching, but some might have resigned to higher premiums."
Rate submissions so far this year indicate that rates are continuing to rise, J.D. Power said, adding that it will be a wait-and-see situation on how customers continue to respond to the hard market.
Images
Featured image courtesy of JHVEPhoto/iStock
Share This: