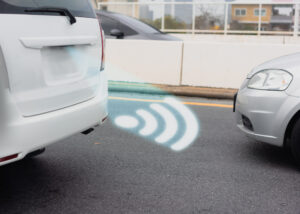 BlueCruise remains highest rated ADA system as Consumer Reports adds more OEMs to its rankings
By on
Market Trends | Technology
Consumer Reports Data Intelligence (CR) has updated its active driving assistance (ADA) evaluation report to include a ranking of three additional OEM systems, but says even with the added data, Ford's BlueCruise remained the ADA leader with 84 points.
Its ranking was nine points higher than its closest competitor, the Super Cruise system deployed by GMC, Chevrolet and Cadillac. BlueCruise received 9/10 scores for capability and performance, keeping the driver engaged, and letting the driver know when they should or shouldn't be using the technology.
The rankings held up even as CR added three additional OEM systems, from Subaru, Lucid and Jaguar/Land Rover to its report. The updated report also includes more recent data from Nissan and Hyundai, which were among the 12 brands included in the original report published in January.
"It's equal parts eerie and amazing to experience Ford's BlueCruise hands-free driving feature as it takes over your car's steering, braking, and acceleration while you travel down the highway," CR said in an in-house article published last week. "The eerie part is watching the steering wheel turn back and forth on its own, making micro-adjustments to keep the car in the center of its lane, while the system also slows down or speeds up to maintain a safe distance from the vehicle ahead. The amazement soon follows: With your hands off the wheel and relaxing on the armrests as the automated systems take charge, you might start to believe that the age of the self-driving car is finally upon us.
"But while BlueCruise's capabilities are impressive and can make driving more relaxing, cars that can truly and safely drive themselves remain a long way off."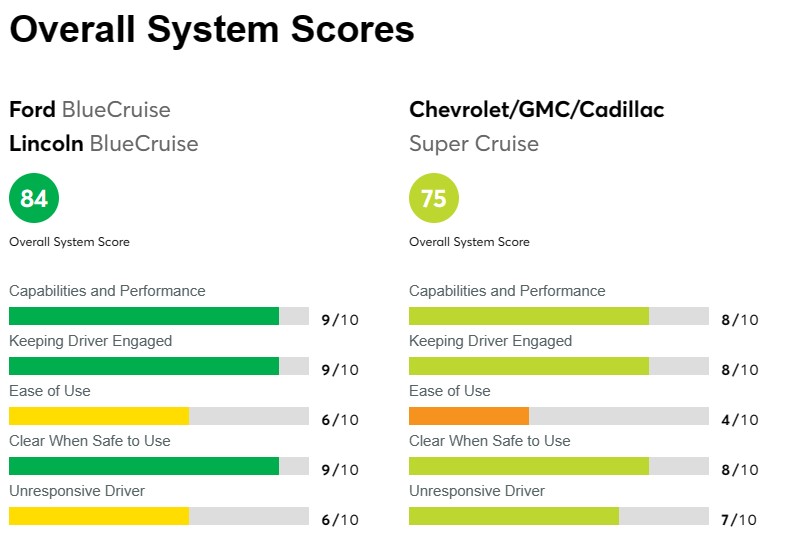 In the CR article Jake Fisher, CR's senior director of auto testing, detailed how BlueCruise can allow drivers to relax their grip and occasionally let go of the wheel while driving as the vehicle maintains a safe distance from others on straight highway sections or traffic jams.
Fisher said ADA systems can also improve safety by preventing drivers from crossing a lane into oncoming traffic while distracted.
"Systems like BlueCruise are an important advancement that can help make driving easier and less stressful," Fisher said. "But they don't make a car self-driving at all. Instead, they create a new way of collaboratively driving with the computers in your car. When automakers do it the right way, it can make driving safer and more convenient. When they do it the wrong way, it can be dangerous.
CR said more than half of 2023 model year vehicles contain ADA systems, meaning it's likely to be included as an option, or even in a standard feature, in a person's next new vehicle purchase.
As well as BlueCruise and Super Cruise, its ADA evaluation report includes overall system scores for:
Mercedes Benz Driver Assistance, which ranked third with 72 points;
BMW Driving Assistance Professional with 69 points;
Toyota Safety Sense 3.0 and Lexus Safety System+ 3.0, 65 points;
Nissan/Infiniti ProPILOT Assist 2.0, 63 points;
Volkswagen Travel Assist and Audi Adaptive Cruise Assist, 62 points
Tesla Autopilot, 61 points;
Lucid Highway Assist, 59 points;
Rivian Highway Assist, 59 points;
Hyundai/Kia/Genesis Highway Driving Assist 2, 59 points;
Subaru Advanced Adaptive Cruise Control with Lane Centering Assist, 59 points;
Nissan/Infiniti ProPILOT Assist, 58 points;
Honda Sensing and Acura AcuraWatch, 58 points;
Jaguar/Land Rover with Adaptive Cruise with Steer Assist, 53 points;
Volvo/Polestar Pilot Assist with 53 points; and
The Highway Driving Assist system used by Hyundai, Kia, and Genesis, 47.
The systems were ranked in five categories including capabilities and performance, keeping driver engaged, ease of use, clear when safe to use, and unresponsive driver. In the unresponsive category, CR evaluated how systems responded to the need to help drivers during critical times like health emergencies or falling asleep at the wheel.
"We evaluated how effectively the systems escalate driver warnings and assume steering and speed control in such scenarios, paying particular attention to how long it takes before the first audible warning sounds (because an inattentive or sleeping driver probably would not see a visual warning)," CR said. "Although most vehicles in our testing can't monitor the driver's eyes, most do have a system that will signal an alert if the system deems the driver to be inattentive for a sustained period and then bring the car to a stop (with hazard lights on) and even call for outside help."
It said BlueCruise ranked best at identifying an inattentive driver, noting that if the driver isn't looking forward for between four and five seconds, an audible warning alert is triggered. However, it added that while the vehicle slows down to 6 mph if a driver is unresponsive, it continues driving in the same lane "indefinitely."
"By contrast, with GM's Super Cruise and Mercedes' Driver Assistance, if the driver doesn't respond to prompts from the system to re-engage, the car will turn on the emergency flashers, bring the car to a full stop (in whatever lane it's currently traveling), and call for help," CR said. "We think that's the smarter response."
Kelly Funkhouser, CR's manager of vehicle technology, addressed in the CR article how the Honda and Kia systems ranked just 1 out of 10 in the inattentive driver category.
"It's alarming that, with the Honda and Kia systems, if a driver becomes unresponsive to warnings to put their hands on the steering wheel, the ADA systems will shut off before bringing the vehicle to a stop," Funkhouser said. This means that if the driver is distracted or medically impaired, the vehicle will just continue to roll forward — potentially off the road at speed — without any steering assistance or speed control until it eventually rolls to a stop or runs into something."
Neither Kia nor Honda responded to a Repairer Driven News query by deadline.
CR said the testing was conducted by putting the vehicles "through their paces" around its track as well as on a 50-mile loop on public roads. It said each system was rated for its performance in 40 separate tests, including steering the car, controlling the speed, and keeping the driver safe and engaged.
It did not evaluate features like automatic lane changes or reacting to traffic lights in the testing.
Images
Featured image courtesy of VacharapongW/iStock
Graph courtesy of Consumer Reports
Share This: