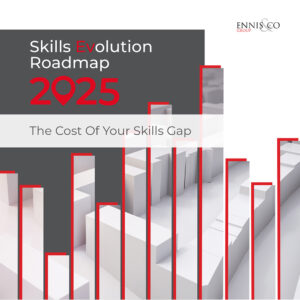 Research group says filling skills gaps requires quantification, how much is it costing your business?
By on
Business Practices | Education
A global automotive executive search and workforce research group's follow-up to 2022 skills gap research found that while businesses need skilled workers, nearly all surveyed said they don't know the cost benefits of investing in recruitment.
Ennis & Co. Group's "Skills Evolution Roadmap 2025: The Cost of Your Skills Gap," the first part of a skills research project released last year, provided an evaluation of how the industry was responding to the skills gap problem and provided a roadmap to 2025 for business leaders to build their recruitment and retention strategies. It was based on interviews with senior executives from businesses operating across the vehicle lifecycle from design to repairs.
In a follow-up to those findings with board chairs, CEOs, human resources, R&D/supply chain companies, OEMs, national sales companies, retailers, and vehicle use/aftersales providers, E&Co. discovered the largest barrier to progress in addressing skills gaps was gaining the attention of the organization at the board level since the gaps were not quantified in fiscal terms.
"By filling this data void, we hope to give organizations the financial clarity to help them navigate a tricky landscape with confidence and purpose," wrote Lynda Ennis, founder and CEO. "There are strong financial benefits to making the right skills investment at the right time. Given the challenges of the talent market, with automotive businesses competing with other sectors for the same 'hot' skills, I would argue that upskilling and recruitment need to be at the very heart of business strategy and owned at board level. The best way to achieve boardroom buy-in is to put actual numbers on the financial upside of investing in skills and the downside of doing nothing."
One important takeaway is the three stages of employees' career journeys that E&Co. recommends businesses keep in mind:
Career exploration – Businesses need to "win the hearts and minds" of younger people who typically pay close attention to the mission and values of an organization beyond what they would be paid;
Established career – These workers form a large portion of the workforce, are fundamental to the operation of businesses, and can choose whether to stay at one job long-term or look elsewhere. "This is the key battleground for retaining and recruiting staff;" and
Career choice – More mature workers who may have a choice whether to work or not. They can be retained and attracted with a flexible approach to working hours, pay packages, healthcare, and enhanced pensions.
E&Co. says three global brands have adopted its three-stage model as the "cornerstone of their resourcing strategies" but didn't name them. However, Stellantis Global Circular Economy Senior Vice President Allison Jones discusses on E&Co.'s website how the OEM is considering employee skills related to reducing waste and improving the profitable recycling of its cars to meet its carbon net zero goal by 2038.
Group Lotus Commerical Vice President Mike Johnstone is also quoted on the site discussing why measuring skills gaps is important and how the information is used in business strategies.
One of the questions asked in the follow-up research that was recently released centered on the skills executives think employees should have and the risks they face by having people employed that don't have those skills. They were also asked how their business strategy fills the skills gap their company has and if they've taken any steps to quantify the cost of existing and future skills gaps.
For certain organizations, E&Co. found that recruiting and retaining the required talent to deliver commercial goals has become so challenging that it's now one of the key drivers of business strategy.
"One organization operating in the mobility space told us that skills shortages had forced it to re-evaluate its plans and take a more conservative approach to growth," E&Co. wrote. "Specific skills gaps vary across the vehicle lifecycle, though the shortage of digital and data skills is a common theme among all verticals as the industry competes with other sectors for the same, highly sought-after talent."
Strategies to mitigate the shortages have included internal learning and development programs, mapping and identifying talent pools in different geographic locations, combining core in-house teams with outsourced support, expanding apprenticeship pipelines, and driving diversity and inclusion initiatives.
For example, Tina Lovelock, Brompton Bicycle's global people director told E&Co., "Skills are the new currency in the world of work. We want to move away from a focus on jobs to a focus on skills."
By 2030, there will be a global skills shortage of 4.3 million people, costing the sector $253.1 billion, according to E&Co. based on PricewaterhouseCoopers International Limited (PwC)'s "The Lost Workforce."
Collectively, technological skills were at the top of the list of skills needs such as electric vehicle (EV) and connected car engineering, production, and software development by OEMs; strong digital literacy and development skills in relation to vehicle autonomy and connectivity for retailers plus cybersecurity knowledge for both OEMs and retailers.
OEMs that have had employees who struggle to keep up with the pace, flexibility, and breadth of the required skills are switching to a "grow your own" in-house training plan to address a lack of comparable businesses to recruit from. And one company plans to find employees in new areas of the world, pulling from Eastern Europe, E&Co. said.
In service and repair, the transition to EVs requiring new battery-handling skills is exacerbating the challenge those businesses have with recruiting and retaining technicians, resulting in significant wage inflation. This is true for retailers as well in addition to stellar customer communication skills.
Other routes businesses have taken include talent mapping (think planning out a career path for employees) and naming a coordinator to define what skill gaps exist and work with the recruitment team to plug those gaps.
With the growing demands of data, digitalization, and artificial intelligence (AI), one dealer group has put a data science-educated director in place.
"Electrification and new technologies in Advanced Driver Assistance Systems (ADAS) and connectivity will hopefully attract a new and diverse generation of technicians as the industry sheds its stereotypical 'greasy overalls' image," E&Co. wrote. "One retail group is exploring the idea of mobile technicians for simpler repairs, offering employees greater work flexibility."
According to the level of investment in skills, E&Co.'s Skills Gap Cost Model projects a spread of 7% with an uplift in turnover of +3% or a cost to the organization of more than -4% of turnover. In comparison, PwC's calculation of the spread for the same notional organization was 7.3%, ranging from +4.2% upside to -3.1% downside.
However, E&Co. notes the caveat that the model is just that, a model. "It is a logical basis to illustrate a range of potential scenarios, as the
starting point to address the issue. There are a broad range of complex factors which will impact the actual result including, but not limited to, the mix of skills within an organization, the specific revenue generated by that mix of people, and where the investment in skills is applied," E&Co. said.
E&Co. offers more information on skills gap issues and solutions on its website as well as a skills gap cost calculator.
Images
Featured image: Cover of Ennis & Co. Group's skills gap cost report. (Credit: Ennis & Co. Group)
More information
New 3M Skills Development Center looks to fill skills gaps, address tech shortage
Tips on what to offer students, employees & customers to fill tech gap, run successful business
Share This: