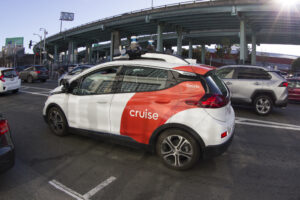 The California Department of Motor Vehicles (DMV) announced this week that it immediately suspended the deployment and driverless testing permits of General Motors' Cruise autonomous taxis, in part due to safety but also because Cruise has "misrepresented" information related to the vehicles' safety.
"Public safety remains the California DMV's top priority, and the department's autonomous vehicle regulations provide a framework to facilitate the safe testing and deployment of this technology on California public roads," the department said in a press release. "When there is an unreasonable risk to public safety, the DMV can immediately suspend or revoke permits."
It said there is no set time frame for how long the suspension will last, and that it put the brakes on the vehicles because based on their performance, it determined they were "not safe for the public's operation." It said the suspension was also based on the manufacturer misrepresenting "any information related to safety of the autonomous technology of its vehicles."
The suspension came days after Cruise said it was working with local emergency responders and police to address concerns related to a collision between a robotaxi and a firetruck in August.
Cruise said it was also updating its software so that its vehicles are "minimizing operational impact, quickly exiting emergency scenes, and increasing predictability."
The California DMV launched an investigation into Cruise in August amid safety concerns raised during the robotaxi service's first week of full 24/7 deployment.
"The DMV is investigating recent concerning incidents involving Cruise vehicles in San Francisco," the DMV said at the time in a statement to The Associated Press. "Cruise has agreed to a 50% reduction and will have no more than 50 driverless vehicles in operation during the day and 150 driverless vehicles in operation at night."
The Associated Press reported that the National Highway Traffic Safety Administration (NHTSA) began its own investigation of Cruise on Oct. 16, citing reports of incidents where the company's AVs "may not have used proper caution around pedestrians in roadways," including crosswalks.
Cruise said in a statement to Repairer Driven News that it learned of its suspension Tuesday morning and will be pausing operations of its driverless autonomous vehicles in San Francisco.
It said the California DMV had been reviewing an Oct. 2 incident where one of its taxis struck a pedestrian who had just been injured in a hit-and-run
"In the incident being reviewed by the DMV, a human hit and run driver tragically struck and propelled the pedestrian into the path of the AV," Cruise said. "The AV braked aggressively before impact and because it detected a collision, it attempted to pull over to avoid further safety issues. When the AV tried to pull over, it continued before coming to a final stop, pulling the pedestrian forward. Our thoughts continue to be with the victim as we hope for a rapid and complete recovery."
Cruise said that it shared information and the full video of the incident with the California DMV, NHTSA and the  California Public Utilities Commission (CPUC), which granted its driverless deployment permits.
"We have stayed in close contact with regulators to answer their questions and assisted the police with identifying the vehicle of the hit and run driver," Cruise said. "Our teams are currently doing an analysis to identify potential enhancements to the AV's response to this kind of extremely rare event."
Cruise also said that its AVs are designed to perform a maneuver after a collision to minimize safety risks.
"This is called achieving a minimal risk condition, and it's required under California regulations and encouraged under Federal AV guidance," it said.
In the months since its deployment, Cruise has drawn criticism from local residents as well as concerns voiced by Rep. Nancy Pelosi and Rep. Kevin Mullin in a September joint letter to Ann Carlson, NHTSA's acting administrator.
The Bay Area congress members wrote the letter to ask NHTSA to improve its data collection requirements for autonomous vehicles (AVs).
The lawmakers said that even before the robotaxis received approval, nearly 600 incidents involving them were reported to city officials. The concerns reported likely represented a mere fraction of actual incidents.
"In the months before the CPUC decision, such incidents had skyrocketed from no more than about 30 per month to more than 120 in June 2023 alone (the last month for which data is available)," the letter said. "AV car companies do not fully disclose the location, number of, or duration of these incidents, but San Francisco reports, and independent reporting has verified, that they can last up to several hours and have occurred not only throughout the city but also in San Mateo County and in other counties in the Bay Area."
The congress members detailed the challenges of addressing real-world situations, including malfunctioning AVs triggering traffic jams, blocking intersections, and delaying first responders en route to emergencies.
Cruise said in its statement that its latest performance data of its first one million miles showed that its AVs were involved in 65% fewer collisions overall and 74% fewer collisions with meaningful risk of injury when compared with human-operated rideshare drivers.
The DMV said it has provided Cruise with the steps needed to apply to reinstate its suspended permits, and that those permits won't be approved until Cruise fulfils its requirements to the department's satisfaction.
It said its decision to revoke the permits does not impact Cruise's permit for testing with a safety driver.
Images
Featured image: HapaPapa/iStock
Share This: