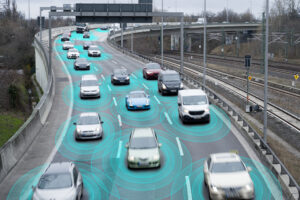 A pair of Bay Area congress members is calling on the National Highway Traffic Safety Administration (NHTSA) to improve its data collection requirements for autonomous vehicles (AVs).
In a joint letter to Ann Carlson, NHTSA's acting administrator, Rep. Nancy Pelosi and Rep. Kevin Mullin said more thorough data collection would provide regulators with a clearer picture of the steps necessary to implement safeguards.
"We believe AVs will one day provide safe transportation to millions of people and dramatically reduce traffic and pedestrian deaths, both of which are needlessly high," the letter, sent Tuesday, said. "In the meantime, we need to bring more transparency to this groundbreaking sector."
The letter was sent about a month after rival robot companies Waymo and Cruise were given approval to operate in San Francisco at all hours following millions of miles driven on public roads and billions in driving courses and simulations.
Amid safety concerns, the California Public Utilities Commission (CPUC) granted driverless deployment permits to the companies in mid-August. The approval made San Francisco the first major U.S. city with two fleets of driverless vehicles competing for passengers against ride-hailing and taxi services, such as Uber and Lyft.
In their letter to Carlson, the lawmakers said that even before the robotaxis received approval, nearly 600 incidents involving them were reported to city officials. The concerns reported likely represented a mere fraction of actual incidents, they said.
"In the months before the CPUC decision, such incidents had skyrocketed from no more than about 30 per month to more than 120 in June 2023 alone (the last month for which data is available)," the letter said. "AV car companies do not fully disclose the location, number of, or duration of these incidents, but San Francisco reports, and independent reporting has verified, that they can last up to several hours and have occurred not only throughout the city but also in San Mateo County and in other counties in the Bay Area."
The congress members detailed the challenges of addressing real-world situations, including malfunctioning AVs triggering traffic jams, blocking intersections, and delaying first responders en route to emergencies.
While the letter acknowledged the strides companies have made in autonomous driving technologies, the vehicles aren't yet ready to take over the streets.
It said neither CPUC nor any federal agency has the data necessary to evaluate the safety of AVs and how they compare to driver-operated vehicles.
However, it did acknowledge NHTSA's extension of its standing general orders (SG)) earlier this year that mandate reporting obligations of certain crashes for an additional three years.
The extension was noted in a NHTSA and motor vehicle safety update by Foley & LLP, a law firm that specializes in connected and autonomous vehicles. Its report highlighted how the federal agency is enforcing autonomous driving systems (ADS) and automated driver assistance systems (ADAS).
However, the lawmakers said there are limitations to the data being collected under the order.
"Incidents that did not end in a 'crash' but did involve downstream individuals are not accounted for in the current SGO," the letter said. "So, for example, a vehicle that shuts down in the middle of a street, blocking first responders from being able to reach an individual whose life is threatened need not be reported, despite likely resulting in 'deaths and injuries resulting from traffic accidents.'
"Moreover, NHTSA has not asked for sufficient information from manufacturers to be able to do data normalization to compare systems, so it is currently impossible to accurately evaluate the relative safety of different manufacturers. They are not required to submit how many of their vehicles are on the road, the number of vehicles operating, or the miles traveled."
The politicians said they're asking NHTSA to spearhead data collection because the agency has a statutory authority to require OEMs to share data on injury, death, or property damage.
"We believe NHTSA should require companies to report incident information on a detailed and standardized basis so that the safety record of these vehicles is fully understood and so that companies may be evaluated relative to each other and held accountable," the letter said. "…The agency should also collect information on the response of vehicles to events that are infrequent but likely to occur at least several times over the course of a vehicle's operational lifetime, such as traffic signal outages, cellular network outages, and disaster situations."
When contacted for comment, NHTSA only said that it "looked forward to reviewing" the letter.
Earlier this month, JD Supra shared insights on new AV-related federal regulations, and noted that it will  "likely have little immediate effect, multiple pending federal regulations could substantially affect AV growth in the United States."
"Although the federal government implemented some new regulations on autonomous vehicles (AVs) in 2023, states remain the predominant source of new regulations affecting AVs," JD Supra said. "In fact, 25 states and the District of Columbia have considered new regulations to AVs in the first half of 2023 alone."
It's worth noting, however, that none of the regulations introduced relate to data collection.
Images
Featured image: IGPhotography/iStock
Share This: