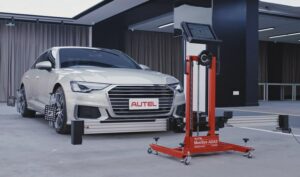 The Auto Body Association of Texas (ABAT) held a webinar Wednesday to highlight some tips on setting up a repair center to conduct advanced driver assistance system (ADAS) calibrations.
Autel Technical Trainer Richard Zenteno and Gary Machiros, a New England-based technician and WORLDPAC Training Institute (WTI) instructor, shared that the most important details are the correct equipment setup and proper invoicing.
Zenteno noted that 94% of accidents are caused by distracted driving and poor judgment, meaning ADAS is "here to decrease that number of accidents by 30 to 40%," he said.
With the increasing number of factory ADAS-equipped vehicles comes more complex repairs and, like with most new technologies, misconceptions, which Zenteno spent some time clearing up.
First, what's calibrated — the ADAS technology or the sensors? "The answer is the sensor," Zenteno said. "When you calibrate the sensor, all the software that uses that sensor as an input is calibrated at the same time."
Another misconception is if a camera, radar, or sensor isn't unplugged it doesn't need to be recalibrated. Calibrations should always be performed and verified according to OEM repair procedures to ensure the systems are operating properly whether by static or dynamic methods.
"The biggest issue here is the environment when you're dealing with dynamic," Zenteno said. "It's not that the system is not working. It's that it's just too slow to react and so when we are calibrating, what we're doing is we're giving this sensor a reference point. That reference point is going to be used by the software to actually make the calculations. The pitch, the yaw, and the roll are basically the variables that this camera and, in the case of radar, pitch and yaw that we have."
Not calibrating properly could result in, for example, the vehicle's ADAS detecting an object at 180 feet ahead of it instead of at 330 feet away, giving it less time to react and prevent a collision.
Another misconception: if there isn't a diagnostic trouble code (DTC) calibration isn't necessary. That's false because ADAS can't tell if its cameras, sensors, or radars have been removed or altered so there's no way for a DTC to show up.
"Any time I'm removing the sensor from the bracket, any time I'm repainting a bumper [or] I'm disturbing the sensor in any way, even electrically disconnecting it, you're going to have to be doing calibration; if you're modifying the suspension, if you're doing a wheel alignment," Zenteno said. "All those things are related to calibration."
By 2030, 75% of all vehicles on the road are going to have ADAS and the No. 1 system is pre-collision, including automatic emergency braking (AEB) and forward collision warning (FCW), he added.
In June, the National Highway Traffic Safety Administration (NHTSA) said it was proposing to adopt new federal standards that would require more effective automatic emergency braking (AEB) and forward collision warning (FCW) systems on new vehicles.
There is good money to be made by collision repair centers through performing calibrations in-house, Zenteno said. By his calculations, five calibrations a day for 252 days out of the year would earn around $378,000.
Facilities that choose to sublet calibrations could still earn $10,000-$100,000 a year, according to Machiros.
In answer to a question from a viewer, Machiros said the pricing index he uses is based on each calibration procedure rather than labor times.
"I don't want to give them a time and then go look up what it should take and then charge that time," he said. "I do by procedure… if the car needed three different calibrations, that's three different charges."
Machiros also noted that, typically, repair centers he's worked with will set up a separate corporation as an S Corp with a different tax identification number to operate calibrations under. However, he and ABAT emphasized consulting an accountant and an attorney to ensure the proper ways to set up a separate legitimate ADAS calibrations company or corporation for correct tax and business purposes.
As for a checklist of things a facility should consider when thinking about bringing calibrations in-house, Machiros said that would include:
Adequate space for targets and equipment;
Proper lighting
Correct invoicing
Setting up proper business operations
Purchasing tools that offer good training and support
For more information about proper ADAS calibrations repair center setup, check out this previous Repairer Driven News article.
The topic will also be covered from several angles during the following Society of Collision Repair Specialists (SCRS) Repairer Driven Education (RDE) sessions at this year's SEMA Show next week in Las Vegas:
"The Influence the Refinishing Process Plays in Evolving Vehicle Technology" with Car ADAS Solutions CEO Greg Peeters, BASF Automotive Refinish Color Solutions Lead Jim Chargo, and BASF's Jeff Wildman on Oct. 31 from 9:30-11 a.m.;
"Making the Right Tool Choice Using Empirical Data to Ensure a Safe and Proper Repair" with Chris Chesney, Repairify's training and organizational development vice president on Nov. 1 from 9:30-11 a.m.;
"Overcoming the Challenges of Opening and Managing an ADAS Calibration Business" with Andy Dingman, Calibration Technologies co-founder and partner; Jamie Humphries, owner of Georgia ADAS Calibrations; Tony Morgan, Apex Calibrations owner, and C.J. Peeters, owner of Fargo ADAS Solutions and MN ADAS Solutions on Nov. 1 from 12-1:30 p.m.; and
OEM Collision Repair Technology Summit Session III – "Research and Validation of Calibration Solutions" with Collision Advice President Mike Anderson, Burke Porter Group Automotive Aftermarket President Doug Kelly, Snap-on Alignment and ADAS Product Manager Jordan Krebs, AirPro Diagnostics Executive Vice President of Operations Josh McFarlin, TAG Auto Group Owner Andy Tylka, and DCR Systems National Training and Support Manager Mandy Wynn.
Images
Featured image credit: Featured image courtesy of Autel
Share This: