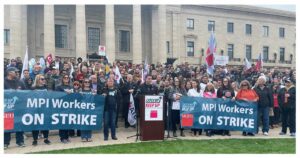 Strike against Manitoba Public Insurance continues, new board wants to end it
By on
Insurance
As a strike by 1,700 employees of Canadian Crown corporation, Manitoba Public Insurance (MPI), continues into its ninth week, the New Democratic Party of Manitoba (NDP) has replaced all but one member of MPI's board of directors for members who say they want to negotiate an end to the strike.
The Manitoba Government and General Employees Union (MGEU) began the strike with all unionized MPI employees on Aug. 28 over fair wage increases to help members keep up with rising inflation. MPI says the strike caused the closure of all of its service, claim, and physical damage centers to the public.
"The first step in resetting the relationship with MPI employees is appointing a new board that will rebuild the relationship with workers by negotiating a fair deal," said Justice Minister Matt Wiebe on Oct. 20, according to CBC News.
Under Manitoba labor law, MPI or its striking workers can apply for binding arbitration beginning Oct. 27 to settle the dispute. CBC reports that, if that happens, employees would return to their jobs and an independent arbitrator would choose a new contract for both sides after consideration 0f their final offers and similar collective bargaining deals reached by other employers and workers.
The most recent information provided by MPI states that amid the strike and closures, it and its partners are providing several critical services through contingency plans including:
General customer inquiries or front-end service transactions, including licensing renewal and insurance payments by visiting one of nearly 300 Autopac agents;
Online payments, such as Autopac insurance or driver's licenses;
In-person service at the MPI Contact Centre for customers with personal injury, non-drivable collision, and total theft claims;
Essential services, such as income replacement payments for personal injury claimants, continue as usual and uninterrupted.
More detail about changes to services is available here.
On Oct. 17, joined by representatives from the Manitoba Federation of Labour and affiliated unions, MGEU members rallied at the Manitoba legislature in a "Rally for Fairness." The goal was to put "an end to the double standard where elected provincial politicians are taking wage increases pegged to the five-year moving average of Manitoba's inflation rate while insisting that provincial workers take much less."
"MPI workers deserve fair wages and this strike has gone on too long," said MFL President Kevin Rebeck during the rally. "It's time to end this strike with a fair deal."
MGEU President Kyle Ross noted the formula that determines wage increases, based on Manitoba Bureau of Statistics forecast, for all provincial legislative assembly members provided them with a 3.3% wage increase this year and is projected to provide wage increases of 3.6% in each of the next two years.
The latest wage offer from MPI would leave more than one-third of its workforce with average wage increases of 2.25% per year for four years, according to MGEU.
"The incoming government didn't create the public sector wage double standard," Ross said. "Now it will have an opportunity to restore fairness by ending it."
According to The Brandon Sun, an MPI spokesperson said in an email that the corporation's direct repair program (DRP) was temporarily expanded from 180 accredited repair centers to 232 "in an effort to combat the labour shortage."
MPI is anticipating a claim-related backlog but said it's too soon to know the overall impact, The Brandon Sun reports. In the meantime, severely damaged vehicles are being towed to repair centers and staff are connecting with customers as soon as possible, the spokesperson told the news publication.
John Vernaus, owner of Vernaus Autobody in Winnipeg, told The Brandon Sun that damages of around $4,500 can typically be handled at his repair center but larger claims require approval from an MPI estimator, which slows things down. It sometimes takes 10 days for approval, he said.
Much like the U.S., the Canadian repair industry was backlogged with work before the MPI strike began due to supply chain disruptions and a booming used car market. Vernaus attributed some of the cause of recent backlogs, which is five months at his facility, to widespread hail damage claims from a violent storm that occurred just days before the strike began.
Images
Featured image: MPI workers rallied during the Manitoba Government and General Employees Union's "Rally for Fairness" at the Manitoba legislature on Oct. 17, 2023. (Credit: MGEU)
Share This: