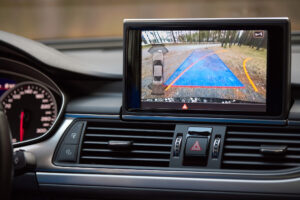 Customer trust in, and desire for, advanced driver assistance systems (ADAS) is growing, even among those who've had negative experiences with the technology in the past, according to a new survey.
Consulting firm AlixPartners' survey of nearly 3,250 consumers spanning Germany, China, and the U.S. found that customers trust ADAS technology and want to see more of it in their vehicles.
According to the findings, drivers with ADAS experience are more than twice as likely to seek the safety features out in their next vehicles.
"Our survey looked at comfort levels across a broad swath of features, ranging from adaptive cruise control to lane departure warning to hands-free driving," AlixPartners said. "While it will likely be several years before autonomous vehicles are truly available to consumers, our survey suggests the buying public is willing to pay for sophisticated semi-autonomous technology in the meantime."
Interest in ADAS features is worth noting for collision repairers who'll be tasked with restoring the sophisticated systems of damaged vehicles.
Earlier this year, the Insurance Institute for Highway Safety (IIHS) said while ADAS technologies are helping make roads safer, they're also making auto repairs more complicated.
IIHS surveyed drivers whose vehicles are equipped with front crash prevention, blind spot detection, and other visibility-enhancing cameras. Among those who had the systems repaired, about half had issues with the features afterward, the study found.
However, some diagnostics specialists pushed back against those findings, saying they failed to take into account insurer pushback and failure to prioritize adherence to OEM procedures as contributing factors.
Interestingly, 82% of AlixPartners' respondents with negative ADAS experience said they continued to trust vehicles with SAE Level 1 features; 77% of those with bad experiences said their faith in Level 2 systems remained intact.
AlixPartners said its consumer survey "underscores the critical importance of relentless innovation in automotive safety technology," adding that automaker revenue is expected to reach $190 billion globally by 2030.
Its survey showed that customers who've previously used ADAS features now view SAE Level 1 and Level 2 features as standard and are willing to pay extra for more advanced systems.
While Level 1 and Level 2 features still require the driver to constantly supervise control of the vehicle, SAE defines Level 3 as the automated driving system being in full control of driving tasks and won't require the person sitting in the driver's seat to take over unless prompted.
Mercedes‑Benz received approval in California for its Level 3 automated driving feature, Drive Pilot, in June making the OEM the first in the U.S. to offer an SAE Level 3 feature on standard production vehicles.
Level 2 examples include Tesla and General Motors' Super Cruise. Conversely, Level 5 automated driving features can control the vehicle all the time, in all conditions. In the case of Tesla, Level 2 features include lane centering, autostreer and traffic-aware cruise control.
While consumers were willing to pay upward of $4,500 for access to SAE Level 3 technology, they would fork out an average of $16,000 for Level 5 technology, the survey found.
However, AlixPartners' survey also found that consumers would prefer to pay for ADAS features through a subscription or on a per-use basis. They were most interested in subscribing to security and safety features (49%), video streaming (44%), and functional options (41%). It did not elaborate on the meaning of functional options.
Images
Featured image courtesy of RYosha/iStock
Share This: