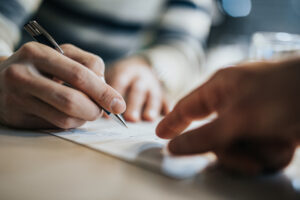 General Motors (GM), Stellantis and Ford have all reached tentative agreements to end the United Auto Workers (UAW) group's six-week-long strike against it, the companies announced separately in recent days.
On Monday, GM confirmed in a brief statement to Repairer Driven News that it was the third OEM to strike a deal.
"GM is pleased to have reached a tentative agreement with the UAW that reflects the contributions of the team while enabling us to continue to invest in our future and provide good jobs in the U.S.," said Mary Barra, the automaker's chair and CEO. "We are looking forward to having everyone back to work across all of our operations, delivering great products for our customers, and winning as one team." 
According to UAW, the GM agreement will grant 25% in base wage increases through April 2028, and will cumulatively raise the top wage by 33% compounded with estimated cost of living adjustment (COLA) to over $42 an hour. The starting wage will increase by 70% compounded with estimated COLA to more than $30 an hour.
"The GM agreement kills several wage tiers that have divided the union," UAW said in a statement. "It will lift up those members who have been left behind and unify our membership for the fights ahead… For the first time since they organized in the 1990s, GM salaried workers will receive a general wage increase, equivalent to that of hourly workers. The deal also brings two key groups into the UAW GM Master Agreement, at Ultium Cells and GM Subsystems LLC. Both of these groups have been left out of the Master Agreement, and have been told they would never come in.
"Many thought GM would never put more money on the table for their hundreds of thousands of retirees. In this agreement, however, GM has agreed to make five payments of $500 to current retirees and surviving spouses, the first such payments in over 15 years."
The news came just days after UAW reached a tentative deal with Stellantis, and less than a week after Ford announced its own tentative agreement with the union.
Mark Stewart, Stellantis North America's chief operating officer, in a brief statement Saturday thanked "all the negotiating teams who have worked tirelessly" for the new contract, although the company declined to share details on what it looks like.
"We look forward to welcoming our 43,000 employees back to work and resuming operations to serve our customers and execute our Dare Forward 2030 strategic plan to maintain Stellantis' position at the forefront of innovation," Stewart said.
UAW said the tentative agreement with Stellantis, like its earlier agreement with Ford, delivers on its belief that "record profits means record contracts."
It said its deal with Stellantis includes gains valued at more than four times those from its 2019 contract, and more base wage increases than Stellantis have received in the past 22 years.
Under the proposed agreement, employees will receive 25% base wage increases through April 2028 and the top wages will be cumulatively raised by 33%.  This will result in the COLA reaching more than $42 per hour, Stellantis said, adding the starting wage will increase by 67% to reach more than $30 per hour.
According to UAW, Stellantis' lowest-paid temporary workers will receive a raise of more than 165% throughout the life of the agreement; some Mopar workers will receive an immediate 76% increase upon ratification.
Stellantis said the agreement will also improve retirement for current retirees, those with pensions and those with 401(k) plans. The deal includes a right to strike over plant closures, or strike over product and investment commitments.
"Once again, we have achieved what just weeks ago we were told was impossible," said Shawn Fain, UAW president. "At Stellantis in particular, we have not only secured a record contract, we have begun to turn the tide in the war on the American working class. Going into these negotiations, the company wanted to cut 5,000 jobs across Stellantis. Our Stand Up Strike changed that equation. Not only did we not lose those 5,000 jobs, we turned it all the way around. By the end of this agreement, Stellantis will be adding 5,000 jobs. We truly are saving the American dream."
Last Wednesday, UAW announced that it had reached a tentative deal with Ford. The details of that agreement are nearly identical to the Stellantis deal. That agreement will also give 25% in base wage increases through 2028 and will cumulatively raise the top wage by more than 30% to $40 an hour. The starting wage will increase by 68% to reach $28 an hour, UAW said.
Ford's lowest-paid workers will receive a raise of more than 150% over the life of the agreement, with some receiving an immediate 85% increase upon ratification, UAW said.
"We won things nobody thought possible," Fain said. "Since the strike began, Ford put 50% more on the table than when we walked out. This agreement sets us on a new path to make things right at Ford, at the Big Three, and across the auto industry. Together, we are turning the tide for the working class in this country."
Jim Farley, Ford CEO and president, said the company was pleased with the outcome.
"Ford is proud to assemble the most vehicles in America and employ the most hourly autoworkers," Farley said in a statement. "We are focused on restarting Kentucky Truck Plant, Michigan Assembly Plant and Chicago Assembly Plant, calling 20,000 Ford employees back to work and shipping our full lineup to our customers again."
UAW said both Stellantis and Ford workers will return to the job while the agreement goes through the ratification process.
In Canada earlier this month, GM Canada agreed to terms from nearly 4,300 Unifor members on strike who claimed the OEM was "stubbornly refusing" to meet the union's pattern agreement first agreed to by Ford of Canada.
That strike ended–among autoworkers employed at GM's Oshawa Assembly Complex and CCA Stamped Products, St. Catharine's Powertrain Plant, and Woodstock Parts Distribution Centre–ended with an agreement in less than 12 hours.
Images
Featured image courtesy of skynesher/iStock
Share This: