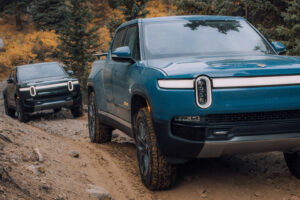 Rivian Collision Service Engineering Senior Manager Dan Black says he hopes to clear up some misconceptions this week during the SEMA Show that the collision repair industry has on the level of complexity that electric vehicles (EVs) impose on repairability.
Black shared with Repairer Driven News that during his part of the Society of Collision Repair Specialists (SCRS) OEM Collision Repair Technology Summit on Nov. 2, he'll cover how all of the materials used in Rivian's R1T and R1S are already used in internal combustion engine (ICE) vehicles and EVs today; making most repairs very similar, if not the same, to what repairers are used to.
"We were built to be an automotive OEM from the beginning," Black said. "As a result, we pulled engineers from shared knowledge throughout the industry space based on prior experiences and we're able to build a good knowledge bank of what's possible, what's more manufacturable, what's readily available from a sourcing perspective, and can set us up quickly."
Those materials include steel from conventional to ultra-high-strength and press-hardened as well as aluminum sheet and extrusion, and plastic.
Black will participate in the second session of the Summit at the SEMA Show called "North American Automotive Material Outlook and Implications to Collision Repair" along with Lucid Motors Body Repair Technical Manager Matthew Pitta. The session will be led by Ducker Carlisle Automotive and Materials Principal Abey Abraham and Bertrand Rakoto, strategic intelligence director.
An R1T body-in-white will be on display at the SCRS booth, South Hall Upper — 31147 — Collision Repair & Refinish, throughout SEMA Week.
"I think a lot of people think just because it's an EV you're going to introduce all this new innovation in terms of substrate materials and drive complexity into repair," Black said. "We really did a great job of mitigating that since the entire top hat is all structural; this is your press-hardened piece."
Most importantly, Black told RDN, Rivian strives to provide "cheat sheets" for technicians — charts and posters that can be hung in repair centers for an easy visual guide of repair procedures, including a repairability guide for welding and heated and cold straightening. Like several other OEMs, most of Rivian's repair procedure guidelines, position statements, and more can be found on OEM1Stop.com.
Structurally, the R1T and R1S aren't any more complicated than other EV brands and ICE vehicles other than being a combination of a unibody on top and a full body frame making up the underbody, Black said.
"We may use more of a material that might be used less in one vehicle compared to another… It's very common where we place things [but] we use aluminum extrusions in the rocker panels, which is a lot different. We use aluminum extrusions on the sides of the skateboard where it goes underneath the door; the whole seal has aluminum extrusion on the skateboard. We have aluminum extrusion that's attached to the side of the body as well and none of those components are repairable.
"We just replace them in their entirety. So, where you look at things like, 'That's different,' we're not even allowing you to repair it; you have to replace it as an assembly… you rivet it back to the vehicle. You don't need to weld it to the vehicle. We simplified the process because anywhere, even if they use advanced technology to secure it to the vehicle at manufacturing, we've used widely-used methods that are already in the repair spaces to attach those components to the vehicle."
Another example of a commonly used vehicle design that is also found in Rivian EVs is hydroformed and lightweight components, Black added.
Repairers may come across differing joint seam procedures that require a new kind of cut but nothing "mind-blowing," he said.
What may throw a learning curve at some repairers is safely handling the high-voltage battery system on Rivian's pickup trucks and SUVs. That would include how to properly disconnect the system, drain the coolant, remove that battery, tell if the battery is still fit for use or not, and protect yourself from the high-voltage system as you're working on the vehicle, Black added.
If your interest is peaked and you want to learn more, be sure to register for OEM Summit Session II here and check out all of SCRS' Repairer Driven Education (RDE) offerings at the SEMA Show while you're there. To explore the RDE track in greater depth or add sessions to your show planner, visit SCRS: Repairer Driven Education on the Map Your Show site.
Images
Featured image: 2022 Rivian R1T electric pickup trucks. (Credit: Rivian)
Share This: