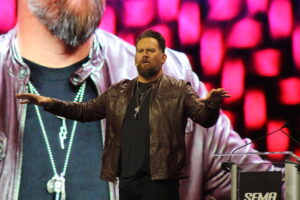 The automotive industry's most innovative and cutting-edge products were recognized Tuesday during the New Product Awards Breakfast, also known as the SEMA Show kickoff.
The annual competition recognizes outstanding achievements judged in 18 new product award categories, with separate awards distributed for SEMA's manufacturer of the year and channel partner of the year.
Jarod DeAnda, who hosted the event, said choosing the winners was a tough task for judges who evaluated entries on characteristics like potential innovativeness, consumer appeal, cost, availability, quality and workmanship, technical achievement, and space and efficiency.
"The SEMA Show is synonymous with new products," DeAnda told attendees during the Las Vegas, Nevada event.  "We all know this is the place to release your latest innovations with over 2,000 new products on display and new products showcased. It's really hard to select the new products awards winners [because] there's so many out there. Everybody's got something new and cool that they put together, right? But that's exactly what our team of discerning judges each year does."
This year's new product showcase award winners included:
Hunter Engineering, new advanced driver assistance system (ADAS) product;
Goliath Carts, collision repair and refinish; and
AlphaRex in the electric vehicle category;
The truck accessory company Dee Zee received the manufacturer of the year award.
The Kickoff Breakfast also included comments from Ant Anstead, a motor specialist known for presenting automotive TV shows, who recognized companies for having the courage to create and share their new products.
"Pressure is the word that we're going to be talking about today because ultimately, pressure is something that you guys understand greatly," Antstead told attendees. "And I'm not just talking about the pressure of getting ready for the SEMA show. I'm talking about pressure that starts often months and years in advance when you guys—the creative, crazy people—have this harebrained idea for the product. While most people would say 'it's too much' and never commit, you guys—the crazy people, the innovators—take that idea and you make it real.
"You create something from a blank piece of paper, and you bring it to a show like SEMA and you stand up and [share it]."
Antstead was joined on stage by Tanner Foust, a professional racing driver and TV host, who said this year's nominees were an inspiration.
"This room is full of the creators," Foust said. "You're the people that say 'yes', what other people might say 'no'. You hear that little voice in the back of your head saying, 'Oh, maybe not this year, that Formula One track is screwing up the traffic. It's going be a nightmare.' But you're still here, and that is amazing. You're crazy in the best way possible."
Mike Spagnola, SEMA's president and CEO, detailed ahead of the awards distribution how as support for the industry—and event—grows, SEMA has become a powerful platform for launching new products and introducing new brands.
He said this year's event, now in its 56th year, encompasses nearly 1.2 million square feet of booth space and about three million square feet of buildings. Hotel registratio
n was up this year as well, he added.
"The show's shaping up to be one of the biggest hits we've ever had," Spagnola told attendees. "We're up 70% over last year… just incredible."
He also addressed SEMA's recently released economic impact report, which found that the specialty equipment industry supports more than 1.3 million jobs nationwide, with workers taking home a total of $105 billion in annual wages.
The report also indicated that the industry accounts for more than $40 billion in taxes that support the development of infrastructure both locally and nationally.
"Why are these numbers so important? Because lawmakers pay attention to numbers like this," Spagnola told attendees. "They understand that when they are making legislative decisions, it is going to affect our industry in a positive or negative way. Ladies and gentlemen, we are now taking a seat at the table with our elected officials and making sure that our voice is being heard."
SEMA runs through Friday.
Images
Featured image: Event host Jarod DeAnda (Lurah Lowery/Repairer Driven News)
All other photos courtesy of Lurah Lowery/Repairer Driven News
Share This: