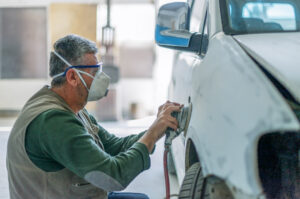 SCRS, I-CAR survey finds technicians want better pay, work/life balance & workplace culture
By on
Business Practices
The results of a survey by the Society of Collision Repair Specialists (SCRS) and I-CAR show that collision repair technicians are becoming more dissatisfied with their jobs every year.
The survey was available for technicians to take online in July and August. There were 839 respondents. Ducker Carlisle compiled the results and presented some of the highlights during the Collision Industry Conference (CIC)'s meeting on Tuesday in Las Vegas.
Career satisfaction, compensation, and career feedback were the focus areas of the survey. Key topics were experience, workload, compensation, satisfaction, emerging technology, network support, training, and tools.
"If you don't invest in your shop and in your technicians and their ability to grow [and] learn new skills, what tools are they able to work with? To them, it's perceived as a lack of investment in themselves," said Ducker Carlisle Managing Director Meredith Collins. "They've invested a lot of time and money and effort to become a technician in the first place and are working really hard for your shops. They don't feel that same love in return and that same demonstration of feeling [like] a valued member."
While the survey results show that the more years of experience a technician has, the more they're paid — over $100,000 by 20 years — about 9% of respondents said they're making less than $20,000 or less after having worked five years or less. Another 5-6% of technicians who have five years or less of experience are earning $20,000-$30,000.
"That's an important takeaway because if you think about what that means for the hurdle that they have to jump over to get to that more tenured space and the higher earning potential, it's very high for them.
"If you're a new technician or if you're an apprentice, or if you're just in school and you hear from other people that in the first five years of being a technician, you're going to earn $20,000 or less — maybe you're going to earn $25,000 — and you've paid through school and you pay maybe $20,000 in tools to come to work for a new job, that math doesn't really work out for them," Collins said. "That's a big hurdle for the industry in general, to work on. How do we get over that? How can we make the career more accessible for these new junior techs who are currently earning quite a bit less?"
Overall, respondents said they don't strongly recommend their career but, compared to dealership technicians, they are happier and more likely to stay. However, Collins cautioned that isn't necessarily good news.
"What I want to drive home is that's not a particularly high bar and there is a lot of work to be done in satisfaction," Collins said. "I don't want the takeaway to be that, 'This is great news, we're doing everything perfectly in the collision space, and the problem is only in the dealerships.' That's not the case. There's still some work to be done.
"I think the best recruitment tool is other technicians who can talk to their friends, family members, [and] the kids that they know from school and tell them how great the career is; tell them how exciting it is and all the new opportunities. That's a great recruitment tactic. And it can be just as negative if it's on the flip side. If they're telling people not to enter a good career — you can't earn money, it's too much work, it's really difficult — all these bad things, that's a huge problem."
The automotive and collision repair industries have grappled for decades with how to attract and retain skilled workers. A recent Techforce study found that 232,000 techs were needed in 2021 across automotive, diesel, and collision but schools were graduating only 42,000. In collision alone, the demand was 35,000 techs while only 4,500 graduated.
A 2022 survey commissioned by the Collision Engineering Program (CEP) indicated that there is a lack of awareness about collision repair careers, although people are open to exploring them. It found just 17% of survey respondents were "very familiar" with collision repair or engineering. The survey revealed that those who were familiar with the industry were more likely to pursue a career within it.
According to the SCRS and I-CAR survey results, the least satisfied are refinish technicians with structural and non-structural/body technicians not far behind.
The top three reasons technicians said they stay at their jobs were compensation, convenience, and their co-workers. Workplace culture and management style as well as good work/life balance were also high on the list with around 15% of respondents finding them to be important.
Reasons for leaving a collision repair facility job mirrored the reason techs said they stay with bad culture, not feeling valued, and inadequate work/life balance making up the top three. One technician wrote that, while they love the trade, "fighting for pay is exhausting" and that they can't repair vehicles properly and get paid accordingly. Another said they're not valued and have no incentive to stay in their career, adding that their "career has flatlined."
Technicians also wrote:
"They show me respect and make sure I get paid for everything I do. I am well taken care of."
"Increased wages, more challenging work, and more learning experiences."
"Very efficient environment, everyone gets along, barbecue on Fridays in the summer."
Collins added, "What we actually hear is a lot of times there are small things that dealers can do, or shops can do, that go a long way in just demonstrating that they're [employees] valued; free lunches on Fridays during the summer or have a friendly competition and the winner gets a $100 Amazon gift card. There are a lot of smaller, lower dollar things that you can provide as extra perks or benefits to technicians that go a long way in demonstrating their value and worth in the shop."
Flat rate pay in which salary varies widely based on years of experience continues to be a contentious subject, according to the survey results, with older technicians preferring it. Non-flat rate salary structures contribute to the highest satisfaction across the board, with team-based pay providing the best career satisfaction.
"We're incentivizing them to turn hours as quickly as possible," Collins said. "That is inherently driving some bad behaviors. Not everybody is going to cut corners but some percent of people are going to take this as a driver to cut corners, skip some steps, [and] do it faster so that they can earn more.
"Outside of just the impact that that has on technicians' satisfaction, overall morale [and] culture in your shop — this also has customer impacts. If a repair is not done completely correctly, a customer has to come back in, or it's just not up to par that is going to cause some down-the-line issues with customer perceptions as well."
Twenty percent of respondents said they believe compensation affects how vehicles are repaired. Fifteen percent said they believe steps in repair processes are skipped because of compensation.
When it comes to benefits, only around 15% of technicians are offered health insurance and/or paid time off.
Just under 15% said they're offered a 401(k) retirement plan. Paid family leave is the least offered benefit, coming in at under 5%.
Respondents said:
"…we have no insurance, no vacation, no paid time off, no workman's comp. When I got a hernia on the job, I had to pay for it myself."
"401k needs to be matched like most other industries and health insurance needs to be better."
The survey also found that technicians are recruited elsewhere monthly or every couple of months and satisfaction with career advancement opportunities is mediocre.
Overall, techs said they're excited about new vehicle technology and agreed that it will help progress their careers, and it's fun to learn new skills. Dealer repair technicians responded in the opposite direction saying they're concerned new vehicle technology will decrease repair work, pose threats to physical safety, and that they don't want to learn new skills.
Nearly 25% of collision repair technicians said they don't care either way.
During the Q&A portion of the presentation, questions were raised about the split of answers from less experienced and more experienced technicians and if several technicians from one repair facility could've participated in the survey, potentially skewing the results. SCRS Executive Director Aaron Schulenburg and I-CAR Planning and Industry Talent Programming Vice President Dara Goroff answered that there were fewer less experienced technician respondents. Goroff said the most answers came from one to five-year and 15 to 20-year plus techs.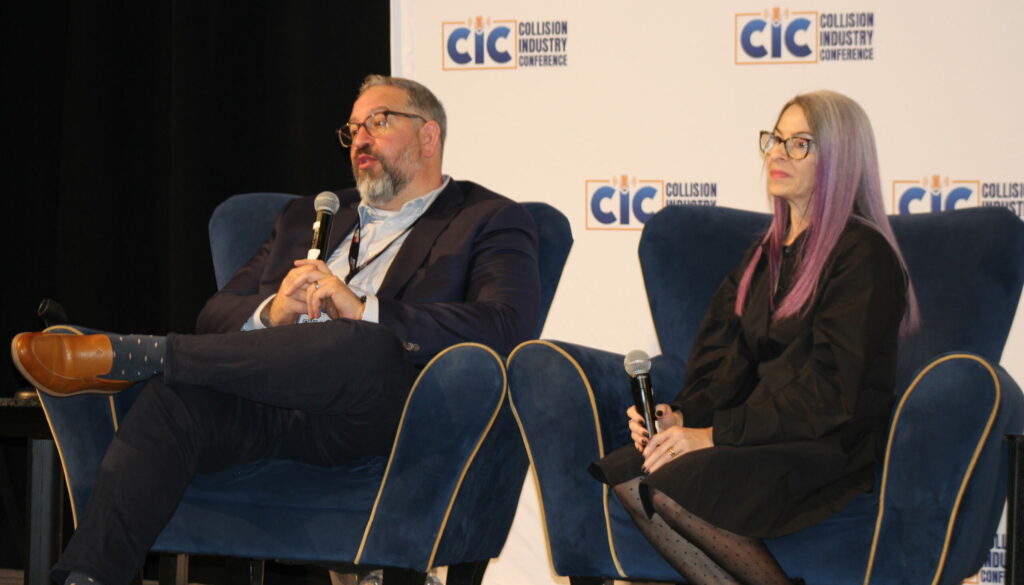 "I think that's because we know that we've had a lot of leakage in the industry at that 10-year range," Goroff said. "I think we also know that we had trouble recruiting to the industry for a couple of decades and we're really ramping up now with things like the Collision Engineering Program. We've got a great pool of experienced techs [but] our biggest fear is that they're getting ready to retire."
According to Ducker Carlisle, moving forward the collision repair industry should:

Anyone who missed the presentation survey results highlights can catch another presentation by Ducker Carlisle along with SCRS and I-CAR at the SEMA Show main stage at 12:45 p.m.
Images
Featured image credit: Ergin Yalcin/iStock
SCRS Executive Director Aaron Schulenburg and I-CAR Planning and Industry Talent Programming Vice President Dara Goroff speak during the Oct. 31, 2023 CIC meeting in Las Vegas. (Lurah Lowery/Repairer Driven News)
Survey results presentation slides courtesy of SCRS and CIC
More information
Technician shortage solution not just a matter of recruiting students
Share This: