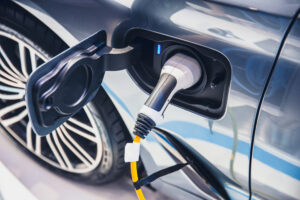 Ford, GM temper EV expectations as Mercedes exec calls it a 'brutal space'
By on
Announcements
General Motors (GM) and Ford have scaled back on their electric vehicle (EV) goals, executives said during recent Q3 earnings calls.
Paul Jacobson, GM's chief financial officer, told investors that the OEM is dropping its previously-announced EV production plans. This includes its 100,000 EV target it had for the second-half of 2023 and a separate 400,000 EVs goal it hoped to meet by the first half of next year, he said.
"We are not providing new targets, but are moving to a more agile approach to continually evaluate EV demand and adjust production schedules to maximize profitability," Jacobson said. "We purposely built flexibility into our manufacturing facilities and are uniquely positioned among our competitors to be able to flex our production between ICE and EVs."
Jacobson said that despite talks of declining EV demand, which he has seen in competitor earnings filings, GM's EV portfolio remains strong, albeit at lower volumes than some other OEMs.
"What we've seen here is an opportunity to slow some of that scaling down and take advantage of some of the learning that we've seen through the engineering and manufacturing process in the early stages," he said. "And what it allows us to do is to build a stronger foundation before we scale aggressively upwards. So, that's really what we're seeing. I wouldn't chalk it up necessarily to price."
Mary Barra, GM's CEO, called the road to EV transformation "a bit bumpy, which is not unexpected."
"And so, what we're moving to is something that we can react in a much more agile way to make sure that we have the right vehicles," Barra told investors. "And I believe [the] portfolio that we have looks at the most important segments, and makes sure that we have the right entries. We're already seeing strong demand for entries when we have EVs that people actually want to buy. So, I think there is a lot of focus in the portfolio to have the right cells, but just to give ourselves more flexibility."
During Ford's Q3 earnings all, its Chief Financial Officer John Lawler said the company's EV branch, Model 2, lost $1.3 billion during the quarter. Given the "challenging market" for Generation 1 productions, he said the OEM is postponing about $12 billion in EV-related spending.
"Given the dynamic EV environment, we are being judicious about our production and adjusting future capacity to better match market demand," Lawler said during the call. "For example, we have taken out some Mustang Mach-E production, and we are also slowing down several investments, including making a decision with SK On to delay the second BlueOval SK JV battery plant in Kentucky. And we have also said we are evaluating our BlueOval Battery Park Michigan plant to determine the best path forward."
Bill Ford, the OEM's executive chair, attributed Ford's slowdown to costs in a recent interview with the New York Times.
"Electric vehicles are expensive," he said. "We know prices will come down, and as that happens, we will have a bigger ramp-up of EVs."
Meanwhile, a Mercedes-Benz executive said during the OEM's Q3 earnings call that the current EV space is neither healthy nor sustainable moving forward.
"EV is a very competitive space," said Harald Wilhelm, Mercedes' chief financial officer. "I mean, come on, with price discounts or some of the other guys, more than 30%, some of the traditional players selling best vehicles below the pricing level of ICE [internal combustion engine] with variable costs probably sitting above, as you know. I would say this is a pretty brutal space."
A J.D. Power report released in September found that while EV vehicle sales were up 1% during the first half of the year, a "stark division is emerging" between states where adoption is growing, and others where it's stalled, according to a new report.
Its E-Vision Intelligence Report indicated that while California is expected to reach 94% EV share by 2035, North Carolina's EV market share might remain below 20%. Michigan is expected to reach a 41% adoption rate during the same period.
"To the long list of literal and figurative lines of demarcation that illustrate the sharp geographic, political, socioeconomic and cultural divisions between states in the United States, we may now add the EV adopters and the EV holdouts," J.D. Power said. "…EV adoption in America is growing increasingly divided, with the most active states for EV adoption already on the path to parity with internal combustion engine (ICE) vehicles and consumers steadily pulling back on EV purchases in the least-active states."
Images
Featured image courtesy of coffeekai/iStock
Share This: