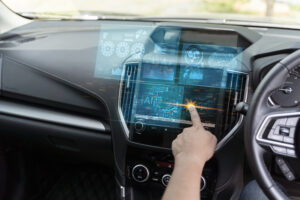 A U.K. automotive trade association is raising the flag on a growing gap between the rise of vehicles equipped with advanced driver assistance systems (ADAS) and the shortage of technicians qualified to repair them.
In a new report, the Institute of the Motor Industry (IMI) said that while 44% of the UK car parc will have Level 2 autonomy by 2030, the industry will be short by about 51,000 qualified technicians at the same time. To meet projected demand, the sector will require 106,000 technicians qualified to work with ADAS-equipped cars by the end of the decade, it said. This includes collision repair, although the report doesn't break down how many workers are in each subsector.
According to IMI, several factors could be contributing to a lack of ADAS-qualified technicians. This includes facilities cutting training budgets amid economic pressures, and others focusing too much on recruiting new talent rather than training existing employees, it said.
It noted that adequate staffing to properly repair ADAS-equipped vehicles isn't just a good idea: it's become a necessity.
"The realm of autonomous vehicles hinges upon intricate systems, encompassing advanced electronics, sensors, and software," IMI said. "Without the basic expertise to diagnose and rectify issues within these autonomous systems, the assurance of vehicle safety and reliability is uncertain."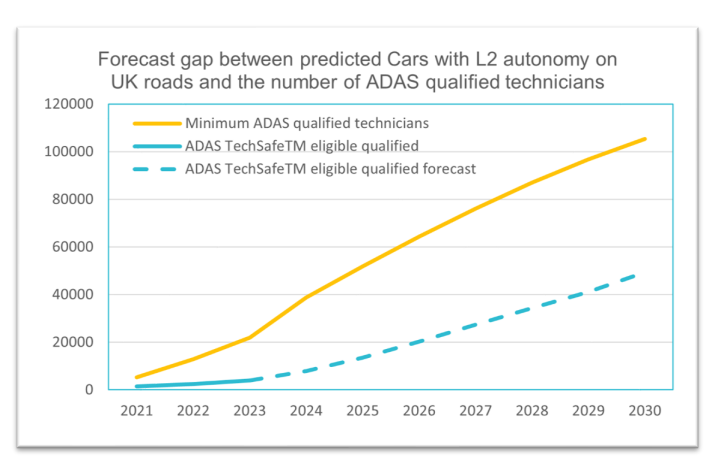 The report said the growing integration of autonomous technology requires technicians to have in-depth knowledge on the various systems and how they work together, meaning continuous training is required to stay ahead in the field.
"As motorists become more reliant on autonomous features, any breakdown or malfunction can lead to calamity," IMI said. "For instance, a momentary delay in detecting a failure in adaptive cruise control on a motorway could lead to a catastrophic, high-speed collision with the vehicle ahead."
It added that issues with lane assist or lane departure warning systems could cause similar scenarios, and that the risks could be even more severe when problems with autosteer or automated lane change systems are considered.
"It's clear that maintaining these vehicles isn't just about convenience–it's a matter of life and death," it said. "Moreover, it is imperative to acknowledge the profound economic repercussions of the prevailing skills gap. The deficiencies in a qualified workforce translates into delays in vehicle repairs."
A previous IMI report, released in April, indicated that the collision repair, body and glazing sectors were ahead of the curve on becoming qualified to work with ADAS systems.
"The accident and repair, body and glazing sector in the UK is a significant part of the country's automotive industry and plays a critical role in repairing and restoring vehicles after accidents," the report said. To remain competitive, businesses in the sector must invest in the latest tools and technologies, as well as training for their workers to ensure they are able to repair the latest vehicles and their increasingly complex systems."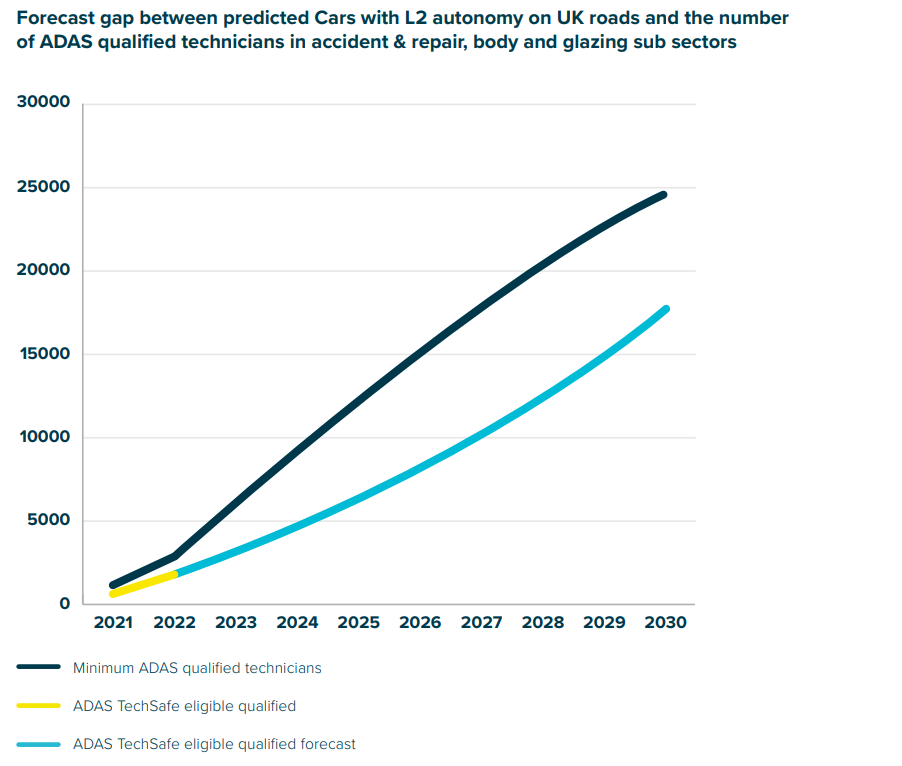 According to the IMI estimates, there are 53,000 technicians within the accident repair, body and glazing subsectors. It estimates that 1,800 of those technicians are currently ADAS qualified, and that 25,000 additional employees in those sectors will be needed by 2030.
"Indications are that although there is currently a small skills gap, those qualifying has broadly been keeping up with the demand to date," IMI said. "However, a significant skills gap appears as early as 2023."
The technician shortage is not unique to the U.K., as it's also being felt in places like Australia, Canada and the U.S.
According to last year's FenderBender Industry Survey, 34% of the 506 survey respondents in the U.S, said a shortage of qualified technicians is one of the numerous serious challenges facing the industry. At the time though, 72% said they expect their sales to only increase over the next five years.
The TechForce Foundation projects a shortage of more than 100,000 collision repair technicians by 2026 throughout the U.S.
Images 
Featured image courtesy of jittawit.21/iStock
Secondary images courtesy of Institute of the Motor Industry
Share This: