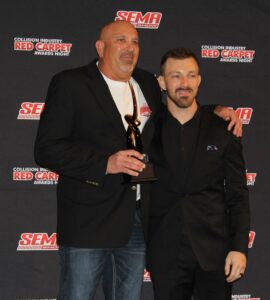 The late John Mosley, longtime collision repair leader and icon, was posthumously recognized with two awards on Tuesday during this year's Collision Industry Red Carpet Awards Night in Las Vegas.
Mosley's colleagues and friends remember him as a kind man who always had the safety of vehicle owners on his mind when they trusted repairers to fix their vehicles properly. He often took his concerns to state lawmakers and officials to fight for change. One example was a 2017 victory that Mosley was instrumental in — Mississippi's release of a "Consumer Guide to Insurance and Auto Body Repair." That result took almost a year of work by a Mississippi Auto Repair Task Force made up of insurers, collision repairers, OEMs, aftermarket parts manufacturers, and the state's attorney general and insurance commissioner.
The document declares OEM procedures as the proper way to fix a car and advises customers to ask a shop if they're using them — a stance that Mosley, the owner of Clinton Body Shop and a collision repair industry leader through the Society of Collision Repair Specialists (SCRS), Mississippi Collision Repair Association, and his 2015 campaign for Mississippi insurance commissioner, was adamant about during his decades in the field.
The industry also remembers him for his kindness and thoughtfulness outside of his career. Mosley often took military veterans on flights in his historic warbird airplanes and never passed up the opportunity to show his appreciation for their service.
SCRS honored Mosley with its Lifetime Achievement Award on Tuesday — an honor only given 15 previous times in the association's 41-year history.
"He was so selfless and he was as genuine as an individual as you'll ever meet in his life," said SCRS Vice Chairman Michael Bradshaw, when announcing the award. "He cared deeply about everyone else and he was always someone to put others' needs over his… He was a believer in political action, spending countless hours of his own time traveling to D.C. to meet with congressmen and one of those efforts spurred the preservation of the consent decrees.
"I had the honor of meeting John back in 2014. At the time, I was trying to make my way in the industry and I was struggling with the things that so many of us continue to battle with years later. I will never forget John spending time with me and pulling me to the side, sharing his story and encouraging me."
Auto Body Association of Texas President Burl Richards accepted the award on behalf of Mosley's family and read a message from his wife, Carolyn, and children, Patty and Daniel, which in part, read:
"Thank you all for honoring our husband and father with this lifetime achievement award. John was a one-of-a-kind person. He always believed in standing up for what was right, even if it meant standing alone. He was a man of many accomplishments and each one, no matter how small or large, were each just as important as the other one.
"As a husband, he worked very hard and was a best friend and great provider for his family. As a father, he was nurturing yet tough and raised his children to have the same work ethic he had. As a business owner, he built more than one successful business from the ground up. He did that with hard work, long hours, honesty, and standing behind everything he said and did. John was a leader indeed and to be the great leader he was, he led by example. He was always the first to lend a helping hand… His two sayings that we remember him for most of all are 'take pride in perfection,' meaning we are always to do our best, and two, 'treat everyone the same way as you would want your mother treated,'  meaning we should treat everyone as if they are important and special. In other words, do unto others as you would have them to do unto you."
Richards added, "I learned so much from John. I'm still learning that way and I just appreciate the opportunity to honor him and appreciate him… To me, John was the John Wayne of the industry."
Kye Yeung, a past chairman of SCRS and owner of European Motor Car Works in Costa Mesa California, was honored Tuesday with the Society of Collision Repair Specialists' (SCRS) 2023 March Taylor Kina'ole Award for his contributions to the collision repair industry.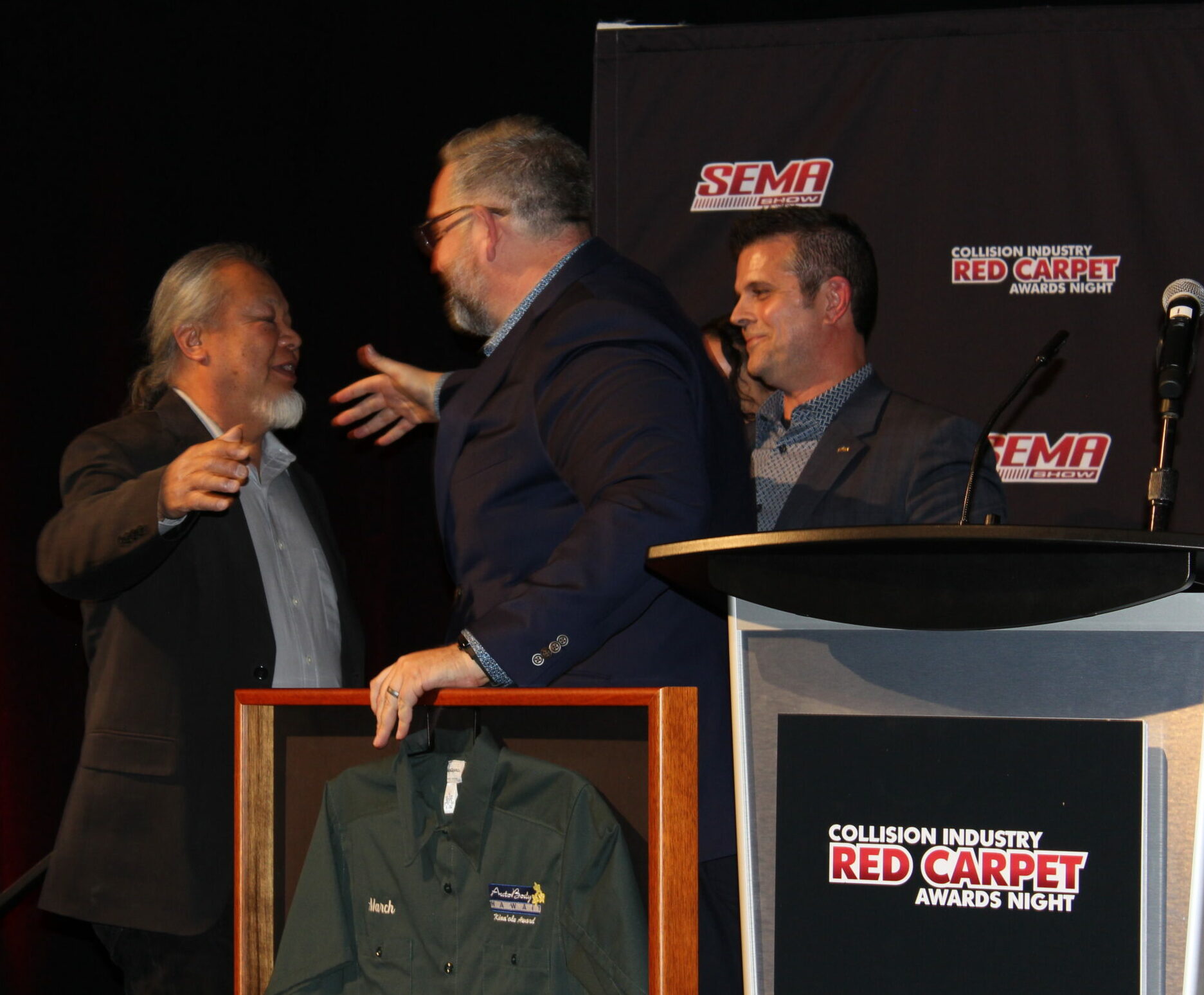 The Hawaiian phrase means "without flaw or defect" and the award is given in honor of the late March Taylor who was a master technician, the owner of Auto Body Hawaii, and an industry leader who spearheaded the idea to create a centralized service for repairers to submit inquiries to challenge data provided by estimating systems based on real-world repairs.
"There are a lot of memories that I have of my early days of coming to these meetings and watching Toby Chess sitting in the back and March Taylor putting on presentations in the CIC room," said Aaron Schulenburg, SCRS executive director. "They were some of the most fascinating moments for me because they were real and they were from the heart.
"They were just an inseparable force and the two of them, they were dynamic together. They had a commitment to knowledge, sharing and engagement. They placed bringing information to the table for others as the highest priority and there was a hole that was left when March parted. Of course, it's not an easy thing to fill and we felt it. I know Toby felt it and we all. We all kind of looked for who could could be the right person to help fill that void that we were all feeling. At the end of the day, everyone knew that Toby needed a partner, the industry needed that dynamic, and Kye was the fit that we all needed."
After receiving the award, Kye said. "Having witnessed other recipients of this award, I'm sure a lot of you just wonder, 'What can I do to be even close to the recipients? They've done so much…' I still can't believe it. The success that I feel, the accomplishments, are because of the friends around the table and all of you. We all just love each other and we just mentor each other. There's just so much respect and the neat thing is we accomplish so much and have so much fun at it. It's a dream that not a lot of people will get in their lifetime… Thank you so much. I'm so proud to be part of this industry."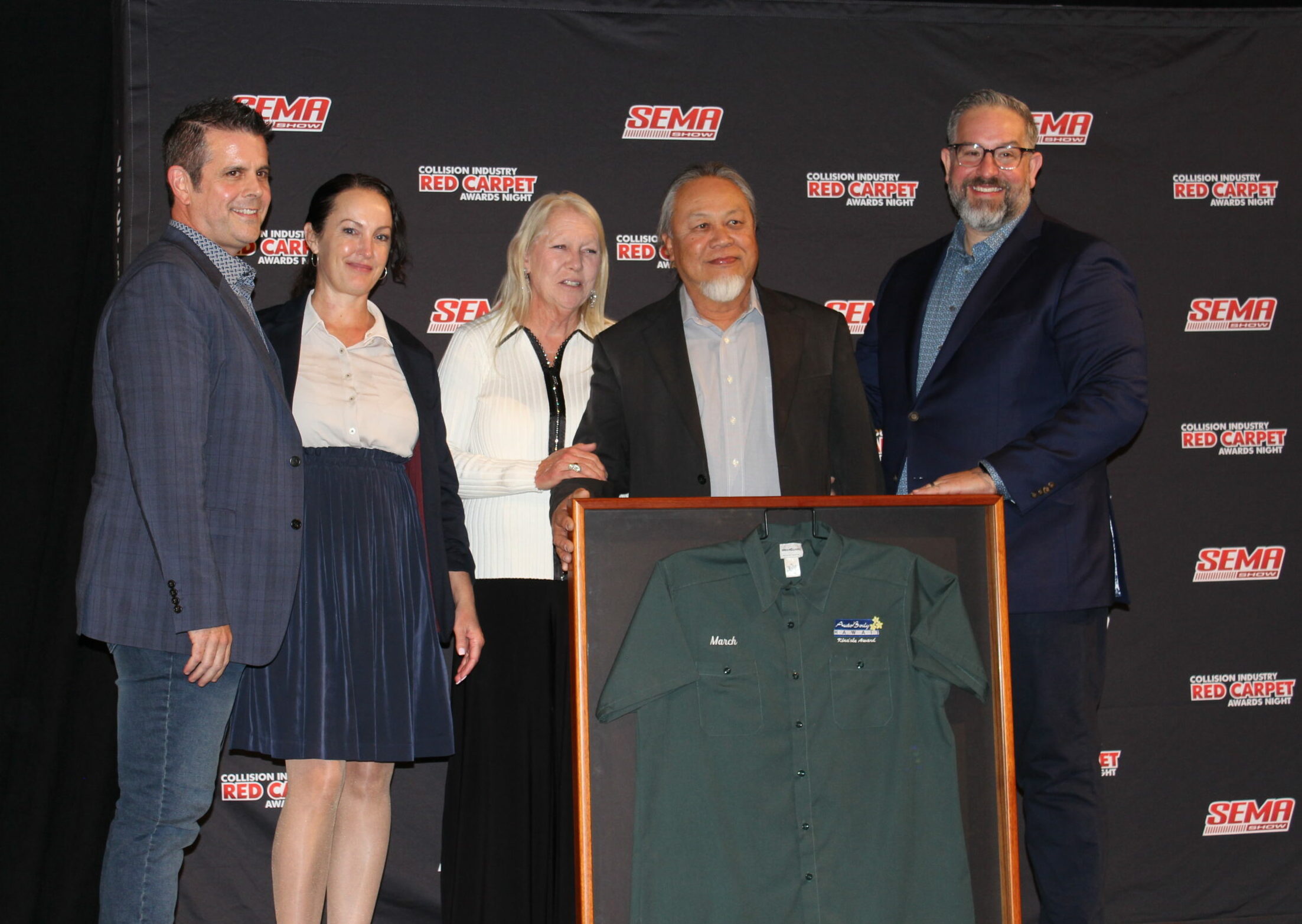 Other awards included Body Shop Business' Single-Shop and Multi-Shop Executive of the Year awards; National Auto Body Council (NABC) Changing and Saving Lives Award; Collision Industry Conference (CIC)'s Volunteer of the Year Award; Collision Repair Education Foundation (CREF) Fueling the Future awards; I-CAR's Jeff Silver Memorial and Russ Verona Memorial awards, SCRS Affiliate Association Award, and CIECA's Outstanding Contribution, Chairperson's, and Company of the Year awards.
Body Shop Business Single-Shop Executive of the Year — Greg Solesbee, Carstar Hayden owner
"The winners of these prestigious awards are true collision repair, visionaries who have experienced great success through innovative thinking, overcoming challenges, and persevering," said Jason Stahl, Body Shop Business editor.
Solesbee has worked in the collision industry for 25 years and, as one of seven children, learned the value of hard work. He began working in his father's repair facility pulling bumpers and fixing body panels. By 14, he was spot welding, and "his future was set."
He has worked in every position from technician to estimator to production manager and chief operating officer. He is known for repairing vehicles the right way, and in 2015 opened his own repair facility in Idaho. It was recently named the 2023 best auto body shop in the Panhandle region.
"This is an absolute honor," Solesbee said. "I'd like to thank first off, my wife. I wouldn't be up here without her. She does all of our financials through our business and is my better half, and then our team at our shop. We run like a family and so I really wouldn't be here without that team. They've been through the thick and thin a bit, especially through some of the 2020 issues that I think everybody had."
Body Shop Business Multi-Shop Executive of the Year — Charlie Drake, Classic Collision COO
The 37-year collision repair industry veteran started out as an estimator and painter with a General Motors dealership group in Memphis, Tennessee then began working at Albert Auto Body Glass in 2004 as a general manager, rising through the ranks to district manager and regional vice president. In 2010, Drake became Caliber Collision's operations manager. By 2018, he became operations vice president of all the Classic Collision facilities in Georgia, shortly moving up to COO of 223 locations in 15 states.
"This year's winner was identified as a rising star from the moment he began his collision career and has played a critical role in mentoring other individuals who have now achieved such lofty titles as president, regional, and chief officer roles across MSO platforms," Stahl said. "He has also given back to the industry through his involvement with the Atlanta, a committee collision repair education Foundation skills USA both as a participant and a judge and the Lincoln Tech Board of Directors.
NABC Changing and Saving Lives Award — Shawn Crozat, G&C Auto Body CEO
Crozat was chosen to receive the award because he and his family help people get back on track with reliable transportation as well as providing additional support and resources. He couldn't make it to the ceremony but sent in a video that was played during the event.
"My dad was always passionate about giving back to the community," Crozat said. "It started even when we were kids — he would bring home families that needed to stay with our family and help get them on their feet. He's always been about helping those in need. He started the Crozat Family Foundation 10 years ago this year with the hope of giving cars to the community, specifically survivors of domestic violence. My family feels so blessed. My mom, my sister, [and] my siblings feel so blessed with this wonderful industry we have and this business we have that we feel it's our obligation to give back to our community and help those in it."
CIC Volunteer of the Year — Petra "Collisionista" Schroeder
As part of CIC's 40th anniversary celebration, CIC started a new tradition of honoring a volunteer who has gone above and beyond by being an ambassador of its mission and vision through participating in or chairing committees, contributing to the engagement of the conference attendees, or just making things better than when they found it.
Past chairman Darrell Amberson said Schroeder embodies every attribute CIC considered listed for the award from dedication between meetings and participation in multiple committees to meaningful contributions, new ideas, and thought provocation. He added that she is a strong leader who engages with attendees, especially first-timers, "greeting them with the most welcoming, warm spirit," the epitome of class and dignity.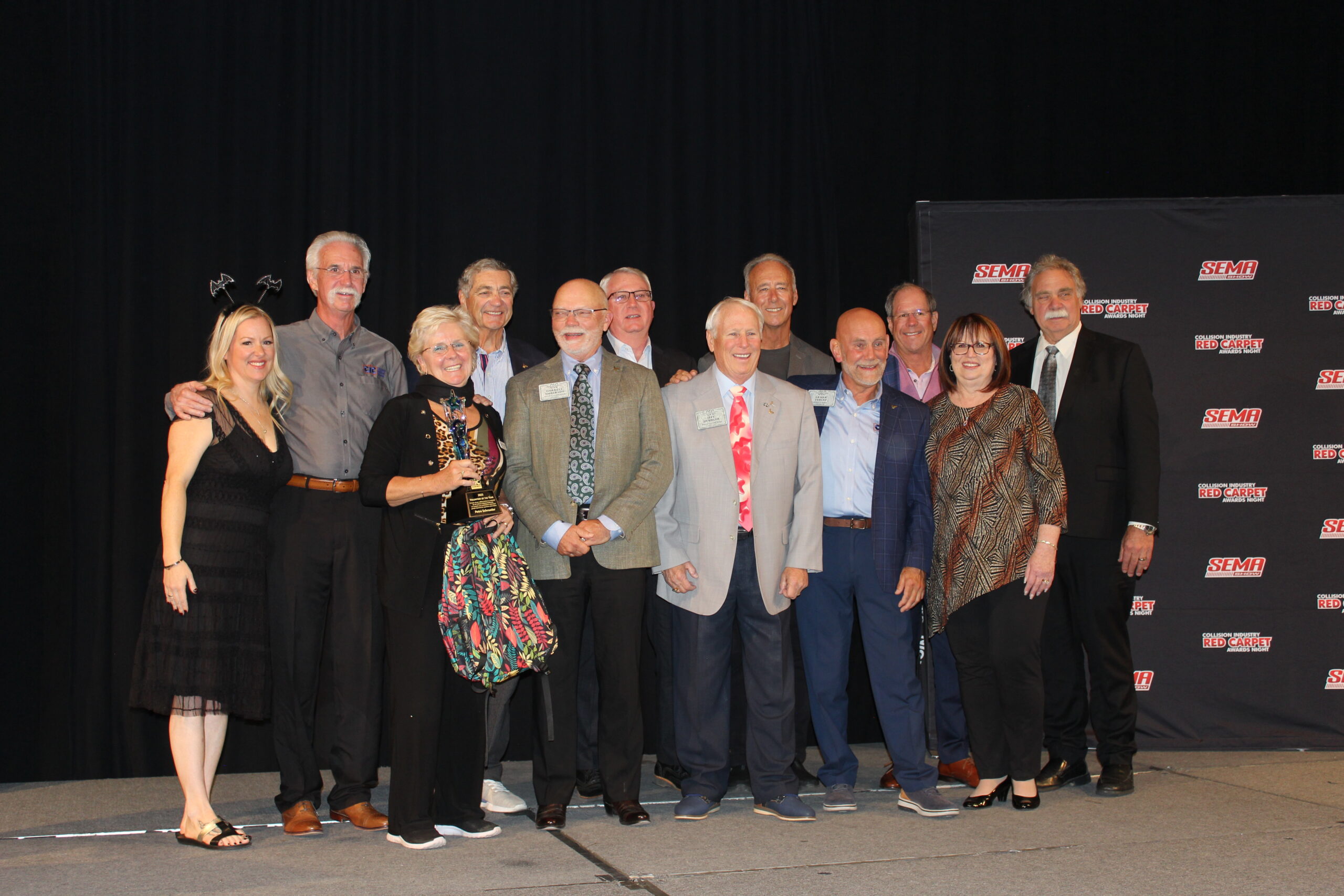 "I will promise one more time that as long as I'm physically and mentally OK, and I feel like that right now more than ever, I will contribute to this industry as much as I possibly can," Schroeder said. "I will [continue being] warm and welcoming to our first-time attendees. I love this industry and, most of all, I love the people in it. I promise as long as I'm here living well, I will be part of this wonderful industry. Thank you so much."
CREF Fueling the Future awards – Pam Watson, Kemperle sales and marketing strategist; Tony Russo, Volkswagen Group of America senior specialist damage prevention and port policies, and Mark Allen, Audi of America collision and equipment manager
"[This] is to make sure we can recognize either volunteers or businesses that are going above and beyond to help support the future of the industry," said Brandon Eckenrode, CREF executive director. "The first award is focused around a volunteer that has gone above and beyond in getting involved with their local schools."
The list of how Watson has volunteered and helped in her local market is several pages long, which is "a true testament of the work that she's doing," he added.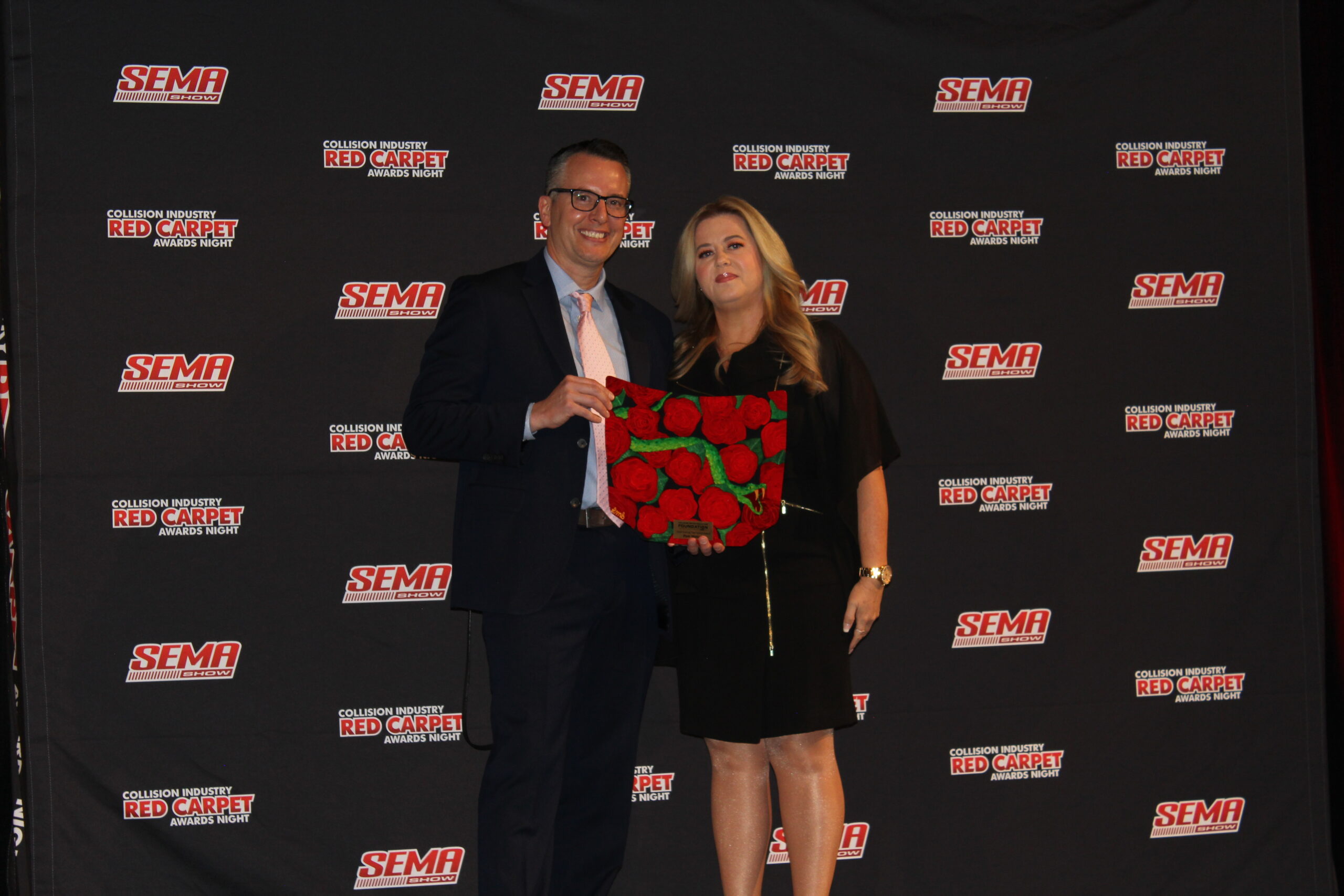 "She's helping to organize fundraisers in a local market that help support the local schools and students that are in her local market, organizing career fair events, participating on advisory boards, facilitating product donations to local schools," Eckenrode said of just some of the ways she's helped her community. "When CREF gets donations, we need volunteers to help get them distributed. She was first in line in her local market to make sure those got distributed. She organizes field trips for the local schools to actually go visit industry businesses so that these students can meet and interact and network with the local industry members."
Russo and Allen were also given the award for their work in donating 80 new vehicles that were damaged during shipping to 18 schools in Maryland, Michigan, New Jersey, Tennessee, Texas, and Virginia for collision repair programs.
I-CAR Jeff Silver Memorial Award – Zack Beck, GEICO corporate claims trainer
"Our two award recipients promote technical education and professionalism beyond just their own businesses," said John Van Alstyne, I-CAR president and CEO. "These industry champions recognize the relationship of technical knowledge and skills to the performance of high-quality collision repairs that ultimately benefit the consumer."
The Jeff Silver Memorial Award recognizes an exceptional individual who actively promotes the platinum credential, I-CAR's highest individual recognition level, while also personally maintaining platinum status for a minimum of five consecutive years. It is in honor of Silver's passion for training and professional growth.
Van Alstyne said Beck, who trains appraisers, is known as "a true champion for the I-CAR community."
"He goes beyond identifying training requirements that keep appraisers up to date on their credentials," he said. "He goes further and explains what knowledge is gained from each course and how it will help professionals to perform their jobs better.
"If you've been hired by his employer, you won't have to seek him out because he'll be one of the first coworkers to welcome you, and of course, encourage you to immediately enroll in an I-CAR course. [He] gives back to the community in a way that combines with his love of sports. He works with youth, encouraging them to join a sports team believing it's a way to build teamwork skills and leadership skills."
I-CAR Russ Verona Memorial Award — Clinton Body Shop
The award has been presented every year since 2006 to honor the memory of a true industry pioneer, Russ Verona, who owned and operated the very first a gold class-designated business and made numerous contributions that reinforced a positive image of our industry, Van Alstyne said.
Clinton Body Shop was owned by Mosley and continues to be operated by his family.
"Several decades ago, our Russ Verona award recipient led the way as the first shop within [his] state to attain gold prices. That's a remarkable achievement as a pioneer in our industry… On its website, our award recipient calls attention to its status as one of the 11 body shops in the world to be gold class for more than 30 years. To make good on its slogan, 'We take pride in perfection,' our award winner also participates in several OEM networks to equip its technicians with vehicle-specific know-how training with 14 vehicle makers… His selflessness is infused in the business."
CIECA Outstanding Contribution Award — Frank Phillips, Rivian certified collision network senior manager and Jake Rodenroth, Lucid Motors North American Body Repair Program operations manager
The award is given to collision repair industry professionals who largely contribute through personal or corporate efforts to achieve CIECA's mission. Two people won the award this year "because of their tremendous contribution and dedication to CIECA last year," said Greg Best, CIECA chairperson.
Phillips "went above and beyond" to arrange a tour of the Rivian plant as part of the recent CONNEX Conference in Illinois to provide a behind-the-scenes look at what the company is doing.
Rodenroth regularly participates in several committees including the Standards Advisory Board, has presented at numerous CIECA events, and shared information about new technologies at the most recent CONNEX conference. He also brought a Lucid electric vehicle (EV) to the event for attendees to see, and some to take a ride in.
"I want to thank my team at Lucid Motors, I couldn't do without them, without a doubt; definitely not a one-man show," Rodenroth said. "Also, our tremendous certified Lucid repair facilities and my family and most of all my dad."
CIECA Chairperson's Award — Bill Brower, Solera industry relations vice president
Best said Brower stood out to him over the last year because of his active role on the CIECA Board of Trustees, regularly contributing to core discussions and helping move the organization forward.
"Earlier today, I was hosting a panel discussion on artificial intelligence and claims," Brower said when accepting the award. "When you look at where we are today and where we're going in the future, data is really key and the ability to have an organization like CIECA to allow us to change information accurately to help customers at their time of need is really, really important. It's just an honor to be a part of the CIECA organization and CIECA Board. I actually began in the industry in the body shop business. My dad owned a body shop in North Carolina so I spent my teenage years banging out fenders… I really appreciate the industry and all that you do for consumers."
CIECA Electronic Commerce Company Award — OEConnection
The award is given to the company that contributes the most through its employees, resources, and dedication to help achieve CIECA's mission, objectives, and goals. OEC has supported the mission in many ways in addition to active representation on the Board of Trustees, offering help and advice regularly.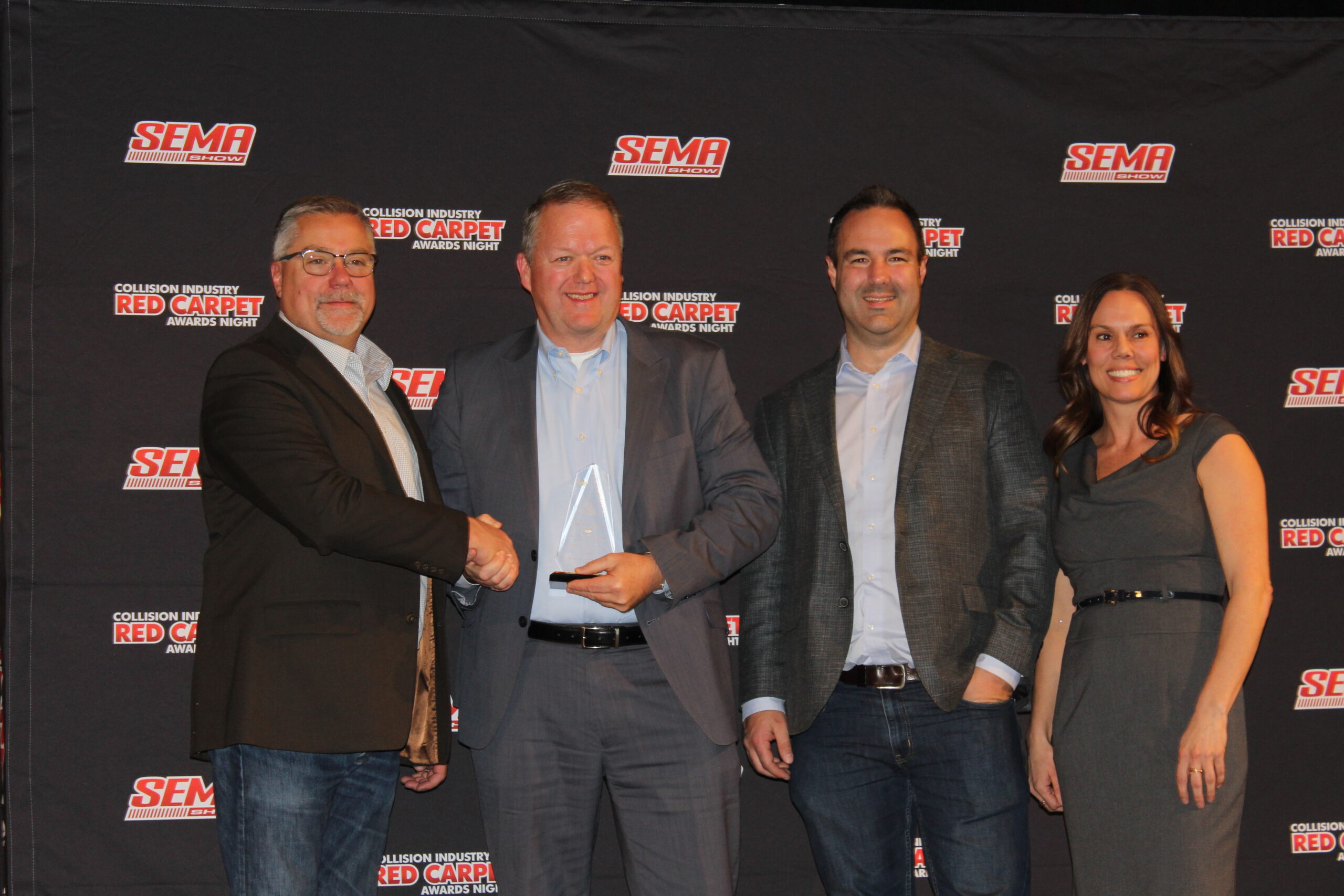 SCRS affiliate association — ABAT
The award recognizes one of SCRS' state affiliate associations — currently there are 33 — that displays exemplary actions of leadership across their state, member engagement, and helping to lift up the collision repair professionals in their state.
"This year's recipient has really demonstrated exceptional leadership in their state and their activity in advocating for legislation, not just advocating for legislation, but specifically the work that they do to work with lawmakers to make sure that they understand the issues that are happening in their state and how they're impacting consumers," said Tony Adams, an SCRS national director. "The numerous events that they run — trade shows online, webinars; exchange of information across their state; keeping their members both informed, educated, and engaged, and also their work to standardize Department of Insurance complaint forms across their state are just a few of the many things that this association works on within their state."
SCRS Treasurer Andy Tylka added that Executive Director Jill Tuggle, who accepted the award on behalf of ABAT, is selfless and "holds the door for everybody in the industry."
"She's progressive-thinking. She encourages people to learn from what they're doing," he said.
Tuggle said, "It's been a pleasure to me to fight the good fight; to be there and represent the small guys and the independent shops, to do what's good for this industry and the empty chair."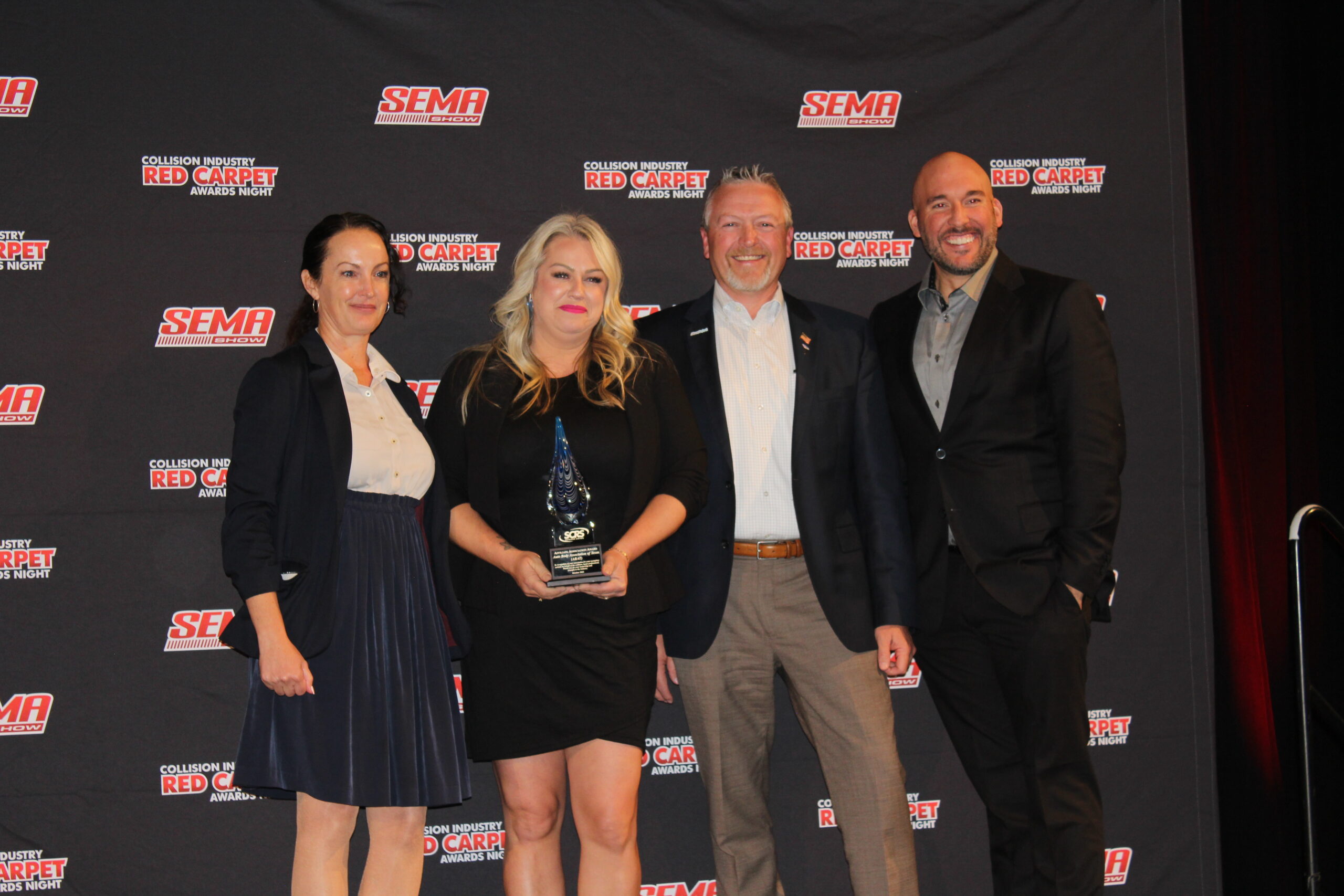 During the event, CIC's 40th anniversary was also celebrated. A video of interviews was shared including the current chair, Frank Terlep, as well as several past chairs.
"Al Estorga was the gentleman who was in the room and he got up to… make a statement about what he believed and he was told, 'No, you're in the wrong place to make that statement,'" Terlep said. "That was the beginning… For many years, there were 10 to 20 people in a room having this meeting with CIC. Look at what happened in Palm Springs in January, over 500 people [attended]. Look at what happened today, registered over 500 people, and all the things CIC has accomplished over the over the 40-plus years."
Comments shared in the video, in part, from past chairs include:
Estorga: "I would see estimators from the insurance company come into the shop, lowball the estimate, and when I would complain about it, they would add some more but in return, I was supposed to give them some money to do that. We decided that we were going to present a white paper to the insurance companies and we were denied a response. I was determined that there had to be a way in this country to be able to exhibit a complaint that you had and should get a response."
Guy Bargnes, 2017-2018 chair: "CIC is an incubator. We can point to things like CIECA. We can point to things like the OEM Roundtable and we can understand how those things incubated in the early stages of CIC and groom it to be something else. I said, 'Randy, what's, what's the trick? What's the secret? He said, 'Guy, don't worry about it. Just leave it better than you found it.' Look at where we are today. Everyone has left it better than they found it and their own personality."
Stacy Bartnik, 2007-2008 chair: "We need all of us, whether it's from the insurance side, the supplier, the repairers; none of this happens unless we all work together."
Jordan, CIC admin: "I want to see our meeting in the thousands. I know that my dad's dream for this was one day we could fill a baseball stadium because we have that many people in this industry. We have that many people that need to know what's going on with vehicles and how they're going to fix them right in the future."
Images
Featured image: ABAT President Burl Richards and SCRS Vice Chairman Michael Bradshaw accepted the SCRS Lifetime Achievement Award on behalf of the late John Mosley's family. (Lurah Lowery/Repairer Driven News)
John Mosley headshot (RDN file photo)
Kye Yeung accepts the SCRS 2023 March Taylor Kina'ole Award from Aaron Schulenburg and Barry Dorn. (Lurah Lowery/Repairer Driven News)
(From left) 2023-2024 SCRS Chair Amber Alley; Yeung's wife, Barbara, Kye Yeung, and SCRS Executive Director Aaron Schulenburg with Yeung's 2023 March Taylor Kina'ole Award. (Lurah Lowery/Repairer Driven News)
(From left) CIC Admin Jordan Hendler, past CIC chair George Avery, CIC Volunteer of the Year Award recipient Petra Schroeder, and past CIC chairs Guy Bargnes, Darrell Amberson, Jeff Peevy, Jeff Hendler, Erick Bickett, Frank Terlep, Randy Stabler, Stacy Bartnik, and Lou DiLisio. (Lurah Lowery/Repairer Driven News)
CREF Executive Director Brandon Eckenrode with Fueling the Future Award recipient Pam Watson. (Lurah Lowery/Repairer Driven News)
(From left) CIECA Chairman Greg Best and OEC team members Ken Eagleson (CIECA Board of Trustees member), Patrick Blech, and Tanya Sweetland. (Lurah Lowery/Reparier Driven News)
(From left) SCRS Chair Amber Alley, ABAT Executive Director Jill Tuggle, SCRS National Director Tony Adams, and SCRS Treasurer Andy Tylka. (Lurah Lowery/Repairer Driven News)
Share This: