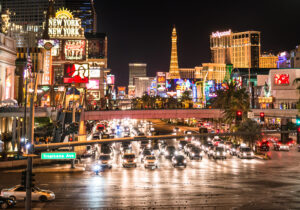 Auto insurers are likely to remain challenged through 2025 because of "significant U.S. inflation" that has tripled the cost of repair parts in recent years, a public forum heard Wednesday.
The forum, hosted by the Nevada Division of Insurance (DOI), featured a panel of industry experts gathered to discuss the factors driving up costs throughout the state, and the importance of ensuring repair facilities are properly compensated for the heightened expense of fixing modern vehicles.
Panelists included Dale Porfilio, the Insurance Information Institute's chief insurance officer, who said inflation has caused expenses to rise, meaning carriers are paying more to repair or replace damaged vehicles.
"From year end 2019 through year end 2022, inflation has gone up 15.6%," Porfilio told the forum. "What's happened with auto replacement costs is that they've gone up three times that, with most of that occurring in 2021 and 2022."
He added that while he was hoping to see costs decrease, that hasn't yet happened. Instead, he said the industry has observed a stabilization of replacement cost increases that it expects to continue through 2025.
"We believe that every company is going to have to be factoring this into their expectations of losses in the future," Porfilio said. "That's why rates are meaning to go upwards, painful though that is for everybody."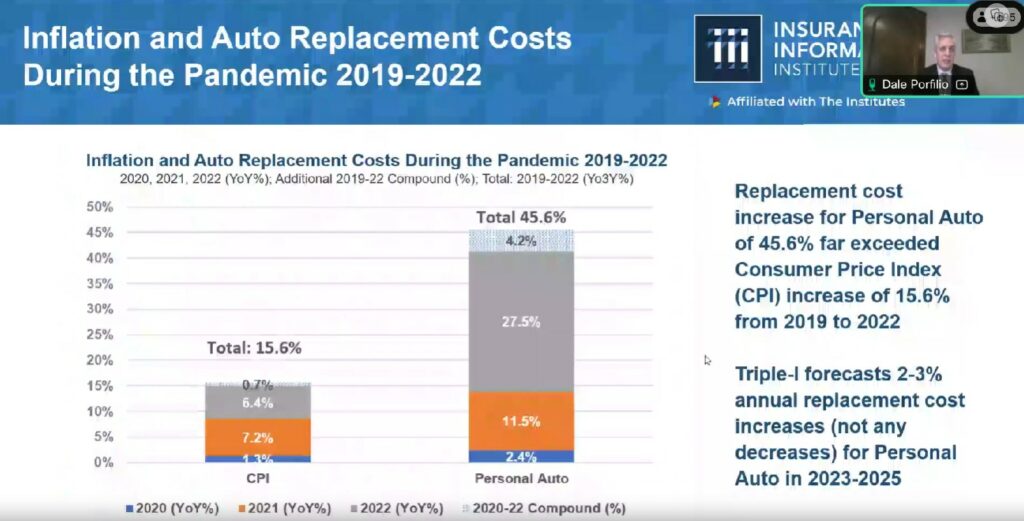 Michael DeLong, research and advocacy associate with the Consumer Federation of America, said inflation isn't the only factor that caused rates to rise 19% nationwide year-over-year. In Nevada, he said rates have increased 51% throughout the past decade due partly to "excessive executive salaries and advertising costs" that were passed onto the consumer.
DeLong called out insurers for raising rates during the pandemic when fewer people were driving and practicing discriminatory pricing against minorities and low-income drivers.
"I also wanted to point out that it's not just because of inflation; auto insurance rates have been going well up above the rate of inflation," DeLong told the panel. "And as the rate of inflation has gone down in recent months, auto insurance premiums keep going up,"
Robert Passmore, department vice president of personal lines at the American Property Casualty Insurance Association, participated in the panel to discuss key drivers impacting insurance rates nationwide.
"Simply said, the increases we're seeing in auto insurance premiums across the country are driven by the increase in the cost of things that auto insurance pays for," Passmore said.
He then shared a slide that illustrates items covered by insurance, and how they've increased in cost.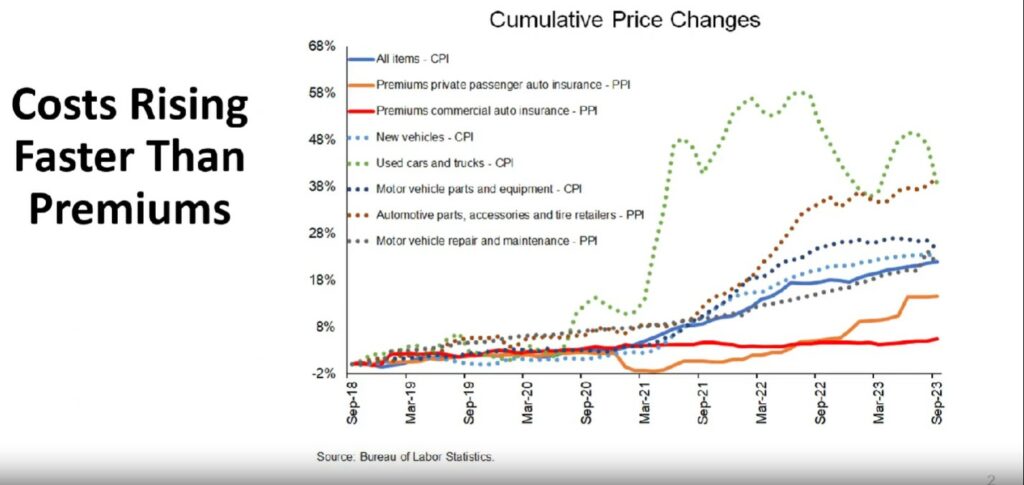 "The cost of personalized auto insurance has been going up in the last few quarters, but it's trying to catch up with the cost of all those other things that auto insurance pays for," Passmore said. "And those things are like motor vehicle repairs and replacement parts as well as a higher used car value… and of course, the cost of medical care is on the rise too. The premiums are still catching up to those costs."
He said there has also been an increase in unsafe driving habits, including impaired or distracted driving, that increases the risk of collision.
Aaron Schulenburg, executive director for the Society of Collision Repair Specialists, said that while it's evident that repair costs and vehicle advancements have driven up the cost of fixing the modern fleet, it's also obvious that actions must be taken to ensure a sustainable insurance industry.
"This means we need insurance businesses to be able to collect rates that allow them to function properly in their role and service to the consumers," Schulenburg said. "The topics we are exploring today do not just impact the collision repair centers in the state of Nevada, but rather this issue and the concerns I'll share today are collectively felt across the United States.
"There are some perspectives I share today that may not be popular, but I hope that they open the dialog to look at the challenges being faced at the ground floor where after having paid for insurance–increasingly expensive insurance–a consumer experiences a loss, files a claim, selects a repair facility of their choice, and then struggles through cost mitigation efforts that create for challenging consumer experiences and potentially even greater incurred out of pocket expenses."
Schulenburg added that while he's a proponent of working together across the insurance industry to create more awareness of the true cost of repairing a modern vehicle, he also hopes that will lead to more appropriate risk assessments leading to complete indemnification.
"Carriers are receiving rate increases, often centered around diminished profitability and rising costs. But while rising costs from increased complexity and technology in the vehicles is a logical justification for increased rates, those increases aren't translating to an ease of experience for the consumer in the claims process," he said. "You would presume if my rates increase, because the technology has increased, that means the cost to fix the technology will naturally be covered as a result.
"But that is not the experience we find. If it were–as it should be–than the answer is simply to underwrite appropriately for the modern fleet."
He said the collision repair community has found that even as insurance costs rise, a growing distance remains between insurance settlement offers and the final costs of repair.
"Collision repairers and insurance companies should have a shared promise to the consumer – to help people in their time of need, after they've experienced tragedy and loss. The consumers we serve need more," Schulenburg said. "They need solutions and support. Not just to the rising cost of insurance, but to curb the increased out of pocket responsibility and a relief from the economic pressure to accept a less-than acceptable repair.
"There is only one right way to repair a vehicle – especially a vehicle with a modern, sophisticated suite of safety technology. Repairers have an obligation to the consumer to utilize OEM procedures, and information. If a vehicle is equipped with ADAS and safety technology, as they virtually all are today, those procedures play even greater roles."
Images
Main image courtesy of franckreporter/iStock
Secondary graphics courtesy of the Nevada Division of Insurance
Share This: