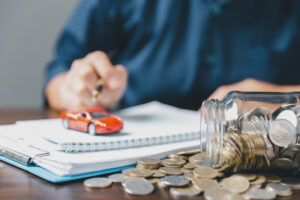 When testifying during a recent U.S. House of Representatives subcommittee meeting, an American Property Casualty Insurance Association (APCIA) executive said the organization is prepared to work with federal regulators and policymakers to address rising insurance rates.
Robert Gordon, APCIA's senior vice president of policy, research, and international, told the House Financial Services Committee's Subcommittee on Housing and Insurance last Thursday that while insurers "remain committed" to their policyholders, the market is facing challenges that will require "strong leadership" to overcome.
"Our challenge is simple economics," Gordon said. "Insured costs and exposures are escalating much faster than regulators are allowing insurers to increase rates."
Gordon told the committee that global natural catastrophe losses have nearly doubled in the past decade, costing insurers more than $24 billion during the first eight months of 2023 alone.
"The number one driver of property losses has been the accumulation of asset values in high-climate-risk regions as more people are moving into buildings in areas with high hurricane and wildfire risk that have become more expensive to rebuild," continued Gordon. "Losses are also being driven by economic inflation, climate change, and legal system abuse.
"Insurance availability can be best improved by allowing competitive private markets to actuarially price risk according to expected costs while reducing government rate suppression and policy form constraints. Insurance affordability is best addressed through improved mitigation and resiliency programs. APCIA members have been supporting dozens of climate mitigation and resiliency programs that can help reduce climate-related losses and make insurance more affordable."
Gordon also called out regulatory delays in approving rate filings and coverage mandates. He said that in states where rate-filling approvals can be challenging, rates have fallen behind losses, leading to "record loss ratios and causing severe net underwriting losses."
He said in some states, insurance market disruptions could be lessened by allowing regulators to review and approve rate increases in a timely manner.
"Beyond helping assure a stable insurance market, accurate risk-based pricing is reflective of comparative exposure to risk," Gordon said. "Accurate insurance pricing of risks helps society recognize and address the true costs. Longer-term solutions are also essential to effectively address the underlying cost drivers for losses. The deteriorating loss situation is felt most directly by impacted communities and households, but its financial impacts are also borne by insurers and government. And we all share the urgent need to reduce those losses by working together to mitigate risk and increase resiliency, address legal system abuse through meaningful tort reform, and resolve regulatory constraints that contribute to insurance market dysfunction."
He added that insurers are also supportive of improved vehicle and highway safety standards, including those related to impaired and distracted driving and improved road infrastructure.
"Insurers' core business is protecting people and helping them recover from catastrophic losses to their homes, cars, and businesses. Insurers remain committed to our policyholders and American consumers," Gordon said. "But insurance markets are facing very strong challenges that will require strong leadership to overcome. APCIA is ready and willing to work with state and federal regulators and policymakers on solutions."
During last week's meeting the committee also heard from Missouri Rep. Emanuel Cleaver II (D-Kansas City), who said that while access to affordable insurance is essential for Americans, 31 states have experienced double-digit rate increases since January 2022.
"Americans look to insurers to protect their homes, automobiles, businesses, and communities and for the security of knowing that if worst comes to worst, the losses will not be crippling," Cleaver said. "But more and more Americans are opening their mailboxes and checking their emails only to learn that this protection is being restricted, becoming significantly more costly, or major insurance companies leaving their policyholders altogether."
He said he was hopeful that the committee hearing could help identify bipartisan solutions for reducing insurance rates and increase coverage availability.
Baird Webel, a financial economics specialist with the Congressional Research Service, said he sees three factors driving up insurance prices: higher inflation and interest rates, increasing disaster loss, and in-state regulations.
"For Congress, if there's any good news in the situation it's that some of these factors are cyclical," Webel said. "Property casualty markets are prone to hard markets where supply contracts, prices go up, and then the markets react."
As it relates to catastrophe losses, he said lawmakers should do whatever they can to drive down mitigation which could include grant programs, hardening property, and trying to address wildfire issues through forest management.
Also last week, Robert Passmore, APCIA's department vice president for personal lines, highlighted how drivers in Nevada and throughout the country are exacerbating insurance claims costs by engaging in risky behavior.
"In addition to inflation trends, and riskier driving behavior by the public, cost increases for medical and hospital services, and outsized growth in lawsuit verdicts and legal system abuses, that are negatively impacting and pressuring the industry with increased losses," Passmore said in a press release.
"All indicators suggest elevated auto repair and replacement costs will stretch well into 2024 and potentially beyond. Medical inflation is also accelerating.  Insurers are urging drivers to reduce their risk by avoiding driving behaviors like distracted driving, speeding and impaired driving that may result in a crash. Insurers are also advocating for better infrastructure, including reliable supply chains for critical auto parts and safer roads, which should result in fewer crashes, and controlling claims costs to help keep insurance premiums affordable for consumers." 
APCIA released a study in July titled "Auto Insurance: The Uncertain Road Ahead" that revealed insurance claims inflation has continued to rise faster than the underlying consumer price index (CPI), far outpacing increases in auto insurance premiums.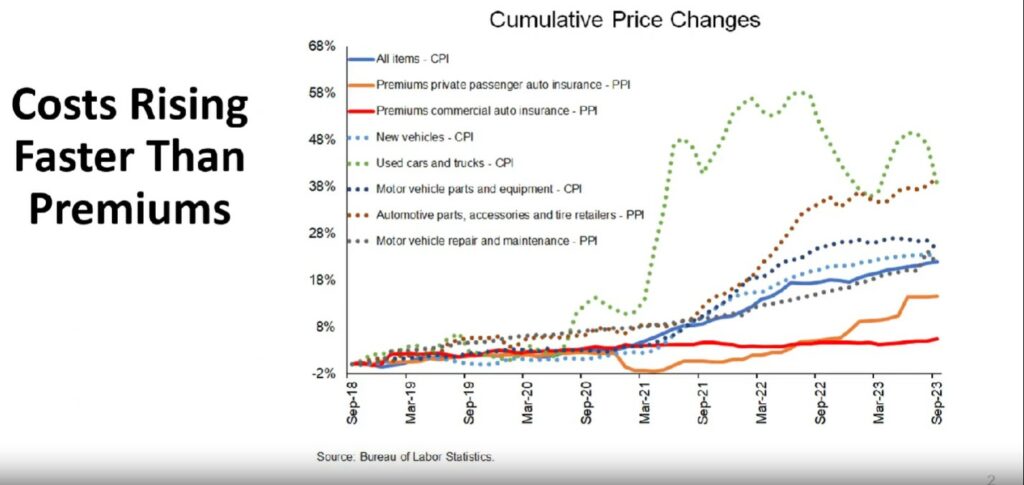 Passmore was among the participants of a forum, hosted by the Nevada Division of Insurance, last week that featured a panel of industry experts gathered to discuss the factors driving up costs throughout the state and the importance of ensuring repair facilities are properly compensated for the heightened expense of fixing modern vehicles.
"Simply said, the increases we're seeing in auto insurance premiums across the country are driven by the increase in the cost of things that auto insurance pays for," Passmore said.
He then detailed how things like new and used vehicles, vehicle parts, and auto repair equipment costs have been rising faster than premiums.
"The cost of personalized auto insurance has been going up in the last few quarters but it's trying to catch up with the cost of all those other things that auto insurance pays for," Passmore said. "And those things are like motor vehicle repairs and replacement parts as well as a higher used car value… and of course, the cost of medical care is on the rise too. The premiums are still catching up to those costs."
Passmore also cited National Highway Traffic Safety Administration (NHTSA) data showing that approximately 42,000 people were killed in vehicle crashes last year, a figure higher than pre-pandemic levels. He noted this is despite better safety laws and safer vehicles.
"It's really been the deterioration in driving habits that's driven a lot of these kinds of results," Passmore said. "The American Automobile Association did a survey finding that unsafe driving behaviors rose from 2020 to 2021. And most concerning was the number of drivers who admitted they drove when they thought they were over the blood alcohol limit that increased by nearly 24%, those admitting to driving within an hour of consuming cannabis increased by nearly 14%. Speeding, driving through red lights, texting while driving all increased significantly."
Passmore then addressed how advanced vehicles require more parts, labor, and operations to diagnose and recalibrate features like automatic emergency braking. Repairs are taking longer too.
"At the same time, there are shortages of trained technicians to do the repairs and that's pushing labor rate increases up between six and 10% countrywide," Passmore said. "Repairs are taking longer too. Right now, the average insurance rental is over 17 days and it was around 12 days before the pandemic. So that's some of the leading indicators of some of the cost increases."
Images
Featured image courtesy of Jinda Noipho/iStock
Share This: