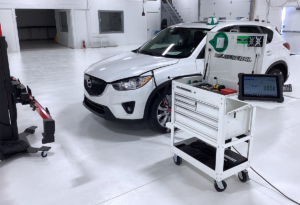 One of three Society of Collision Repair Specialists (SCRS) OEM Collision Repair Technology Summit sessions held during the SEMA Show last week focused on something repairers are seeing more and more — advanced driver assistance system (ADAS) recalibrations.
The goal of the discussion was to pull in aftermarket calibrations equipment OEMs to give repairers a glimpse of the differing technologies used and share what they've learned from working with automakers on proper calibrations.
"What's important to understand is that there is a tremendous amount of work being done by leading manufacturers who are [evaluating] how they do a good job of serving the industry who is looking to perform OEM compliant repairs and thorough repairs and looking to achieve an outcome that shows that a repair was performed properly," said SCRS Executive Director Aaron Schulenburg.

Doug Kelly, automotive aftermarket president of Burke Porter, an Ascential Technologies Company; Group automotive aftermarket president; Jordan Krebs, Snap-on alignment and ADAS product manager, and Josh McFarlin, AirPro Diagnostics president gave individual presentations on their products and what they've learned through their research and calibrations work.
Kelly shared what he's learned from his time spent in automaker factories and how Burke Porter has implemented those strategies into its own ADAS-dedicated centers. There are currently six centers, primarily located in the Midwest. Burke Porter has researched OEM factory calibration systems and is working to bring a scaled-down version to the collision repair industry with the goal of making calibrations more manageable, similar to a self-centering system used in the SEMA Garage, Kelly told Repairer Driven News.
In the factory, vehicles are typically calibrated in one of two ways: by a technician underneath the vehicle or through a more compact standalone operation. Some of the calibrations are done in as quickly as 90 seconds.
"The advantage they [OEMs] have, of course, is it's the same vehicle coming down the same line and it's all brand new parts," Kelly said. "So clearly, they don't have to deal with the fact that you're in a mixed model type environment… they're not having to worry about the cleanliness of the windshield or ride height variations that can occur if somebody modifies a vehicle or even post-repair issues.
"We've witnessed improvements in how repairers are fixing these cars but I can tell you today that still 1 out of 5 will not calibrate the first time it's presented because of the additional repair work that's needed."
Kelly, Krebs, and McFarlin agreed that there are certain conditions that have to be met in order for calibrations to be completed not only successfully but properly. Those include — to name a few —neutral-colored walls, level floors, controlled lighting, and OEM-specific gas and tire inflation levels but Kelly cautioned it's much more than that. 
"I think it's incumbent upon all of us to be very truthful and honest about what's involved so people can make informed decisions as to whether [they] should get in this business or not," he said. "It's not just about ceiling height, floor space, and whether the walls are white. This has to do with, 'Am I equipped and capable and willing to do everything that's needed to put this car back the way it's supposed to be? And if I'm already having trouble hanging fenders and getting the paint to match, what in the world makes me think that I can suddenly become an expert in calibrations?'"
Burke Porter's equipment is set up similar to OEM factory equipment with automatic centering of vehicles when they're first driven into the calibration lane — a task done in less than 10 seconds versus 10-30 minutes manually, Kelly said.
"Having good documentation, understanding upfront what's needed, making sure that the target is presented in the right position, and that the person doing that is trained and qualified are all things that are important in getting the quality outcome," he said. 
"It can be done in a way that eliminates human error and ultimately reduces cycle time," he said. "The second thing is the target itself is presented automatically to that vehicle so it's not contingent or dependent on a technician using a ruler, tape measure, or even a laser to try to determine the appropriate distance. It's done through commands or prompts from software to a machine instructing where to place that target every single time."
Krebs shared how Snap-on works with OEMs to obtain vehicle specifications, processes, and procedures to ensure their tools use the appropriate information and are accepted in OEM-certified service and collision repair centers.
"We've had plenty of opportunity to learn and grow with the OEMs," Krebs said. "This has led to the culmination and the creation of what we have as the Tru-Point — our ADAS solution in the passenger car market going hand-in-hand with OEM compliance, OEM compatibility, and OEM recording to make sure we're in the right spot."
Based on what Snap-on learned from real-world experience and feedback with its EZ-ADAS product, Krebs said they decided to move into 3D imaging technology, eliminating the need for manual measurements.
The first repairers to use TruPoint emphasized wanting to complete the highest level of accuracy and repeatability available to them in the aftermarket so that "their drivers and their owners can maintain the highest level of safety."
"We work with them. We help develop their procedures with them and for them," Krebs said.
Snap-on's aftermarket reach covers 90% of the North American market for front camera and radar components, he added. Coverage is also available for lidar, night vision, 360 vinyl mats, rear cameras, blind spot doppler, blind spot camera, blind spot initialization, and intelligent park assist with ultrasonic validation.
McFarlin said AirPro ensures the right technicians use the right software to perform the task at hand. "We do that day in and day out and we're focused on providing the best possible service to our customers using the right tool for the job."
"A calibration result of 'pass' or 'complete' or 'successful' does not necessarily mean it was done correctly," he added.
That's because the equipment trusts that technicians took OEM service information into account and followed the appropriate procedures including correct measurements and target placement. He shared details on AirPro's Auggie, a mobile static recalibration device, which has been proven in independent tests to meet the National Highway Traffic Safety Administration's (NHTSA) New Car Assessment Program (NCAP) crash test scenario requirements.
McFarlin said the forward-facing camera calibration device is a portable theater that displays a target on a digital screen in front the forward-facing camera, and is scaled based on OEM calibration procedures.
"It can be used anywhere; no general experience necessary," he said. "When we bring the tool out, no calibration or technician experience is needed. It eliminates the environmental challenges related to controlled lighting. It's directly mounted to the windshield… meaning that the attitude of that vehicle related to the environment isn't what's important.
During a panel Q&A with Collision Advice President Mike Anderson, TAG Auto Group owner Andy Tylka, and DCR Systems Vehicle Systems Director of Operations Dave Martin, the speakers were asked how their equipment should be used outdoors and how to maintain efficient battery life during calibrations.
When using the Auggie, McFarlin said AirPro recommends repair centers have access to power to either recharge batteries for a tool or otherwise.
Krebs stated that TruPoint should be used in a controlled environment, including the car itself, and make sure that it's prepped for repair. Preparations, in part, include using a battery maintainer.
Kelly noted the importance of ADAS calibration verification — test driving vehicles after they've been recalibrated to make sure all ADAS are working correctly. "The problem is there is no safe way to test some of these systems on the open road and some of them are geofenced, which means they won't operate unless you're in a specific area. We're working on the next phase, which is verification. It's not even been done at the factory, sadly."
The speakers were also asked how their products are affected when there is windshield damage such as chips or cracks. Krebs said damaged areas can create distortion and glare that will impact the outcome of calibrations.
McFarlin said OEMs have different specifications about proximity to the camera, which repairers need to be aware of, and need to inspect the glass. "If there's an issue or a blemish of some sort then you need to check the OEM service information and verify whether or not that's within that tolerance of what shouldn't be allowed. From there, make repairs as necessary."
Based on a firsthand experience he had, Anderson asked the speakers if their tools compensate for inaccurate or erroneous OEM service information.
Kelly said Burke Porter can differentiate factory and aftermarket variations because they production line data as a baseline.
"We do detect those and we have a database team that will then basically search and confirm which value is correct," Kelly said. "I think maybe what wasn't asked is what do you do if the vehicle's right and doesn't respond or correspond to what it should be if it's been lifted or modified? I don't think any of us are recommending we calibrate cars that are out of spec."
Krebs added the answers should always be found in OEM information.
"We'll detect floor to fender, floor to center line; we can actually determine that and where required, again by the OEMs, we can adjust accordingly to make sure that we are maintaining compliance," he said. :When it comes to modified vehicles, again, we say refer to OEM service information because they each have their own spec on what they will and will not allow for recalibration for a modified vehicle."
McFarlin noted, "The whole calibration world is still very much in its infancy and we have lots of [rapidly] changing technology from what those sensors do but then how we have to approach it from the collision repair side of things… the training is really key."
He added that developing tools according to OEM procedures is also important.
"I think you must have a moral and ethical obligation to our industry to make sure that you're putting it in the hands of the right shops," Anderson said. "As a vendor, obviously, you want to sell equipment; that's how you make your revenues and I get that but… it's about making sure, is that shop really equipped?"
Tylka agreed, noting that repairers shouldn't be given a false sense of security through the ability to purchase calibration tools and equipment with little to no training.
In a conversation with RDN, Kelly said he reminds Burke Porter folks all the time that they're not in the selling business but the education business.
"Our goal is to help inform and educate the market… to help as quickly as we can; get the information out there as to the challenges that exist with today's systems," he said. "If we think it's complicated now, the reality is there's more in store. I'm not there to try to frighten people but to educate them as to what we can expect going forward… how is it done in the factory? And then how does that translate to the actual market?"
A member of the OEM Summit session audience asked what recommendations the speakers would give on calibration equipment to buy and features to steer clear of to avoid inaccurate calibrations. McFarlin said repair facilities with no experience in calibrations should start with dynamic calibrations because it generally doesn't require additional tooling. Next, he recommends beginning radar and blind spot calibrations because equipping facilities for those don't require a large initial investment.
Images
Featured image provided by Car ADAS Solutions.
(From left) Josh McFarlin, Doug Kelly, Jordan Krebs, Andy Tylka, Mike Anderson, and Dave Martin. (Lurah Lowery/Repairer Driven News)
Share This: