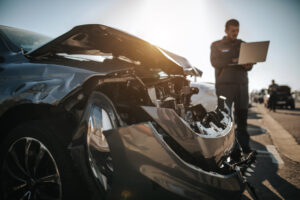 The total loss rate for electric vehicles (EVs) is on par with luxury internal combustion engine (ICE) vehicles manufactured around the same time, according to a newly released Mitchell International report.
Its latest "Plugged-In: EV Collision Insights" report found that from Q1-Q3 this year, the EV total loss rate was 7.25% for model years 2020 and newer. Among luxury ICE vehicles made around the same time with a comparable actual cash value (ACV), the total loss rate was 7.47%, Mitchell said.
Those figures compare to 8.49% for all ICE vehicles.
Ryan Mandell, Mitchell's claim performance director, told Repairer Driven News that the latest information dispels the belief that EVs are more likely to be written off than ICE vehicles of a similar class.
"It's nearly identical between the groups," he said. "I'm not sure where these misconceptions about EVs totaling at a greater rate than ICE vehicles are coming from but our data certainly doesn't support that."
Mandell added that even though EV lithium-ion batteries significantly increase the likelihood of a total loss outcome, they still don't cause total loss frequency to outpace ICE vehicles.
"I think the data is telling us is that it's just a pure function of the economics of the vehicle itself; the fact that the ACV is just much higher for these EVs and the ACV is more comparable to a newer luxury vehicle," Mandell said. "It just means you have more room to be able to repair the vehicle before it reaches that total loss threshold."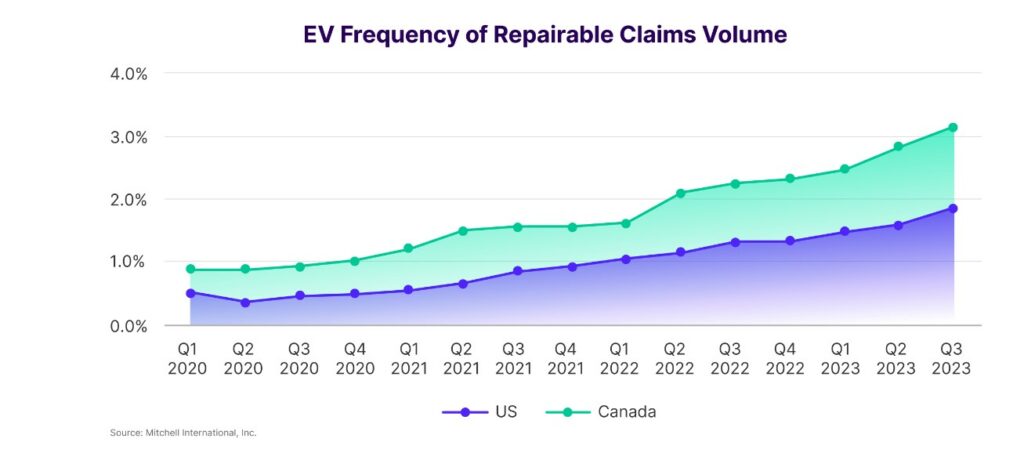 Michell's latest report also found that:
Labor for EVs represented nearly half the cost of total collision repair (49.66%) compared with 41% for ICE vehicles, adding up to more than six extra hours of labor per job. Mitchell's report said the additional EV costs relate to managing the high-voltage battery;
Repair costs for all EVs continue to be higher than for ICE vehicles, representing a $950 difference in the U.S. and a $1,301 difference in Canada; and
OEM parts are the standard for EV repair with 88.85% of repairable EVs using parts provided by the vehicle manufacturer versus 67.48% for ICE repairs.
Speaking to the additional labor operations associated with EVs, Mandell said it's likely because there are fewer parts being repaired and less maturity in the alternative parts market.
"The auto recycling industry is still kind of shying away from buying EVs to dismantle and sell the parts off," he said. "I think there's just some hesitancy on the part of auto recyclers because they no longer have an engine and transmission that they can sell. They've got a high voltage battery and electric motors, and I think there's some question marks about what that value chain is going to look like. We see from a lot of our insurance clients that they're getting lower salvage returns on EVs, I think, [because] you don't have as many of those parts going into the recycled ecosystem just yet."
However, Mandell, who used to work in auto recycling, added that he sees the situation changing within the next two years.
"I think the tide is changing but it's still a very fragmented industry so while the LKQs of the world are going to have programs and processes to handle these vehicles, the majority of businesses in the auto recycling space are family-owned. There's not a need necessarily for those small businesses to buy these vehicles," Mandell said. "As you see consolidation activity increase in auto recycling, I think you'll see more standardization in terms of how to process these vehicles safely, how to store the batteries safely, and to protect them."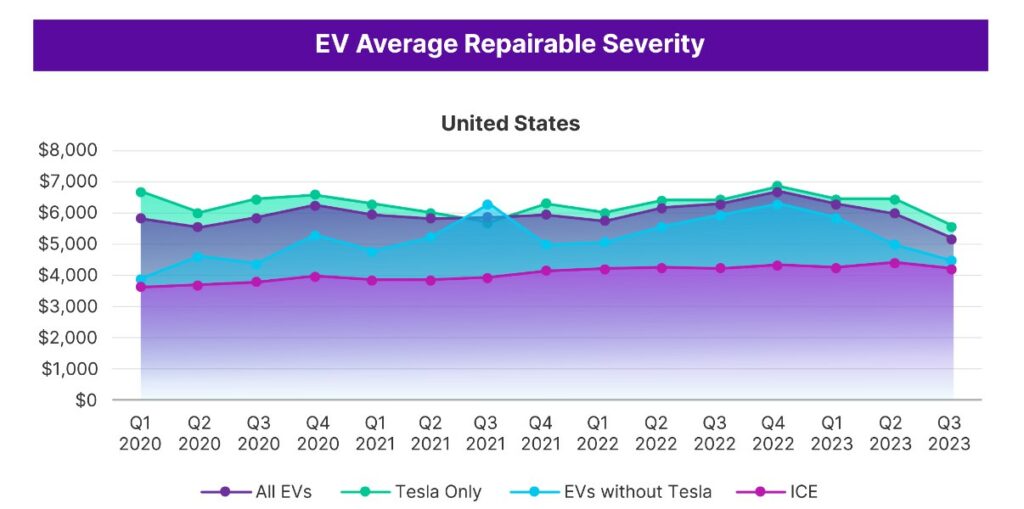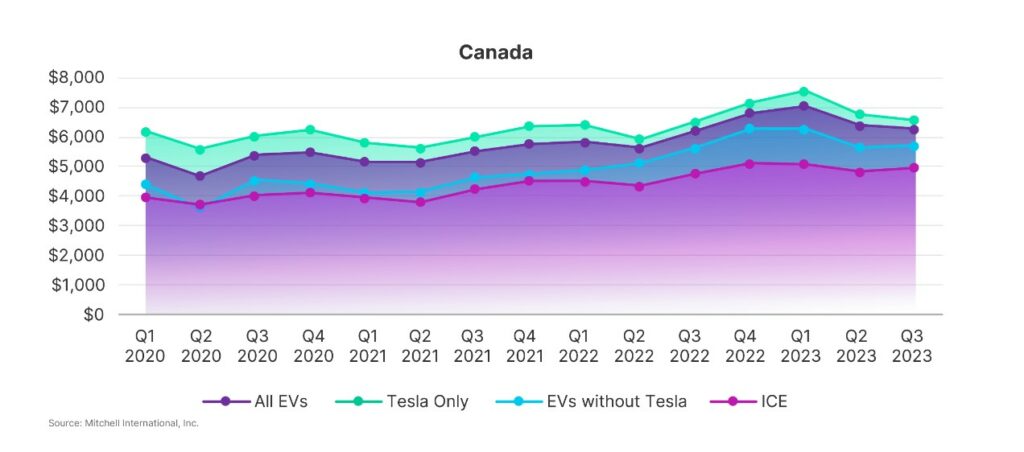 Mandell also touched on how repair parts for ICE vehicles represent a larger portion of the total cost to repair and are becoming more critical to the repair process. While 2020 data showed that 48.5% of the average estimate was attributable to parts, that figure has since increased to about 52%, he said.
"Parts are becoming more integral to the cost structure of a repair and you're seeing more parts being fit on vehicles so [there is] a greater quantity of parts," Mandell said. "Also, the inflation has really impacted parts costs over the past couple of years and we're seeing that play out in the market right now. All of it is coming together to drive the overall parts spend much higher."
As RDN previously reported, Mitchell's Q3 analysis also indicated that non-Tesla EVs have neared cost parity with ICE vehicles.
However, Mandell cautioned that the latest figures offer just a snapshot of a vehicle subset and that the data could change over time.
"Certainly, the initial data from the quarter shows that the Delta is not as great as what we've seen in the past," Mandell said. "But we have to be very careful not to throw the baby out with the bathwater because we have to remember we're talking about a subset of a subset of claims. So, we're talking about 25% of the EV claims, essentially, that are in the non-Tesla mix."
He added that the data was pulled shortly after Q3 ended and that the data will typically mature for the next three to six months and will change as supplements come in.
"When you're talking about a smaller data set, it's more prone to rapid change with those supplements," Mandell said. "It's also more prone to variability."
Images
Featured image courtesy of Constantinis/iStock
Graphs courtesy of Mitchell
Share This: