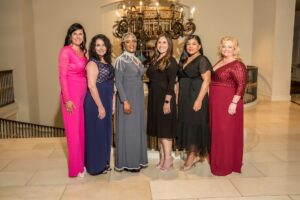 The Women's Industry Network (WIN) is now accepting nominations for its "Most Influential Women (MIW)" awards, which recognize those working within any sector of the U.S. and Canadian collision repair industry.
Nominations, which opened Wednesday, will be accepted through Jan. 5.
Jenny Anderson, committee member of the WIN MIW and past chair of the WIN board, said the award was established in 1999 to spotlight those whose "leadership, vision, and commitment to excellence have enriched the collision repair industry."
To date, 115 women have received the award through WIN.
Winners will be recognized May 6-8 during the 2024 WIN Educational Conference in Newport Beach, California.
WIN acquired stewardship of the MIW program in 2013 and said it is working to evolve it to align with its mission of "driving the future of collision repair by attracting, developing, and advancing women."
"Through their dedication to excellence, commitment to community, and investment in the future through their willingness to mentor other women, our 'Most Influential Women' recipients have made a huge impact on the collision repair industry," said Rachel Hinson, MIW committee chair. "These industry professionals serve as shining examples of the array of opportunities that are available in collision repair, as well as testaments to the positive impact that women can have in this and all other fields."
Once nominations are received, they're reviewed and nominees are interviewed by an independent selection committee consisting of industry professionals, past MIW winners and WIN members who don't serve in a leadership capacity, WIN said.
The nomination process is a way to recognize women who are making a difference in the industry, Hinson said.
"If you are a fan of a woman who excels in the areas mentioned, please go to our website to share her accomplishments with our dedicated team so she can be considered for this esteemed recognition," she said.
In 2023, MIW recipients included:
Traci Calkins, regional sales manager at PPG;
April Lausch, Faulkner Collision Center of Lancaster's collision center manager;
Lakeitria Luter, Service King/Crash Champions director;
Yohanna Peet, Caliber Collision's training program manager; and
Jaime Shewbridge, an I-CAR welding instructor.
Also recognized with an MIW award was Sabrina Thring, brand president of Driven Brands' collision group, who described the acknowledgment as a significant personal accomplishment.
"Joining a roster of industry-recognized, talented women coming from all walks of life is a true honor," Thring said. "Being able to share my journey, influencing other females in the industry or those looking to enter is not only a passion for me but a privilege. Especially for my own daughters to be able to see the power of female leaders who work hard, dream big, and can drive the future in collision repair."
Fellow recipient Luter, who now works as Goosehead Insurance's recruiting manager of operations, said the experience gave her an opportunity to connect with like-minded women within the industry.
"It has also elevated my professional status and has helped me obtain career opportunities," she said.
Those looking to learn more about the MIW, or seeking to download a nomination form, can do so online.
Images
Featured image: 2023 WIN MIW recipients included (from left) Tracy Calkins, April Lausch, Laketria Luter, Yohanna Peet, Sabrina Thring, and. Jaime Shewbridge. Photo courtesy of Women's Industry Network.
Share This: