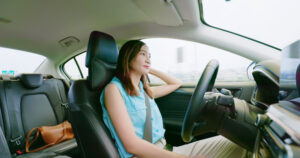 UK looks to pin AV-involved collisions on automakers
By on
Legal
The UK plans to bring forth consumer protection legislation during the 2023-24 session aimed at putting liability for collisions involving autonomous vehicles (AV) on the automaker.
According to a briefing from the Prime Minister's Office, the new and comprehensive legal frameworks will have safety at its core and will "hold companies firmly accountable once vehicles are on roads."
"While the vehicle is driving itself, a company rather than an individual will be responsible for the way it drives," the briefing states. "The bill sets out the responsibilities of companies that develop and operate self-driving vehicles on roads in Great Britain. Once authorised, companies will have ongoing obligations to keep their vehicles safe and ensure that they continue to drive in accordance with British laws.
"They will be required to report certain safety-related data to the authorisation authority and the in-use regulator and to comply with other relevant laws, including data protection and environmental protection legislation."
Currently, 88% of accidents in the UK occur, at least in part, because of human error, according to the Prime Minister's Office.
"My ministers will introduce new legal frameworks to support the safe commercial development of emerging industries, such as self-driving vehicles," King Charles said in a speech to lawmakers.
Reuters reports at least one global insurer, AXA, supports the move because it would give insurers "crucial clarity for establishing liability for self-driving" in addition to green jobs and road safety and economy benefits.
The bill would implement recommendations from the Law Commission of England based on a four-year review of international self-driving vehicle legislation.
Volvo, Mercedes-Benz, and Google said in 2015, they'd take responsibility for their self-driving cars.
Last year, Mercedes reportedly said it would be held liable for any malfunction of its SAE Level 3 conditional automated driving feature, Drive Pilot.
"Once you engage Drive Pilot, you are no longer legally liable for the car's operation until it disengages," Road & Track wrote. "You can look away, watch a movie, or zone out. If the car crashes while Drive Pilot is operating, that's Mercedes' problem, not yours."
At that time, the automaker stated on its website, "Behaviors that would inhibit the fallback-ready user's ability to take over driving in a timely manner, such as sleeping, are prohibited and, when detected, will cause the system to issue a series of escalating warnings. If those warnings are ignored DRIVE PILOT will automatically bring the vehicle to a controlled stop while turning on the hazard lamps. If the driver remains unresponsive, DRIVE PILOT will secure the vehicle from rolling away, seek aid by placing an emergency call to our response center, and prepares the vehicle for emergency assistance by unlocking the doors."
Some U.S. states have mandated certain liability and/or insurance coverages for AVs before operating on roads.
Reuters reports that, in the UK, companies had said Britain could lose investments and startups would test their vehicles elsewhere unless promised laws to regulate AV technology were passed before the next general election.
The proposed bill would only allow AVs on roads if they can "drive themselves safely and follow all road traffic rules without the need for a human to monitor or control the vehicle to maintain that level of safety."
"Companies will have to meet safety requirements from the point a vehicle is introduced onto our roads or face new sanctions and penalties if they fail in their duty," the briefing states. "These include fines, requirements to take corrective action, and suspension of operation. Criminal offences will apply in serious cases.
The Department for Transport and its agencies would be given new powers to ensure in-use compliance with the safety standards set. The department would also investigate and learn from incidents involving AVs based on new investigation processes.
Another consumer protection measure included in the bill is a crackdown on misleading marketing by only allowing vehicles that meet the safety threshold to be marketed as self-driving.
"For all other vehicles, the driver is responsible at all times," the briefing states. "Anyone using a self-driving vehicle must be clear about their legal responsibilities."
Images
Featured image credit: PonyWang/iStock
Share This: