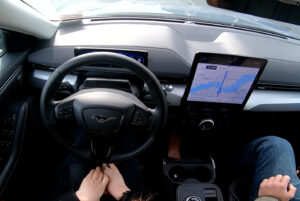 A pair of states have joined the push to embrace autonomous vehicles, with both Kentucky and Mississippi passing legislation to mandate autonomous vehicles.
Mississippi late last month approved House Bill 1003 to self-driving vehicles on public roads, drawing praise from the Autonomous Vehicle Industry Association.
"[We applaud] Governor Tate Reeves for signing HB 1003 and officially opening Mississippi to the safety, mobility and economic benefits of AVs," said Jeff Farrah, the association's executive director. "Mississippi now joins 22 other states that have unlocked the technology, safety, and supply chain benefits of autonomous vehicles."
Since then, Kentucky has indicated it will become the 23rd state to legislate self-driving vehicles after its general assembly last week passed a bill that lays out how it will mandate autonomous vehicles.
The legislation states that with a human driver on board, an autonomous vehicle can be operated in the state, provided the following conditions are met:
"If a failure of the automated driving system occurs that renders that system unable to perform the entire dynamic driving task relevant to its intended operational design domain, the fully autonomous vehicle will achieve a 4 minimal risk condition;"

"The fully autonomous vehicle is capable of operating in compliance with the applicable traffic and motor vehicle safety laws and regulations of this state when reasonable to do so, unless an exemption has been granted by the Transportation Cabinet; 

"When required by federal law, the vehicle bears the required manufacturer's certification label indicating that at the time of its manufacture it has been certified to be in compliance with all applicable federal motor vehicle safety standards, including any exemptions granted by the National Highway Traffic Safety Administration."
Self-driving cars will be able to cruise through Kentucky streets even if a driver isn't in the cabin, as long as they meet a series of separate qualifications. Before such vehicles are permitted, a person will be required to submit a law enforcement interaction plan to the state's transportation department and Kentucky State Police. 
The application must describe how to communicate with a "fleet support specialist who is available during the times the vehicle is in operation," how the vehicle can safely be removed from the roadway when necessary, and any additional information deemed necessary.
Before allowing a driverless fully autonomous vehicle onto the roads, its owner will also show proof the vehicle has single-limit liability coverage of at least $5 million.
The legislation has not yet been signed by Kentucky Gov. Andy Beshear. 
The bill's sponsor, Rep. Josh Bray (R-Mount Vernon), previously told a state subcommittee that Kentucky was the right spot to roll out self-driving cars.
"Kentucky is the perfect testing ground," he said. "We have hills. We have straight stretches. We have major travel corridors. We have urban environments, rural environments. We have four seasons. We are perfectly positioned to take advantage of this."
Others, including the Insurance Institute for Highway Safety (IIHS), have spoken out against the use of partially and fully autonomous vehicles, saying they could make roads more dangerous.
Speaking during a virtual Capitol Hill briefing March 7, IIHS's president David Harkey said that while he supports many modern technologies including driver assistance tools, he can't get behind self-driving cars.
"We firmly believe in technology for vehicle safety and the potential it has to reduce the tragic toll on our roadways," Harkey told legislators in prepared remarks. "But I want to be clear about where we see the greatest benefits for vehicle safety technology.
"We believe it is critical for the driver to remain engaged in the driving task at all times and always be responsible for all actions of the vehicle. We do not believe in the promise of technology to completely replace drivers and for the vehicle to assume all responsibility for vehicle operations."
Meantime, some automakers have hinted that autonomous driving is further away from reality than some think.
Earlier this month, it was revealed that Ford is withdrawing its National Highway Traffic Safety Administration (NHSTA) petition to develop and deploy its Level 4 automated driving system (ADS), saying it will instead focus on nearer-term prospects.
The news followed Ford's revelation last October that it would shut Argo AI, its joint venture with Volkswagen to develop self-driving vehicle technology.
Not all automakers are hitting the brakes on self-driving technology, however. Late last year, Stellantis acquired advanced artificial intelligence (AI) and autonomous driving software developer, aiMotive, to expand the automaker's global talent pool and boost the mid-term development of the all-new STLA AutoDrive platform.
This year, the Mercedes-Benz self-driving system, Drive Pilot, was approved for use in Nevada. Mercedes is also seeking approval for Drive Pilot use in California.
The SAE defines Level 3 autonomy as the vehicle is in full driving control and the occupant won't be required to take over, but it may be requested.
Nevada's step means Mercedes will be the first automaker to offer a system that lets drivers legally take their eyes from the road.
Other systems currently on public roads include Tesla's Autopilot and General Motors' Super Cruise, both of which are classified as SAE Level 2, meaning drivers must pay attention at all times and be prepared to take over.
Images
Featured image: 2021 Mustang Mach-E (Credit: Ford)
Share This: