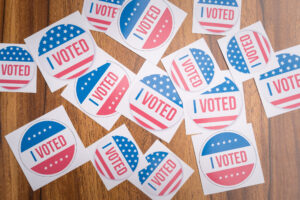 Maine right to repair referendum passed with 84.3% 'yes' votes, federal bill advances
By on
Legal
Maine voters approved a "right to repair (R2R)" referendum on Tuesday with a landslide 321,055 "yes" votes (84.3%) but several trade organizations say voters may have been misled. There were 59,694 "no" votes cast.
The vote totals are based on Associated Press estimates with 93% of the votes counted as of Wednesday afternoon.
The referendum was, "An Act Regarding Automotive Right to Repair. Do you want to require vehicle manufacturers to standardize on-board diagnostic systems and provide remote access to those systems and mechanical data to owners and independent repair facilities?"
The referendum is the result of a petition in support of a standardized access platform circulated by the Maine Right to Repair Coalition last year. The coalition chose to bypass the legislature and instead filed an application for a citizens' initiative and a draft of proposed legislation with the Secretary of State's Office in August 2022. Bellows approved the petition later that year in October.
In February, Maine Secretary of State Shenna Bellows confirmed enough signatures had been gathered for a referendum to be put on the Nov. 7 ballot.
Proponents of R2R initiatives, including the Maine Right to Repair Coalition, believe that independent repairers, owners, and anyone not affiliated with a dealership or OEM are being restricted from access to information necessary to conduct and/or complete repairs. Auto Innovators has long shot down that argument pointing back to a 2014 memorandum of understanding (MOU) OEMs signed with the automotive aftermarket.
Following the 2020 passage of the Data Access Law in Massachusetts, there has been an ongoing debate in court between Auto Innovators and the Attorney General's Office as to whether a standardized on-board diagnostic system is possible and if the law should be enforced. AG Andrea Campbell began enforcing the law on June 1, ending an agreement between the previous AG and Auto Innovators to hold off on enforcement until the lawsuit was resolved.
Auto Innovators also argues that the R2R initiative in Maine is strikingly similar to that of Massachusetts and involves some of the same people. The alliance penned an alternate bill, which was introduced in May and referred to the Senate's Committee on Innovation, Development, Economic Advancement, and Business.
"By voting yes on Question 4, Mainers have now joined Massachusetts in a growing national movement to update automotive Right to Repair laws for the modern age of connected cars," said Tommy Hickey, Maine Automotive Right to Repair Committee director and a Massachusetts lobbyist who led the state's R2R initiative. "Automakers are trying to monopolize the market on car and truck repairs but their customers, the voters, are acting overwhelmingly to put the brakes on them."
In an interview with Repairer Driven News on Wednesday, Hickey thanked Maine voters "for seeing this question for what it was, which was consumer choice."
"Right now, we need to sit down with the attorney general, and the federal delegation and other stakeholders to make sure this is implemented in the proper way," he said.
Auto Innovators called the passage "disappointing but hardly surprising."
"Out-of-state, big-box auto retailers — that don't speak for independent auto repairers — spent nearly $5 million trying to scare Mainers into thinking that the right to repair their vehicles was going away," said President and CEO John Bozzella. "It will not go away. Automotive right-to-repair already exists. Mainers can get their vehicle repaired anywhere, anytime, anyplace."
When asked how much has been spent on backing the initiative, Hickey told Repairer Driven News $4-5 million. According to finance reports, the Maine Automotive Right to Repair Committee reported $4.92 million in contributions and $4.7 million in expenditures. The Automakers and Repairers for Vehicle Repair Choice was the campaign registered in opposition. The committee reported $116,568 in contributions and $110,909 in expenditures.
Auto Innovators contends that out-of-state auto retailers only backed the referendum for the opportunity to get private vehicle telematics data and access to vehicle dashboards to sell products.
"That's not the definition of right-to-repair," Bozzella said. "The legislature should examine this referendum in 2024 and consider legislation to codify the national cooperation agreement that already exists – and has worked well for a decade – between independent repairers and automakers."
The Society of Collision Repair Specialists (SCRS) said it continues to support the right for independent repair facilities to have the same access to diagnostic and repair information that OEMs provide to dealers.
"We support the right to repair but despite what the question asked, that's not really what voters supported," said Aaron Schulenburg, SCRS executive director. "This bill was much more complex than the question let on and opened the door for large corporations to access data from Maine drivers. This vote won't result in a positive effect on small businesses' ability to fix vehicles more properly than voters are seeking. Repair facilities already have access to the data they need today, and this passage does nothing to ensure consumers that the data is accessed and utilized in the repair process; nothing within the bill holds accountability for that.
"The referendum question used an oversimplified question to get Maine consumers to provide access to someone else to manage, have access to, and distribute their data; and nothing in it promises to be more effectively utilized for the benefit or safety of the vehicle owner."
In October, Rep. Tiffany Roberts (D-District 149), Maine's House chair of the Joint Standing Committee on Innovation, Development, Economic Advancement, and Business, wrote that the referendum is unnecessary and could create cybersecurity risks.
She called the July agreement between a coalition of trade associations — the SCRS, Automotive Service Association (ASA), and Auto Innovators — "groundbreaking" and "significant progress in the right-to-repair arena."
Hickey said the coalition considers R2R a nationwide movement. "One of the ways to get any federal action or to have some kind of MOU or agreement would be to get other states involved. The popularity of the question is very high… We encourage all the states to have some kind of state activity and have a bigger conversation about getting the same rights afforded to Mainers and Massachusetts residents across the country."
According to the National Conference of State Legislatures (NCSL), Colorado, California, New York, and Minnesota enacted some form of R2R legislation but none include motor vehicles. Thirty other states have proposed R2R legislation.
R2R is also being considered legislatively at the federal level with the re-introduction of the Right to Equitable and Professional Auto Industry Repair (REPAIR Act), sponsored by Reps. Neal Dunn (R-FL), Brendan Boyle (D-PA-02), Warren Davidson (R-OH-08), and Marie Gluesenkamp Perez (D-WA-03). The REPAIR Act passed out of the U.S. House Subcommittee on Innovation, Data, and Commerce last week and will go before the full House Committee on Energy and Commerce.
Opponents addressed the House Committee on Energy and Commerce in a coalition letter to Congress on Oct. 31. The coalition included SCRS, Auto Innovators, the American Automotive Policy Council (AAPC), American International Automobile Dealers Association (AIADA), Automotive Service Association (ASA) Autos Drive America, National Association of Minority Automobile Dealers (NAMAD), National Automobile Dealers Association (NADA), TechNet, Truck & Engine Manufacturers Association (EMA), and Zero Emission Transportation Association (ZETA).
In the letter, they wrote that the REPAIR Act requirements "undercut U.S. innovation and undermine the privacy, security and safety of U.S. consumers."
"When it comes to a consumer's right to choose where their vehicle is repaired, the automotive sector is the model of consumer choice. Consumers have a wide range of options on where to seek service or repair: these include working on the vehicle themselves or choosing to take it to a dealer or manufacturer repair facility, insurance company direct repair network, OEM-certified independent collision center, Multi Shop Operator (MSO), or an independent repair facility.
"Competition is alive and well in the automotive repair industry because all the information necessary to diagnose and repair a vehicle is available today… Indeed, over 75% of out-of-warranty repair work is performed outside of an automaker's authorized network. This is the very definition of consumer choice."
In addition, the trade organizations noted that the bill doesn't provide any consumer protections to address how third parties gathering data will confirm the identity of a vehicle's true owner, obtain consent, or be required to protect highly sensitive personal data. They also question if there are any limits on access to vehicle-generated data, liability, and accountability for those who access data, or how privacy and cybersecurity would be addressed before regulations are issued.
The Maine R2R Coalition contends that "in the face of new wireless technologies, voters nationwide are demanding the right to repair the car or truck they own wherever they choose."
During a recent White House roundtable discussion between federal and state officials, small business owners, and private sector representatives, Allstate Claims Design and Delivery Senior Vice President Don Jones said Allstate is "thrilled to see this bipartisan cause picking up more and more support." The carrier has been on the "front lines of this issue" for nearly a decade, he said.
"Claims manages the entire repair process from start to finish and we believe customers deserve better when it comes to available replacement parts and flexibility as to where they want to repair their vehicle," Jones said. "One way to increase consumer choice is to bolster aftermarket part manufacturing."
He added that fenders, bumper covers, and quarter panels have long been used in vehicle repairs and are typically less expensive OEM parts  "with no difference in quality or safety."
"Unfortunately, the manufacturing of aftermarket parts has been severely limited due to OEM use of design patents on basic cosmetic car parts," Jones said.
However, Allstate sees the REPAIR Act and another federal bill, the Save Money on Auto Repair Transportation (SMART) Act, as solutions, also backed by the CAR Coalition. The SMART Act would reduce the length of time OEMs can restrict the use of their patents from 14 years to two-and-a-half.
The REPAIR Act promotes consumer choice by allowing car owners to wirelessly access and securely share their vehicle data with independent repair facilities that they choose, Jones added.
Images
Featured image credit: lakshmiprasad S/iStock
More information
NHTSA & Mass. AG say Bluetooth could be answer to Data Access Law compliance
Share This: