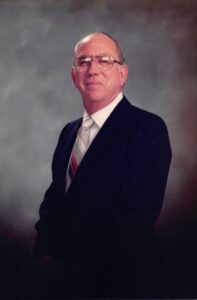 A former Society of Collision Repair Specialists (SCRS) chairman who was passionate about mentoring and educating others in the collision repair space has passed away.
Connie "Rex" Womble, who served as SCRS chair from 1987 to 1988, succumbed to pneumonia Sunday. He was 90.
He's survived by two adult children, including son Dusty Womble, who followed his father into the collision repair industry. He also served on the SCRS board, from 2010 through 2016.
Dusty recalled how his father was involved in the automotive industry since high school, and went on to play formative roles in both the SCRS and I-CAR boards. He is a former recipient of Bodyshop Business' Executive of the Year award.
"His passion for the industry was twofold," Dusty told Repairer Driven News. "One, he was really focused on educating owners to be better businessman in the industry. At the same time as he was interested in educating the current technicians, he was also educating future generations."
His passion for supporting education within the industry will carry on in his memory. In lieu of flowers during his service, loved ones are creating a memorial fund in Rex Womble's name to support the Collision Repair Education Foundation (CREF).
Although Rex retired in 1998, he remained passionate about the industry and continued to tour repair facilities with his wife, his son said. Rex's wife passed away in 2010.
"He'll be missed," Dusty said. "He was a good dad and also just a great guy for this industry. He always promoted it, and he really wasn't in it for himself."
Dusty added that his parents worked together in the industry with hopes of making it a better place.
"My mom and dad were partners, and they did everything together," he said. "And now they're together again."
Longtime friend Bill Wicklund, who preceded Womble as SCRS chair, said Womble was involved in both the early stages of SCRS and the Collision Industry Conference (CIC).
"He loved our industry and the people it," Wicklund told Repairer Driven News. "Rex would always make time to encourage younger shop owners and mentor them. I was one of those.
Rex was a wonderful example to all who knew him.
"He always did the right thing for the right reasons. He was my hero [and] I consider myself blessed to have known him and his family."
Jeff Hendler, who served as CIC organizer, met Womble in the 1970s through industry events. Hendler recalled how Womble was greatly involved in helping shape the industry.
"Rex cared," Hendler told RDN. "He cared about his business, he cared about his family and he cared about his fellow competitors throughout the entire industry. He would go to great lengths to right the injustices of the industry as well as find solutions to problems."
Hendler recalled how, whenever he felt discouraged about an issue, Womble would always be by his side to ensure he stayed the course and did not give up. Hendler said Womble, who he described as a "great mentor," was instrumental in keeping him involved in the industry's issues.
"Rex was a chairman of SCRS and I-CAR at a time when the organizations strongly needed guidance," Hendler said. "He stayed involved at the Collision Industry Conference helping to shape where we are today.
"You could depend on Rex — whatever the cause, whatever the need, he stood beside you. I am grateful that I shared the earth with such a fine individual."
A reception for Womble is being held at Brentwood Church of Christ, 11908 N. Lamar Blvd. in Austin, Texas, on Nov. 18 at 12 p.m. Those wishing to the Rex Womble Memorial Fund can do so here.
Images
Featured image of Rex Womble courtesy of Dusty Womble
Share This: