Crash Responder Safety Week serves as reminder to follow emergency response guides
By on
Education
This week, through Friday, is Crash Responder Safety Week (CRSW), an initiative sponsored by the Federal Highway Administration (FHWA), that focuses on ensuring steps everyone can take to keep roadway responders and motorists safe during traffic incidents.
This year's theme is "Protect Those Who Protect You," emphasizing the traveling public's role in keeping responders safe while responders make roadways safe for all road users. The annual awareness week is meant to serve as a reminder to the public of Move Over laws and Traffic Incident Management responder training for all professionals who work traffic incidents.
Collision repairers can help spread awareness too but should also know how to properly handle each vehicle when they arrive at repair centers since they're part of the chain of custody of crashed and damaged vehicles. It's especially important when it comes to electric or hybrid vehicles because of their lithium-ion high-voltage batteries, which can cause electrocution if wires to them are incorrectly cut. Emergency Response Guides (ERGs), sometimes referred to as Emergency Service Guides (ESG), written by each OEM cover the specifics for each brand of vehicle.
A good site to search for vehicle service information, including ERGs, for dozens of automakers is OEM1Stop.com. There is also a fairly new third-party app, available since March, from EV Rescue (EVR) that contains automaker ERGs. This link can be used to download the app from Apple or Google Play.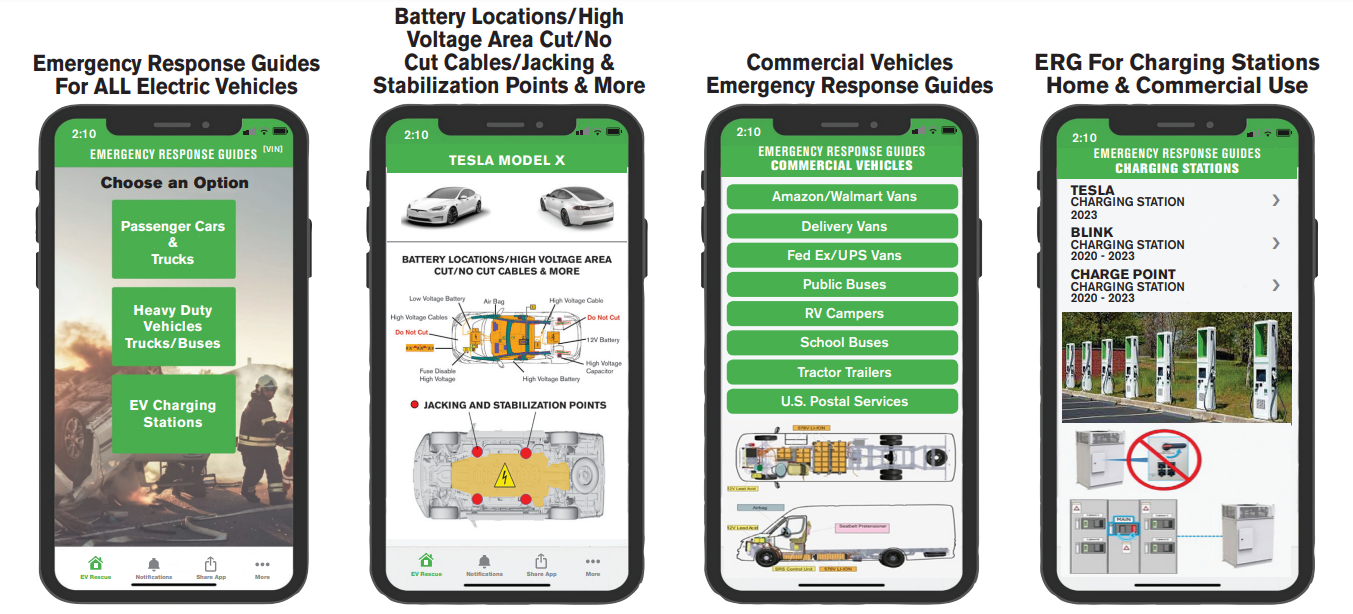 Every automaker has its own ESG and/or ERG that details proper battery removal, storage, and more once vehicles are brought inside the repair facility. Though it may vary by OEM, at least 50 feet of open space should be kept around an EV or hybrid and they shouldn't be left near any structures, vehicles, or anything flammable. The location of vehicle key fobs can also be important. For example, the Ford Mustang Mach-E's fob should be kept at least 16 feet away to avoid the vehicle connecting to it and energizing the high-voltage system.
Under the recommendation of the National Transportation Safety Board (NTSB) last year, 22 automakers updated their ERGs to include the safety risks of EV lithium-ion battery fires at crash scenes and how to properly put them out, including compliance with the International Organization for Standardization's (ISO)'s Standard 17840: Road Vehicles — Information for First and Second Responders.
In an investigation, NTSB found two primary safety issues: inadequacy of vehicle manufacturers' ERGs as well as gaps in safety standards and research related to high-voltage lithium-ion batteries when involved in high-speed and high-severity crashes.
According to the U.S. Fire Administration, ERGs that comply with ISO 17840 help responders with standardized labels, colors, symbols, and graphics to clearly identify the type of fuel and/or energy a vehicle uses for propulsion. Other vital information is also included, such as guidance for rescue teams on extricating occupants following an accident.
"Standardization makes this critical information much more complete, accurate, and accessible during training and response," the Fire Administration states on its website.
For repairers, as noted by I-CAR, the first step when handling EVs is to run a pre-repair scan of the vehicle where it sits, before moving it inside the facility. Scans, just like all other steps of each repair, should be conducted according to OEM repair procedures.
When an EV is in a collision, its high-voltage battery pack can be damaged by the impact, even if there's no apparent physical damage. If internal damage has caused a voltage deviation across two or more cells, that creates resistance, and that resistance will create heat that can lead to a fire.
ESGs are good documents to have on hand to follow in an emergency, especially since thermal runaway handling can vary from vehicle to vehicle.
The Energy Security Agency is another resource that repairers and first responders can rely on for help with safely handling EVs. ESA's 24/7 Guidance Center can provide information to fill the gap between best practices and standards in the entire custody chain of EVs and hybrid vehicles from first responders to towing and recovery, recyclers, salvage yards, and the collision repair industry. The center is staffed by first responders who collaborate with engineers and have access to OEM vehicle engineering diagrams to create their own proprietary data maps by make, model, and year.
"Every minute of every day, law enforcement, fire and rescue, emergency medical services (EMS), public works, transportation, towing, and other responders work roadside to make roadways safe for all road users," FHWA wrote in a news release. "These traffic incident responders put their lives at risk when clearing each of the nearly 7 million annual motor vehicle crashes or the broader range of incidents such as stalled vehicles or roadway debris."
The National Auto Body Council (NABC) held a First Responder Emergency Education Program in Lancaster, Pennsylvania on Saturday to share vital information with first responders on safely getting passengers out of vehicles after a car crash when it comes to deployed air bags and other advanced driver assistance systems (ADAS).
The event was held at the Faulkner Collision Center and focused on passenger extraction from newer vehicles, including EVs or hybrid vehicles.
"A lot of training that the first responders have is for older vehicles that are in [salvage] yards," Faulkner Collision Center April Lausch told WGAL News 8. "This is an experience. We have multiple 2020 vehicles that have the new metals, and they haven't experienced or learned on them yet. The new metals, the carbon fibers, are very deadly. If they breathe it in and don't have respirators on, it's something that can be very dangerous for them… as well as aluminum."
Bath Township Fire Department firefighter Jamie Keenhold has participated in similar programs several times in the last six years.
"Every time it's something new," she told WGAL News 8. "It's a newer vehicle, a newer tool, a newer metal, so every time there's something new in every class."
Each day of CRSW has its own focus. Today's is "Driver Education," including soon-to-be, new, and seasoned drivers, noting that the best course of action around all emergency and law enforcement vehicles is to slow down and change lanes if possible. The FHWA also stresses the importance of avoiding distracted driving and always wearing your seat belt.
"FHWA encourages national, state, and local organizations to amplify the visibility and message of this important week by using the Campaign Toolkit calendar to align your promotion, press outreach, and social media engagement with others across the country," the administration shared in a news release. "By following the calendar, supporters can speak with a common voice, all using the same hashtag, #CRSW."
Common strategies carried out by state and local agencies in participation with CRSW include:
Social media campaigns across multiple platforms;
Mass traffic incident management (TIM) responder training events;
State or local proclamations such as a proclamation from state governors, and proclamation-signing events;
In-person tours of traffic management centers;
Ride-alongs with traffic incident responders;
Television, print news, and podcasts featuring stories or interviews;
Slow down and move over safety messages on highway message signs;
Slow down and move over law enforcement campaigns;
CRSW videos, images, and/or print materials shared by DMVs and at highway visitor plazas and rest stops;
Demonstration events at highway visitor plazas or other significant public venues; and
Responder testimonials.
A webinar held by FHWA to kick off the 2022 CRSW included testimonials from traffic incident responders. Pennsylvania State Police Ret. Sgt. Bob Bemis shared that he and the driver of a broken-down vehicle were struck by an SUV that lost control due to smoke clouds preventing visibility on the roadway in March 2015.
"I gained membership into a pretty exclusive club," Bemis said. "It's not one that you want to join… Once you're in, you can't ever quit. There's no membership card but sometimes you could spot a member just by looking at him or her. We don't hold meetings, yet I think it's safe to say that we all agree on one thing — we don't want any more members, not one more.
"The injuries to the driver of the disabled vehicle were relatively minor and he was released after a night in the hospital. Unfortunately, my injuries were severe; the most serious of which was a spinal injury that will affect my mobility for the rest of my life, along with the loss of vision in my left eye from a serious head injury. The broken bones eventually heal but the scars remain as a reminder of my club membership… Motorists on our highways who disregard existing traffic laws, who only focus on what is important to them inside their own vehicles, are the membership committee and whether any of us realize it or not, they are always actively recruiting."
Images
Featured image credit: Tashi-Delek/iStock
App screenshots provided by EVR
Share This: