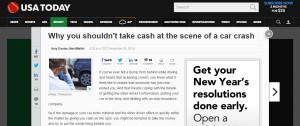 USA Today gave collision repairers a nice boost late last month by publishing a NerdWallet item warning readers about the potential for hidden damage after a crash.
The Dec. 26 column from the consumer finance website, a USA Today content partner, tells consumers who see little physical damage not to just take cash from the offending driver to settle an accident — in part because of "hidden or structural damage."
NerdWallet writer Amy Danise quoted Western Auto Body (Sebastapol, Calif.) owner Mike Ludeman, who gives the example of how a  taillight costing $300 because a new assembly was necessary.
He also told NerdWallet how a "basic visual inspection" caused his staff — "a trained eye" — to estimate a rear-ended Toyota Prius' damage at $1,500. Once they actually examined the car in-depth, the final estimate was about $5,000.
NerdWallet cited damage to the tailpipe, behind the bumper, suspension (misalignment) and unibody itself as potentially going unseen at the accident scene.
"Who wants to be traveling 70 miles per hour and have a tire blowout, and you thought the damage was just a taillight?" CARSTAR President Dan Young told NerdWallet, referring to alignment damage. "Something that results from an accident, over a period of time, can create a dangerous situation that was preventable."
The post was reprinted Tuesday on NerdWallet.com itself.
The national prominence of the piece might help convince customers to consider a body shop's service. You've also got to love the irony of a piece USA Today commentators have called pro-insurance which indirectly makes a compelling argument against insurers' love of writing appraisals based on photos instead of a physical inspection.
That issue — photo-driven, desk-review appraisals — has recently cropped up with bills in Pennsylvania and Virginia.
The Pennsylvania bill, which has cleared the House but not the Senate, allows photo-only — and even telephone-only — appraisals.
The Virginia bill still requires insurers to inspect a car in-person — but allows an appraisal off of purely a photo to also be done and stand as a final appraisal. That seems to raise the potential for a physical inspection to be "phoned in" by an unscrupulous insurer who wants to still primarily rely on an inexpensive but incomplete photo appraisal.
More information:
"Why you shouldn't take cash at the scene of a car crash"
NerdWallet content on USA Today, Dec. 26, 2015
"Why You Shouldn't Take Cash at the Scene of a Car Crash"
NerdWallet, Jan. 5, 2016
Featured image: This NerdWallet content related to hidden collision damage appeared on USA Today's website Dec. 26, 2015. (Screenshot of NerdWallet content on www.usatoday.com)
Share This: