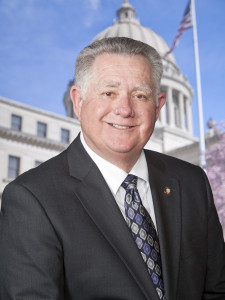 In what the head of the Mississippi Collision Repairers Association anticipated to be a "really positive meeting," six auto body shop and six insurance representatives will gather soon to air grievances and discuss each industry's concerns.
"That's all we've ever been asking for," MCRA Executive Director John Morgan Hughes said Tuesday.
State Sen. Videt Carmichael, R-Meridian, called for the forum shortly after introducing a bill to cap Mississippi collision repairer rates at the national average. Body shops, which have their own preferred bill mandating a prevailing rate and OEM procedures, were up in arms.
Carmichael, the head of the Senate Insurance Committee, noted the dueling bills and encouraged the two industries to sit down and find "where all the heartburn is coming from," as Hughes described it. Tensions have grown nationwide between shops and insurers, perhaps reaching a head with lawsuits in 19 states accusing underwriters of practices such as steering and antitrust violations.
"He could not have been any nicer," Hughes said. "… He really has a lot of respect for his local shop people"
Six collision repairer representatives — three from the MCRA and three nonmembers — and six representatives from a coalition of 18 property and casualty insurers will meet, Hughes said.
"We're excited," he said. It'd be a chance to show insurers "what our books look like" — for example, the kind of financial hit needed to stay current with training and equipment — but also acknowledge that insurers will lose customers if market forces compel them to raise premiums too much.
"They have supply and demand forces too," he said.
Collision frequency and severity have risen as a better economy and lower gas prices encourage Americans to drive more miles and buy newer vehicles. While that's good business for collision repairers, the intensely competitive auto insurance industry finds itself squeezed by higher loss ratios and seeks ways to control costs and placate investors.
Both sides are also facing skilled staff shortages, consolidation and explosions of disruptive technology affecting their respective industries.
"I think it's going to be really good," Hughes said of the meeting. "… That's a story that's really good to tell nationwide."
Repairer-insurer compromise could be seen earlier this winter in two other legislatures. In November 2015, Wisconsin collision repairers worked with insurers to pass an auto body shop choice bill after a decade of earlier versions failed. In January, Virginia shops and insurers struck a deal on a photo-only appraisal bill.
The Collision Industry Conference Marketing Committee also notably concluded in January that the gatherings must draw consistent attendance from the top 10 insurers or risk irrelevance.
Be heard: Mississippi legislator contact information can be found here.
Featured image: State Sen. Videt Carmichael, R-Meridian.
Share This: