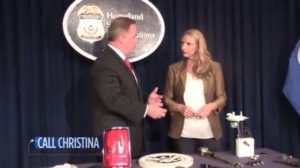 Buy OEM, a Hyundai dealer and the acting head of a Miami Immigration and Customers Enforcement branch told a Florida TV station in a Monday report about aftermarket parts.
Though acting Miami ICE special agent in charge Robert C. Hutchinson stressed he wasn't referring to aftermarket parts, he recommended to WPLG that consumers pay the extra for original equipment manufacturer parts anyway.
"We just want to make sure you know what you are getting. When you are buying something at a great price, why is it a great price?" he said, according to WPLG reporter Christina "Call Christina" Vazquez. "I want to stress that after-market does not mean counterfeit, but when the after-market piece has the improper markings on it (a reference to actual OEM markings) and is not from the manufacturer, then you are getting into the world of counterfeit."
Vazquez cited the head of the Motor and Equipment Manufacturers Association, who described the "phenomenal" growth of e-commerce, which makes it easy to sell fraudulent parts to customers or to shady repairers who will use them for a larger margin. This makes one wonder how easily a counterfeiter or undiscriminating importer could represent these components on parts procurement systems or information providers as OEM or Opt-OE.
The WPLG report focused primarily on counterfeit engine components, but gave heavy play to counterfeit airbags, too, providing federal footage from a few years ago and video from Hyundai's recent ad campaign.
"Ask for that (OEM parts). Are you going to pay for that?" Hutchinson said. "You pay the price, but you may pay a serious and more expensive price at the end if it does not function timely and properly."
Vazquez notes the lack of transparency in an counterfeit part (not that you'd really expect it from a guy trying to commit fraud), writing, "When it comes to counterfeit car parts, little is known about how much time went into the engineering, assembly and materials to make sure it functions properly. Because it is a counterfeit, there is no inspection process to ensure it meets safety standards."
Collision repair industry proponents of OEM parts will note that some, if not all, of this argument could apply to uncertified aftermarket parts, the generic versions of automakers' components still frequently used by insurance companies to save money on claims. (Some body shops would argue that certified parts – which do receive vetting from NSF and CAPA — still are questionable too.) Ironically, WPLG is owned by Berkshire Hathaway, GEICO's parent company.
The WPLG report also cites Hutchinson in recommending consumers only use automaker-affiliated dealerships or "reputable repair shops."
It quotes a Hyundai spokesman who notes customers usually have the right to pick a body shop, and Hyundai Doral parts manager Troy Thomas, who described how a shady or incompetent shop installed (if you could call it that) a disconnected airbag missing part of the assembly in a customer's vehicle.
More information:
"Feds warn of counterfeit auto parts"
WPLG, May 2, 2016
Featured image: Miami ICE special agent in charge Robert C. Hutchinson talks to Christina Vazquez of WPLG about counterfeit auto parts. (Screenshot from WPLG video)
Share This: