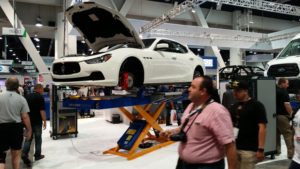 SEMA is less than a month away, and it's time to grab plane tickets before the flights to Vegas fill up and rise in price.
Time's also running out to take advantage of three key discounts. Next Friday, Oct. 14, is the cutoff to snag discounted early registration for SEMA and the Society of Collision Repair Specialists' concurrent Repairer Driven Education Series running Nov. 1-4. The final quarterly Collision Industry Conference of the year also has an early registration discount and is currently running a deal on Gold Pins that might interest Vegas CIC attendees.
SEMA and SCRS
After Oct. 14, SEMA prices rise from $40 to $90, and you'll have to pick up your badge on-site instead of having it mailed to you. Register here at www.semashow.com.
Repairer Driven Education features more than 30 educational sessions selected to give body shop owners, managers, marketers, estimators and technicians key advice and training to "set your business apart" and "address topics and solutions to help collision repair businesses prosper in our ever-changing industry," according to SCRS.
For the $375 early bird price, you get access to the entire week, the OEM Collision Repair Technology Summit, and the SCRS Sky Villa afterparty Nov. 3 at the Westgate Las Vegas Resort & Casino.
That's a steal since each class by itself is $75, including each of the three consecutive Nov. 3 OEM Summit sessions and the party later that night. Register for the full-series pass here, or register for individual classes (and the party) early here at www.scrs.com/RDE. Classes rise to $85 each after Oct. 14, and the full pass increases to $400.
The headliner event is the OEM Technology Summit on Nov. 3, which will put collision repairers in a room with representatives from AirPro, Bosch, Collision Diagnostic Services, Dow, Ellis & Associates, FCA, General Motors, Honda, I-CAR, Nissan, Snap-On and Toyota — and that's just who has been announced so far. Discussions will include scanning and OEM and aftermarket scan options; joining, particularly with adhesives; the future of lightweighting — including up-and-comer composites like carbon fiber; and a chance to hear from and interact with a slew of OEM trainers.
"This year, the OEM Collision Repair Technology Summit will feature companies and individuals with rich histories of producing sophisticated advancements in the automotive industry, and will highlight architectural and technological developments in modern vehicles and how those advancements intersect with the repair process," SCRS wrote in a news release. "Every participant in this industry can benefit from better insight into how vehicles and materials are evolving, what that means in the repair process and what will be expected of those who are performing these repairs."
Register and see descriptions for all the SCRS courses here, or visit www.scrs.com/RDE. Learn more about SCRS with www.scrs.com, 1-877-841-0660 or info@scrs.com.
CIC
Finally, those interested in attending the Collision Industry Conference Nov. 1-2 during SEMA week might want to just pick up Gold Pin sponsorship status for $285.
Besides all of the CCC events for 2017, which cost $65-$75, CIC will throw in free admission to the Las Vegas show. Also, you'll appear in the Gold Pin Search Engine and get a gold name badge and desk nameplate.
The events are a place for repairers, parts suppliers, rental car companies, insurers, OEMs and basically anyone else with an stake in collision repair to network and hash out some of the major issues facing the entire collision repair ecosystem.
Register online here or use the form here and send a check to the Collision Industry Conference at P.O. Box 2757, Pasco, WA 99302. Details: jeffhen@gmail.com or www.ciclink.com.
More information:
"Don't Miss Early Bird Discounts for RDE and SEMA Show"
Society of Collision Repair Specialists, Oct. 4, 2016
Collision Industry Conference Gold Pin page
Collision Industry Conference
Featured image: The 2015 SEMA floor. (John Huetter/Repairer Driven News)
Share This: