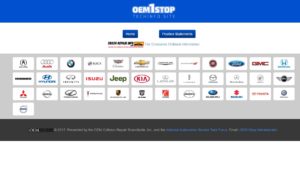 Do you have to check OEM repair procedures literally every time? Yes, Collision Advice CEO Mike Anderson argued on a Thursday Guild 21 call — for those instructions can change surprisingly often.
"People ask me, 'Well, Mike, if I fix the same type of vehicle on a regular basis, why do I need to research that OEM repair procedure on that same vehicle every single time?'" he said during a presentation on scanning, calibration, and other elements of modern collision repair. (See slides.)
Anderson answered this with a few examples.
Without naming names, he cited one OEM which had twice during the past year changed the way a door post and center pillar was installed.
Another unspecified OEM changed the way a truck bedside was supposed to be repaired four times last year, he said.
"Yes, you heard me correctly," Anderson said. "… Just because you put the bedside on that way last week, doesn't mean it's the same way this week."
Anderson also brought up the 2015 Ford Mustang, the second model year in a new design generation that employs a fair amount of aluminum and boron steel. Sometime in the last couple of months, Ford changed the procedures for replacing a quarter panel, according to Anderson.
A month or two ago, Ford demanded a shop replace the roof when it replaced a quarter panel, according to Anderson.
Two weeks ago, he said he noticed: "Ford has since changed that, and they now have a sectioning procedure."
Without checking habitually, "we're not gonna know when things change," Anderson said.
The third-quarter 2016 "Who Pays for What?" survey by CRASH Network and Anderson's Collision Advice asked about repair procedure checks. About 48.7 percent of the 521 respondents reported researching OEM repair procedures either "all" or "most of the time" — up 5.5 percentage points from 2015.  Another 30.7 percent said they checked procedures "some of the time," 18 percent said "only occasionally," and 3.1 percent said "never."
"The answer is 100 percent of the time," he told the audience Thursday.


Repair procedure aggregation?
Constant changes to OEM repair procedures also raise questions about using a third-party aggregator such as ALLDATA or similar offerings from the three estimating services instead of original OEM websites. Automaker collision repair trainers cautioned against using anything other than their own OEM websites for this reason last year during the Collision Repair Technology Roundtable at SEMA.
James Meyer of Toyota recalled a version of its repair procedures on one such information service which was obsolete; the OEM had since changed the methodology.
"They're trying to recreate a database that already exists" and is updated constantly, Mike Kukavica of Porsche said, indicating that such a project was destined to have flaws. He said he sees repair information change on a weekly basis.
Shawn Hart of Audi also said sometimes "fairly important information" might be missing on such services. Hart also said that if a technician is working from the OEM website rather than a replica of it, he's more likely able to assist that repairer with a technical question.
An ALLDATA representative at SEMA confirmed that there is a lag between when OEMs release updated instructions and when the revisions are noticed and incorporated into the service. However, he said that the company was working on bots to scan OEM sites and reduce that time.
More information:
Collision Advice via VeriFacts, March 9, 2017
OEM1Stop repair procedure portal
I-CAR Repairability Technical Support portal OEM repair procedure links
Images:
The OEM1Stop website, which provides links to OEM collision repair and mechanical repair websites, is shown. (Screenshot from www.oem1stop.com)
While still less than half of the shops surveyed, more collision repair facilities are referencing OEM repair procedures while writing an estimate, according to the third-quarter 2016 "Who Pays for What?" survey. (Provided by Collision Advice and CRASH Network)
Share This: