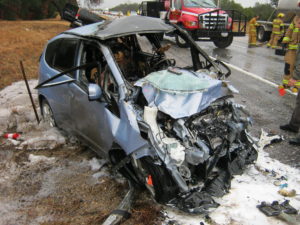 The organization Texas Watch has called upon the Texas Department of Insurance to investigate an insurance industry it says engages in "corner cutting automobile repairs" in apparent response to the allegations against State Farm and a Texas dealership body shop over a repair not done to OEM procedures.
"The purpose of insurance is to have our property, safety, and lives restored after a crash," Texas Watch Deputy Director Tori Sommerman said in a statement Thursday. "When insurers prioritize the bottom line, and pressure body shops into unsafe, shoddy repairs, Texans' lives are put at risk.
"Recent reporting demonstrates the tragic consequences of insurance companies pressuring drivers into using industry-preferred body shops where insurers can push for cheap, substandard repairs. We hope that TDI will crack down on these industry wrongdoers and ensure Texans' safety as they get back on the road after a crash.
"Texans can ensure their vehicle is repaired safely by asking the body shop to use Original Equipment Manufacturer (OEM) parts and put the repairs made and parts used in writing."
The Texas Watch news release contains links to Texas-area media coverage of the Seebachan case.
Matthew and Marcia Seebachan sued John Eagle Collision Center for more than $1 million, alleging in a July 13 version of the lawsuit that the body shop's deviation from Honda OEM procedures in part led to them being trapped inside a burning 2010 Honda Fit after it struck a hydroplaning 2010 Toyota Tundra. Plaintiff's engineer Neil Hannemann, who was responsible for crash safety on the Ford GT, attributed their plight also in part to a missing fuel tank cover, but noted there was no way to tell who was responsible for the absent part.
Details like how fast the Fit and Tundra were traveling on the 75 mph road and the slickness of the road itself are unknown, though Hannemann wrote the impact should have resembled the IIHS moderate-overlap test the 2010 Fit aced. (The impact angle is an important point, as the Fit flunked the small-overlap crash test.)


John Eagle Collision Center's manager said the company used structural adhesive to attach the Fit's roof in a 2012 hail repair for the prior owner, instead of the welds demanded by OEM collision repair procedures.  Though body shop director Boyce Willis's deposition largely makes it sound as though the use of the adhesive was the body shop's standard operating procedure, Willis does at one point suggest that insurers dictate how repairs will be done. (Editor's note: All highlighting in the hyperlinked documents was done by plaintiff's counsel.)
A. (Adhesive) is — it is a accepted repair alternative, based on our cars and insurance certifications.
Q All right. And let's have an agreement today that we don't use the word "insurance." Can we — is that cool?
A. Well, unfortunately we're guided by insurance.· So — the — if you brought your car into my shop, right, the insurance company's going to dictate what — how we're going to repair your car.
Q. I understand. But the — but you — your — as a certified body shop, you have to — you — the — the insurance company cannot trump the OEM specifications, correct, sir?
A. Yes, they can.
Q. Where does it say that?
A. By not paying the bill.
The Seebachans and attorney Todd Tracy of Tracy Law Firm cued off this exchange to file another lawsuit Aug. 2 against State Farm, who paid for the 2012 repair.
"State Farm essentially delivered engineering advice and tried to establish its own repair standards, and did so for the benefit of its bottom line," the lawsuit states. "State Farm cared more about cutting costs than it did about ensuring its policy holder's vehicle was crashworthy. Defendant chose its desire to make money over safety of anyone who would ever operate or ride in the 2010 Honda Fit."
The group shared a copy of a letter dated Thursday it indicated had been emailed to TDI Deputy Commissioner Mark Einfalt of the Compliance Division. The document, signed by Texas Watch Executive Director Ware Wendall, had been posted on Scribd but has oddly been removed, though an embedded copy remains on Texas Watch's news release and a blog post about it.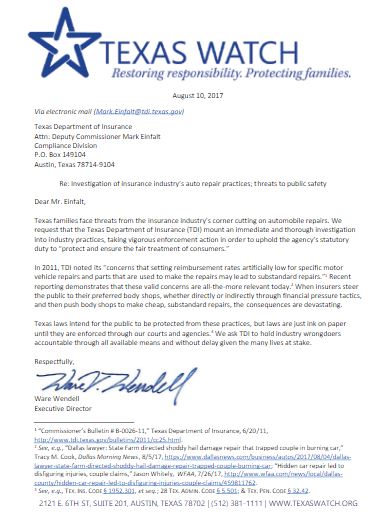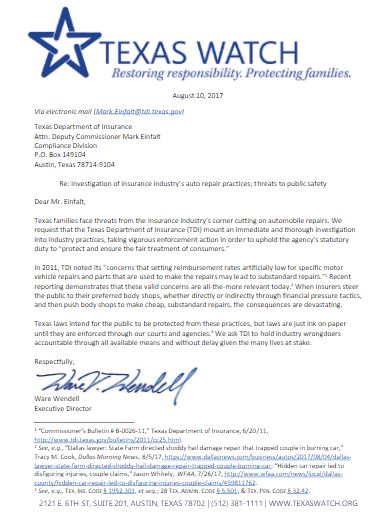 "Texas families face threats from the insurance industry's corner cutting on automobile repairs," Wendall wrote. "We request that the Texas Department of Insurance (TDI) mount an immediate and thorough investigation into industry practices, taking vigorous enforcement action in order to uphold the agency's statutory duty to 'protect and ensure the fair treatment of consumers.'
"In 2011, TDI noted its 'concerns that setting reimbursement rates artificially low for specific motor vehicle repairs and parts that are used to make the repairs may lead to substandard repairs.' Recent reporting demonstrates that these valid concerns are all-the-more relevant today. When insurers steer the public to their preferred body shops, whether directly or indirectly through financial pressure tactics, and then push body shops to make cheap, substandard repairs, the consequences are devastating.
"Texas laws intend for the public to be protected from these practices, but laws are just ink on paper until they are enforced through our courts and agencies. We ask TDI to hold industry wrongdoers accountable through all available means and without delay given the many lives at stake."
The 2011 bulletin by former Commissioner Mike Geeslin quoted by Texas Watch observed that despite his 2010 bulletin reminding insurers about steering, parts choice and insufficient reimbursement amounts, "reports of steering, limiting labor/reimbursement rates, and other potential unfair claim settlement practices continue to be received."
"The Department continues to have concerns that setting reimbursement rates artificially low for specific motor vehicle repairs and parts that are used to make the repairs may lead to substandard repairs, which may also impact vehicle warranties," Geeslin wrote — essentially echoing his instructions on what not to do a year prior. "The majority of personal automobile insurance policies require insurers to pay the amount necessary to repair or replace the property with other(s) of like kind and quality. It is an unfair claim settlement practice for an insurer to pay a claimant an amount for the repair of the vehicle, including parts, that is not a reasonable amount for repairing or replacing the property with other of like kind and quality, or is not sufficient to make the repairs necessary for the manufacturer to honor the vehicle warranty."
Texas Watch describes itself as a "non-partisan citizen advocacy organization dedicated to ensuring that insurance companies and other corporations are accountable to their customers" that fights to "Ensure accountability through our courts and guarantee our constitutional right to Trial by Jury"; "Improve safety for workers, patients, and communities"; and "Reform the insurance marketplace to ensure meaningful coverage at a fair price."
More information:
"PRESS STATEMENT ON REQUEST FOR TDI INVESTIGATION INTO INSURANCE INDUSTRY'S AUTO REPAIR PRACTICES"
Texas Watch, Aug. 10, 2017
"TEXAS WATCH REQUESTS TDI INVESTIGATION INTO INSURANCE INDUSTRY'S AUTO REPAIR PRACTICES"
Texas Watch, Aug. 10, 2017
COMMISSIONER'S BULLETIN # B-0026-11
Texas Department of Insurance, June 20, 2011
COMMISSIONER'S BULLETIN # B-0031-10
TDI, Aug. 2, 2010
Images:
This 2010 Honda Fit burned following a collision with a hydroplaning 2010 Toyota Tundra. (Provided by Tracy Law Firm via PRNewsFoto)
This graphic from the Tracy Law Firm compares where the original welds on a Honda Fit would be compared to the alleged absent welds on the Seebachans' 2010 Fit. (Provided by Tracy Law Firm)
The organization Texas Watch has called upon the Texas Department of Insurance to investigate insurance industry practices following the allegations against State Farm and a Texas dealership body shop over a repair not done to OEM procedures. (Provided by Texas Watch)
Share This: