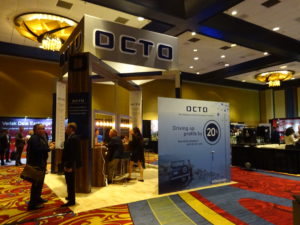 Recent developments in the "insurtech" fields of telematics and AI photo estimating might down the road shake up the claims process for your shop and your customers.
The biggest news involves the partial merger of two major telematics players, Octo Telematics and Willis Tower Watson, even though the impact on collision repair might not be as immediate.
Octo studies both driving behavior to assess premiums based on how good or bad a driver actually is and can analyze telematics data from a vehicle impact to immediately notify emergency services — and an insurer — of the crash. The former, often known as "usage-based insurance" can help enable the latter, since the customer's already consented to send data to their carrier.
Willis Tower Watson operates one of the major data exchanges. The exchanges behave like the credit rating agencies, in this case pulling in a variety of telematics data about you as a driver and crunching it into a format useful to a party like an insurer seeking to offer usage-based insurance.
Or rather, Willis Tower Watson used to operate one of the major data exchanges. Octo announced Wednesday it had bought the DriveAbility exchange and the rest of the company's "UBI" assets.
"Following the transaction Octo will develop a strategic alliance with Willis Towers Watson on additional auto telematics opportunities to enhance both companies' suite of products and services," Octo wrote in a news release. "The partnership will focus on further development of algorithms and other analytical tools to provide actionable intelligence based on accurate analysis of data."
Octo confirmed Willis Tower Watson didn't have any crash data analysis/"electronic first notice of loss" capabilities — WTW solely handed the underwriting, not the claims element of insurance. However, the merger still increases the clout and capabilities of Octo, which does.
"Octo has world-leading crash and claims analytics, which have been developed as we've gathered data on more than 417,000 crashes as of 30 June 2017," Chief Marketing Officer Jonathan Hewett said in a statement Thursday. "Willis Towers Watson's strengths have traditionally been very much centred on pricing and analytics around driver scoring and the effects this will have on pricing risk for insurers. The strategic alliance means that we will be able to continue to enhance and strengthen the offer for both companies in each regard."
As we've discussed before, electronic first notice of loss and the telematics in part used to trigger that crash alert carries tremendous potential and risk for collision repairers.
EFNOL is very likely to steer drivers to OEM or direct repair program networks, which is either great or awful for a given body shop depending on its affiliations with one, both or neither. A positive for everyone is that the telematics data from the collision can include the force ("delta-V," or change in velocity) and direction of the impact, which is useful for immediately predicting which parts need to be ordered and the severity of the crash, including whether it's likely a total loss. There shouldn't be any subjective "it doesn't look that bad" battles or risky assumptions that the car is driveable if data from the car instantly provides everyone with the force of the impact.
As noted above, usage-based insurance part of the equation can be sort of the "gateway drug" to get the EFNOL capabilities into a consumer's vehicle — once the policyholder consents to the dongle or smartphone system needed for UBI telematics, they've effectively installed the capabilities for EFNOL telematics as well.
So the Octo-Willis Tower Watson deal related to customer driving scoring could indirectly hasten the spread of the technology which does affect your shop, thanks to the enhanced package Octo can provide to insurers.
"The insurance telematics industry is growing at a rapid pace, with nearly 100 million UBI policies expected worldwide by 2020," Octo wrote in a news release. "This is producing ever-greater amounts of data that can assist insurers in accurately pricing risk. Big data analytics are therefore crucial to break down telematics information such as driver behaviour data to create driver scores, as well as carry out crash analysis and provide the full range of telematics benefits."
Root
Speaking of other insurers, we direct your attention to Root's announcement that it has expanded auto insurance coverage to six states. Root, like Metromile, is completely usage-based.
"Technology is making almost every aspect of our daily lives easier, but the insurance industry is still too far behind the tech curve," Root CEO Alex Timm said in a statement Thursday. "We have access to real-time insights that can more accurately predict risk than ever before, providing good drivers with rates they deserve and helping them avoid paying for bad drivers' mistakes. This will help good drivers at a time when insurance rates are rising across the nation with no end in sight."
Unlike Metromile, Root hasn't yet tested a more automated or telematics-driven form of claims. But it seems inevitable that they'll go there.
During the 2017 Connected Car Insurance USA conference, Timm said the startup has been working on getting off the ground, and so it hasn't dedicated serious resources or futuristic techniques to claims. But "it'll be a very important area of focus for us" in the future, he said.
He observed that unlike any other insurer, 100 percent of their customers have the Root app installed on their smartphone, and the company might be able to use it to automate some claims instead of using third-party adjusters, as it does now.
AutoClaims Direct
And finally, AutoClaims Direct announced Wednesday the launch of the "ACDCorp.ai" division, which would work on "rapid development and deployment of machine learning & computer vision for the auto claims industry."
We expect this means something like Tractable, which has used a library of hundreds of millions of claims photos to teach a computer to recognize various auto body parts and how severely they're damaged.
"Our industry leading technology provides one unified platform for multi-channel inspections including mobile self-service claims, virtual processing, field networks, collision repair and salvage. By leveraging data, workflow optimization and over tens of millions of images in processed losses we are able to harness the power of machine learning to streamline the auto claims process," stated ACD's CEO Ernie Bray.
As we discussed with Tractable, AI photo estimating raises some of the same concerns  as traditiona desk review but potentially alleviates some as well. Find out more here.
"We're the leaders in creating a fully connected virtual platform that integrates every method a customer wants to communicate and process their claim," Bray said in a statement. "We were first to create the space of technology meshed with streamlined services. With ACD, insurers eliminate the need to parse an array of fragmented solutions to accomplish their goals.  Advanced machine learning and AI will further enhance our platform, eliminating needless touch points, automate redundant tasks and simplify the process for insurers."
More information:
"News Release: Octo Telematics to acquire UBI assets of Willis Towers Watson and will partner with them on insurance-related products"
Octo, Oct. 11, 2017
"InsurTech Startup Root Insurance Expanding its Revolutionary Platform Across the United States"
Root via Business Wire, Oct. 12, 2017
"ACD Launches AI & Machine Learning Division"
AutoClaims Direct, Oct. 12, 2017
Featured image: Octo Telematics' booth at Connected Car Insurance USA 2017 is shown. (John Huetter/Repairer Driven News)
Share This: